Savour The Freshest Produce From Japan's Niigata City at Tóng Lè Private Dining
CONTENT: Andrew Kho
Tóng Lè Private Dining curates an exquisite cuisine from Japan's dramatic northwest sea-coast, Niigata City this November.
Niigata City, home to one of the richest varities of Seafood, the most rice producing land and largest rice yield in all of Japan. There are also fifteen sake breweries in the City of Niigata, the popular Japanese pears ( Niitaka) has been cultivated in the city for over 200 years including the Okesa Persimmons of Niigata which is deliciously sweet and are fizzy when you bite into them.
Organized by Niigata City in collaboration with OISHII Magazine, Tóng Lè Private Dining is offering a six-course menu crafted by Chef Ken Ling who personally went to Niigata City to handpick the ingredients to be used for this featured menu, including Sazae ( horned turban sea snail), Medai ( sea bream), Kurobota Pork ( also known as the Kobe beef of pork), Koshihikari ( Niigata City's popular rice), Niitaka ( pear) and Okesagaki ( Persimmon)
Highlights From The Niigata City Set Menu:
Sazae 海螺
Turban shell is a prized delicacy in Japan that has a crunchy texture with good balance and pronounced flavour. It is high in protein, vitamins and minerals.
This dish has turban clam which is cooked with ginger and coriander paste. The Kelp noodle (umi shomen) in the dish is marinated with mirin, bonito and yuzu. The dish is garnished with a small wasabi leaf on the top. This dish warms up your appetite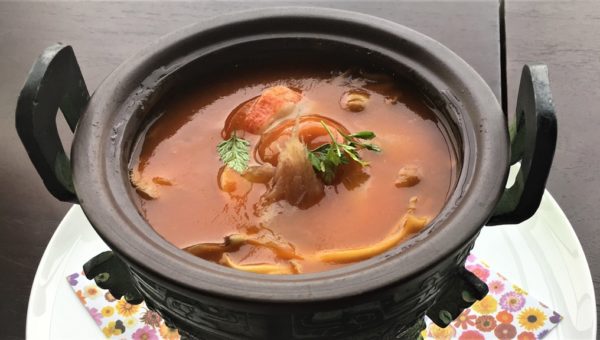 Maitake Mushroom, Nameko Mushroom, Tomato 野生菌, 番茄
Maitake Mushroom: known as the 'Dancing Mushroom' in Japan, it is a natural flavour enhancer that provides 'umami' – a savoury rich flavour while the Nameko Mushroom has a mellow earthy flavour with hints of cashew. They are both a good source of vitamins and they are believed to increase prevention against infections. The Tomato is known to have a satisfying sweet flavour that is also tangy.
The main highlight of this dish is the tomato from Niigata. This dish consists of a tomato consommé with the blend of Japanese ginger flower and lemongrass. The other main ingredients are the maitake and nameko mushrooms. The slow cooked lobster in the soup also adds to the overall flavour of the dish. We Just loved this Soup and surely we wouldn't mind having another serving of this.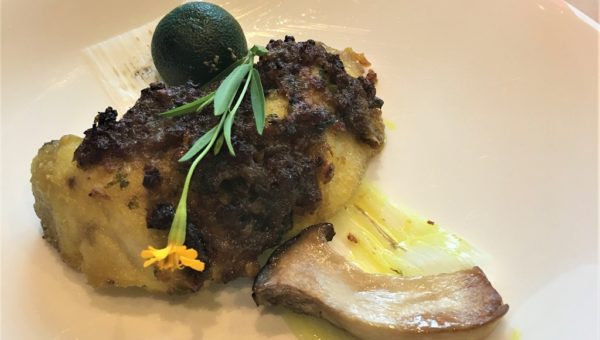 Medai 目鯛
The Japanese Butterfish (also known as Blue Nose) is a type of seabream or snapper. High fat content gives Medai a naturally butter taste.
The Medai fish is cooked with a slightly spicy paste on the top, this paste is made with a blend of turmeric, yellow ginger, dried shrimp, garlic, shallot and lemon grass. The dish is served with Japanese golden leek on the bottom and eryingii mushroom on the side. This dish is enjoyed by squeezing the calamansi on the top to bring out the spices for a burst of flavours.
The way this dish is interpreted reminds us our local version of Sambal Fish and Assam Fish combined. we love how the Chef interpreted the dish and reinvented the Butterfish to an Asian taste which is highlighted by the strong turmeric which is spread evenly on the fish.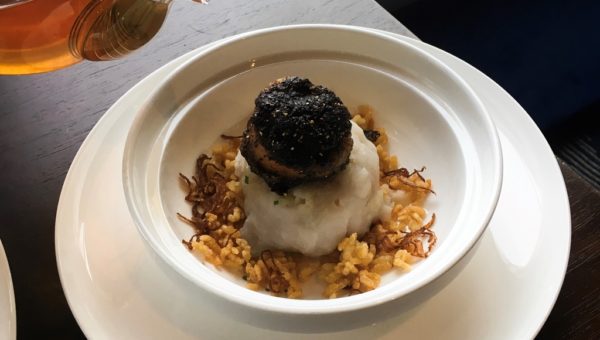 Uonuma Rice 魚沼市米
A city located in South Central Niigata Prefecture, it is famous for producing the best Japanese rice, Koshihikari – the crown jewel of Japanese short-grain rice. It is noted for its sweet and nutty taste with slight stickiness.
The dish has rice which cooked and reduced in chicken stock, the rice and deep fried mountain yam cubes are covered in a mashed mountain yam paste. The dish is served with crispy uonoma rice, shallots, trumpet mushroom and is topped with crusted Hokkaido scallops. Presented with a delicious seafood soup poured into the bowl.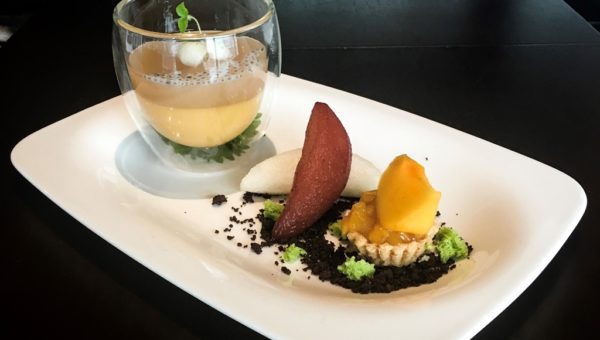 'Niitaka-nashi' Pear, 'Okesa-gaki' and Persimmon 新高梨, Okesa 柿子
The Niitaka-Nashi is a famous product of Niigata for a long time because of its rich history and the size of the fruit which is charectirzed by their wonderful aroma, juiciness and sweetness while the Okesa Persimmons, is characterised by its smooth, fully-rounded and superior flavour and is best enjoyed from the beginning of October.
This dessert has three components showcasing the fresh fruits from Niigata. Starting from the right, the persimmon tart has caramelised persimmon and marzipan (almond paste) topped with fresh persimmon. In the centre, there are two types of pear which are the fresh pear and the pear soaked with red wine. The teacup dessert has molten persimmon purée on the bottom layer and is topped with pear jelly, fresh pear balls and basil seeds.
If you love Japanese produce then we highly recomend you to The Niigata Set Menu, a fusion of Japanese and Chinese cuisine combined, not to mention this only happens once a year.
The Niigata City Set Menu will be served for lunch between 11.30am to 3.00pm and dinner from 6pm to 11pm (priced at $120++ per person) from 27 October to 11 November 2017.
For reservations and more information, please call Tóng Lè Private Dining at 6634 3233.