Snoopy's In The House as Kumoya's Latest Guest in their Pop-Up Café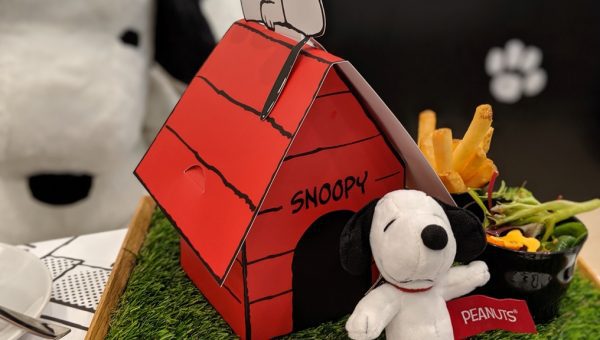 CONTENT: Michelle Ng
IMAGE: Luxe Multimedia
Fans of Charlie Brown's adorable beagle Snoopy gets the spotlight in Kumoya's latest pop-up! The café, which is famous for bringing lovable characters to life in their themed pop-ups, is welcoming Snoopy and his sidekicks. While Snoopy is the main character here, you'll also be able to spot Woodstock!
While you might have visited Charlie Brown's café in Cineleisure, the Snoopy pop-up is the first ever café in Singapore and Southeast Asia for the beagle. Be prepared for an extensive menu full of Snoopy-inspired bites, mains, desserts, and beverages curated by Shirley Wong (also known as Little Miss Bento).
Stepping into the café, you'll be greeted by huge displays of Snoopy, and the tables are covered in little comic strips. It almost feels like stepping into the comic section of the Sunday papers!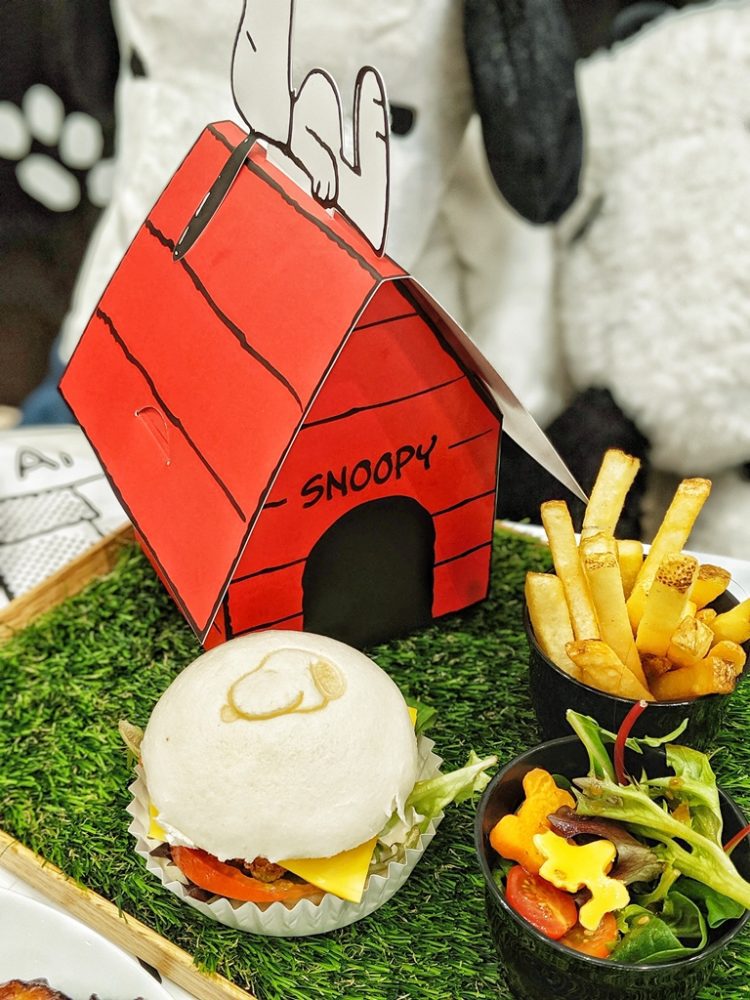 As always, the focus is on the food. The star of the Snoopy-themed menu has to be none other than the Snoopy's Doghouse Fantasy Ebi Burger, which arrives in a mobile garden with the iconic red doghouse. You have to actually take apart the doghouse to reveal the burger, which comes with an ebi patty fried to crunchy perfection and sandwiched in a dense and heavy mantou. Served with thick-cut fries and a small portion of garden salad, the burger might look small, but was pretty filling!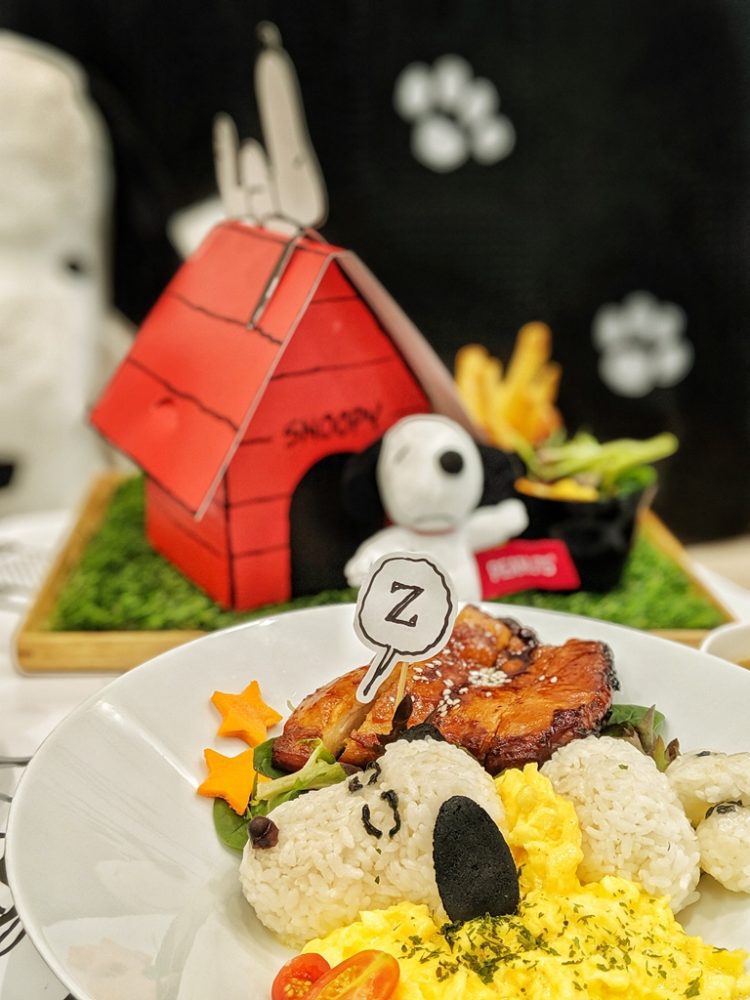 If you're not up for a burger, the Snoopy Sleep Tight Mushroom Sauce Rice with Roasted Chicken is a comforting plate of goodness. The rice is shaped in a sleeping Snoopy, covered in a bed of scrambled eggs and gravy sauce. The earthy mushroom sauce and creamy, fluffy eggs were exactly what we needed after a rainy day. We were only slightly disappointed by the chicken, which was overly charred, resulting in a dry chicken.
The desserts are always a treat, whether you're stopping by during midday or at the end of your meal. Kumoya has just introduced churros with the Chill Out With Snoopy Original Churro Balls with Fresh Fruit Parfait. The freshly fried churros come in bite sized pieces, and you can dip it in chocolate sauce and sprinkles. We, however, loved it best with Kumoya's signature soft-serve. And if you want to bring home a souvenir and not spend extra money, you'll be pleased to know that this dessert comes with a complimentary Snoopy keychain!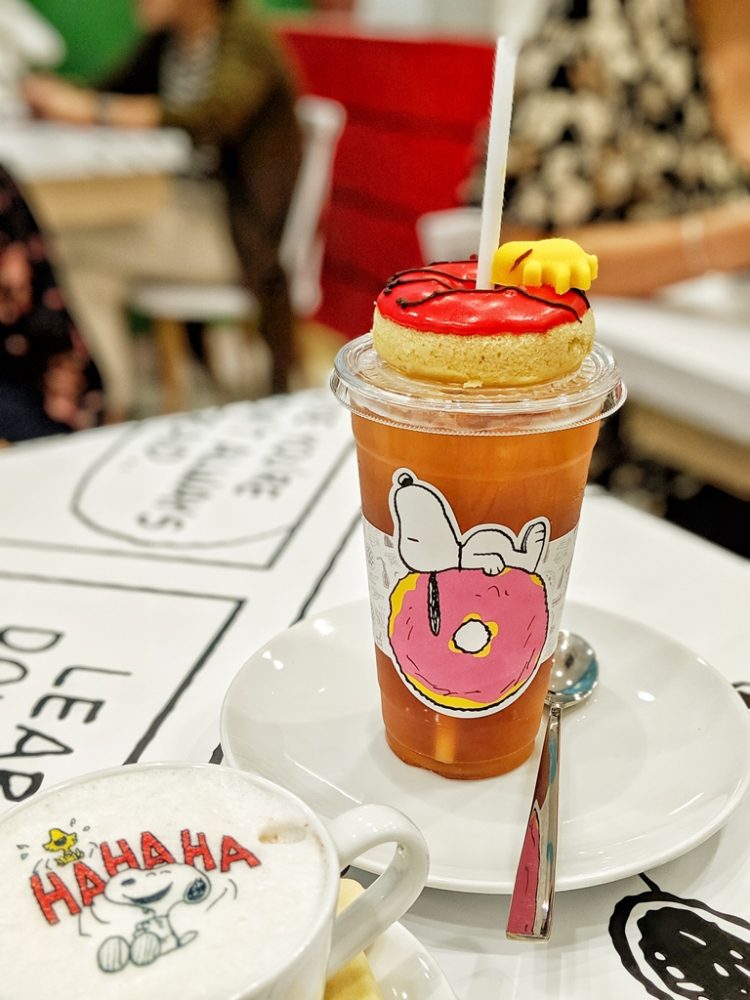 To quench your thirst, the menu also sees the addition of two new beverages: frappes and sweet tea. Our favourite was the Snoopy-On-A-Donut Iced Lychee Momo Tea, a refreshingly sweet yet not overly cloying drink to cool down, especially if the weather is really hot. The tea also came topped with a mini baked donut – a bonus! The beverages are all served on a limited-edition Snoopy coaster that you can take home too. There are a total of four unique designs – so you've got to order four drinks to collect the whole set!
As always, fans will find an exclusive merchandise section stocked with notebooks, folders, and other knick-knacks, all sporting Snoopy and his chums. For those who love collecting plushies, mini-keychains and huggable plushies are available too.
Visit Snoopy at Kumoya café from today until September 2019, open daily except on Mondays.