Summerlong Brings People Together with the Launch of Its New Menu
Escape the city's bustle and retreat to a safe haven by the river with a fresh diversity of Mediterranean dishes
CONTENT: Yiew Kai Jie
The eastern Mediterranean eatery Summerlong has launched their new dining menu, showcasing its quiet beachside vibes with a mix of bold flavors, making it the prime destination to escape the hubbub of the city. Head Chef Justin Hammond finds inspiration from the beloved Mediterranean coast, with new and refreshed dishes that are perfect for sharing.
The city riverside café and bar, located at The Quayside at Robertson Quay, offers a great variety of food and fun tipples, all inspired by the Eastern Mediterranean region such as Greece or Turkey. Summerlong aims to embody the bright and breezy beachside vibe that is reminiscent of seaside vacations with their beautiful white-washed aesthetics and perfect riverside location, it is the ideal spot to kick back and cozy up with your partners or pets! (Yes, the cafe is pet friendly.)
To quench their insatiable thirst after a hard day's work, guests can order a Jug of the Summerlong Spritz (S$14 per glass,S$50 per Jug)- a cocktail that includes Mancino Bianco (Vermouth), grapefruit, tonic and soda in the mix that is sure to revitalise even the most weary of souls with its sweet and crisp taste. The drink is rather gassy due to the soda, and it tastes like a mildly sweet peach-flavoured sprite, but when one is tired and in need of a drink, it is the perfect cocktail to re-energize oneself!
Guests can begin the feast with The Hummus Flight (S$17), a selection of four different types of hummus, each bringing its own unique and interesting flavour to the table. This dedicated collection of Hummus is showcased on the new menu and presents a wide range of unique hummus flavors: Eggplant and Mint (S$14); Artichoke (S$14); White Bean and Rosemary (S$13); and the Classic Chickpea (S$12) with an optional add-on of spiced minced lamb (+S$3). Hummus isn't something that is eaten on its own, opt for a side of flame grilled Flatbread (S$4) to go along with it. The smoky taste of the flatbread goes along well with the four different flavours of the hummus- each flavour bringing harmony to the marriage between bread and dip!
The Salads selection of the menu offers a fresh variety of greens such as Baby Cos Salad (S$19) dressed with oregano vinaigrette and pecorino, Arabic Salad (S$21) with cucumbers, juicy tomatoes, olive, dill and crisp pita chips, and finally the Tuscan Black Kale Salad (S$24) presented with sweet pomegranate seeds and well-seasoned couscous. The pomegranates were extremely crunchy, which provided a firm bite to the whole salad and the combination of ingredients worked well in harmony together, although the feta cheese in the salad could have been more stronger in terms of flavour as it was overshadowed by the tomatoes in the salad.
The open concept kitchen serves up a mix of Starters and Mezze, such as the Smoked Tuscan Olives (S$8), Tomato Focaccia (S$18), Grilled Zucchini (S$19) and Kingfish Carpaccio (S$22). A must have dish is the Charred Octopus (S$34); the octopus is brined overnight to retain moisture during the cooking process, then cooked low and slow, before being pan roasted to add a crispy texture. The dish is beautifully plated with a wedge of fresh lemon, zingy choppy oregano, chili, lemon and garlic vinegar dressing. Another Mezze dish that is made mainly for sharing is the Israeli Lamb Pita (S$17), which involves nicely marinated lamb stuffed into freshly baked pita bread with sour cream on the side. This dish is perfect while waiting for the main courses to come or a accompanying snack while having a few drinks with friends or family.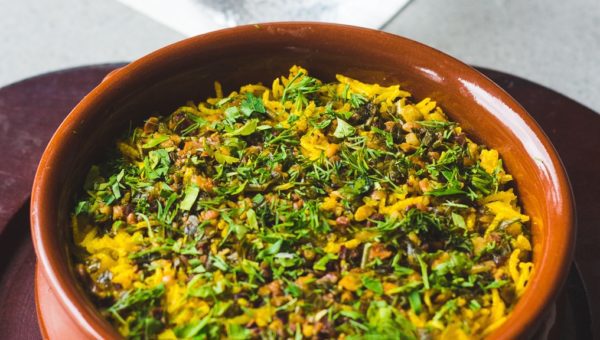 The new menu sees the addition of a Claypot Roasted category, inspired by cooking in clay from the Mediterranean. The dishes are stone baked, adding a depth of flavor and smokiness to them.The highlights include Saffron Rice (S$19) with pistachio and sweet peas, Spring Vegetables (S$21) drizzled with extra virgin olive oil, Roasted Eggplant (S$26) with minced pork and sweet caramelized onions and Forest Mushrooms (S$27) with chickpeas, seasoned with tajine Spices.
Under the Larger category of the menu, guests can indulge in everyday dishes, such as the Whole Roasted Chicken (S$34). The chicken is thoroughly rubbed with a spice mix blend, containing black pepper, cumin, turmeric, cardamom and coriander seeds, well blended together to create a fine powder. The protein is then roasted on high heat to crisp the skin, and left to rest for 40 minutes, before being placed back in the oven to be slowly roasted to get the meat tender and juicy!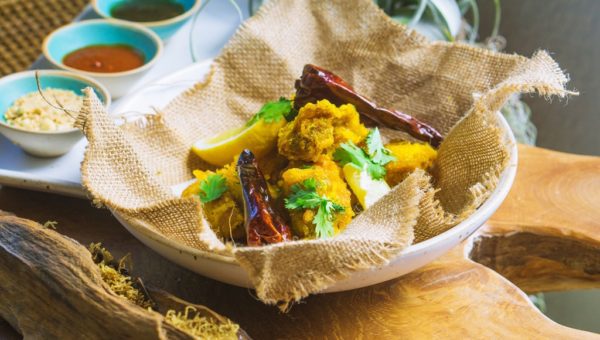 For smaller groups of guests or for customers who are unable to wolf down a whole chicken, the Persian Fried Chicken (S$25) is a smaller alternative that does not sacrifice portion size for flavour. The chicken itself is very tender and delicate, hints of the spice rub are present in the chicken, meaning that it was well seasoned and cooked without the meat turning dry. Personally, I would suggest squeezing the lemon on the chicken, further coat it with breadcrumbs lather it with the different sauces provided chicken for the perfect flavour explosion in the mouth!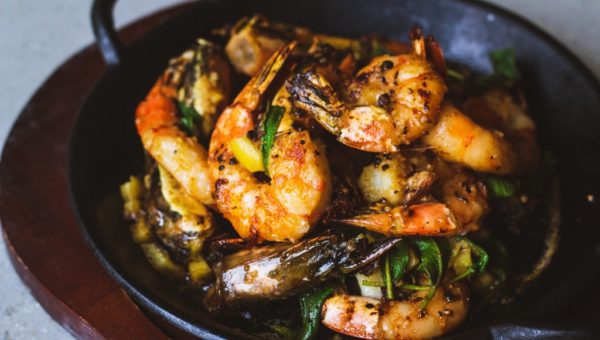 Those who have a hankering for the seas will delight in the Roasted Garlic Prawns (S$36). A half kilogram of these small delicious crustaceans are sautéed in a tantalizing mix of garlic, butter, preserved lemon and sage. This classic Mediterranean dish is served on a sizzling platter that helps to ensure the smell of this dish reaches your nose before the it reaches the table!
Another favorite is the Whole Roasted Sea Bass (S$44), wholly stuffed and roasted with lemon and herbs. The fish is tenderly rubbed with a spice mix of cumin, turmeric leaves, coriander and isot biber, a smoky urfa pepper found in Turkey. This flavorful fish is perfect for sharing with friends and family. The fish itself is very fresh and flaky, it doesn't have a pungent taste to it and has a very clean cut taste and flavour for traditionalists guests who prefer their fish without too much ingredients placed in it.
The new dining dishes are fit for a feast and great for bringing people together, from couples, families and friends. Head Chef Justin says, "For this menu, I was heavily influenced by my culinary experience and interpretation of what a group of friends or family would want to experience and enjoy if they were lounging around on the coastline. Mediterranean food lends itself to this dining style of eating together, combined with the relaxed vibes of Summerlong, there is no better way for guests to unwind as the sun sets with delicious food and drinks by the River."
Summerlong is located at 60 Robertson Quay #01-04 Singapore 238252
Summerlong is open from Monday to Friday: 5.00pm to Midnight and Saturday & Sunday: 10.30am to Midnight.
For Reservations, please call: +65 6235 1225