Sun With Moon Celebrates Spring with An Exclusive Hokkaido Menu Filled with Seasonal Delights
CONTENT: Michelle Ng 
IMAGE: Luxe Multimedia
While travel to Hokkaido is out for the near future, you can still feast on signature Hokkaido delicacies and regional foods in the upcoming Hokkaido Fair as summer fast approaches.
In this year's edition of the 13th Hokkaido Fair, Japanese restaurant Sun With Moon has refreshed its menu with plenty of seafood and regional produce like vegetables. Expect plenty of hotate, salmon, asparagus, yakiniku, and potatoes.
Start off by sharing some plates, where the fresh seafood takes the spotlight. Higlights include the Ma Ika Butter Shoyu Yaki, a pan-seared whole squid slathered in savoury butter and the Hotate & Asparagus Butter Yaki, where scallops and asparagus are grilled with butter on a scallop shell to bring out the flavor of the scallops. Cheese lovers should not miss out on the Salmon & Hotate 3 Kind Cheese Sauce Yaki, a hearty baked dish with salmon and scallops topped with a creamy mouse of 3 different cheeses.
Or you can also enjoy all your favourite seafood in the SUN Hokkaido Roll, Sun With Moon's house sushi roll that is stuffed with savoury scallops, fresh crab meat and crunchy asparagus. As a finishing touch, the roll is then wrapped in another layer of aburi salmon and topped with ikura for a burst of umami.
If you've visited Hokkaido's famed the ski resorts in Nakayama Toge, you'll instantly recognize the Age Imo, an unassuming deep-fried skewer of baby potatoes covered in corndog batter. Crisp on the outside and steamy hot on the inside, add some ketchup to enjoy these potato skewers like how they do in Japan!
The ultimate star of this year's Hokkaido menu has to be the Salmon & Pork Ishikari Style Nabe, a hotpot popular in Hokkaido that uses a miso-based broth cooked with plenty of vegetables and fish. The pot filled with sliced salmon, shabu shabu pork, carrots, potatoes, mushrooms and asparagus is simmered in the miso broth with a thick slice of creamy butter. Let the butter melt and boil down into the soup to bring out the rich, umami flavor of the shabu shabu.
Not to be missed is the Wakadori Hanmi Age Yama Wasabi Salt, half a chicken fried to perfection and served with Hokkaido Yama wasabi and salt. Eaten by itself, the chicken tastes just like your everyday chicken, but when dipped in the delicious Hokkaido sea salt and wasabi, the dish suddenly becomes a festival in your mouth.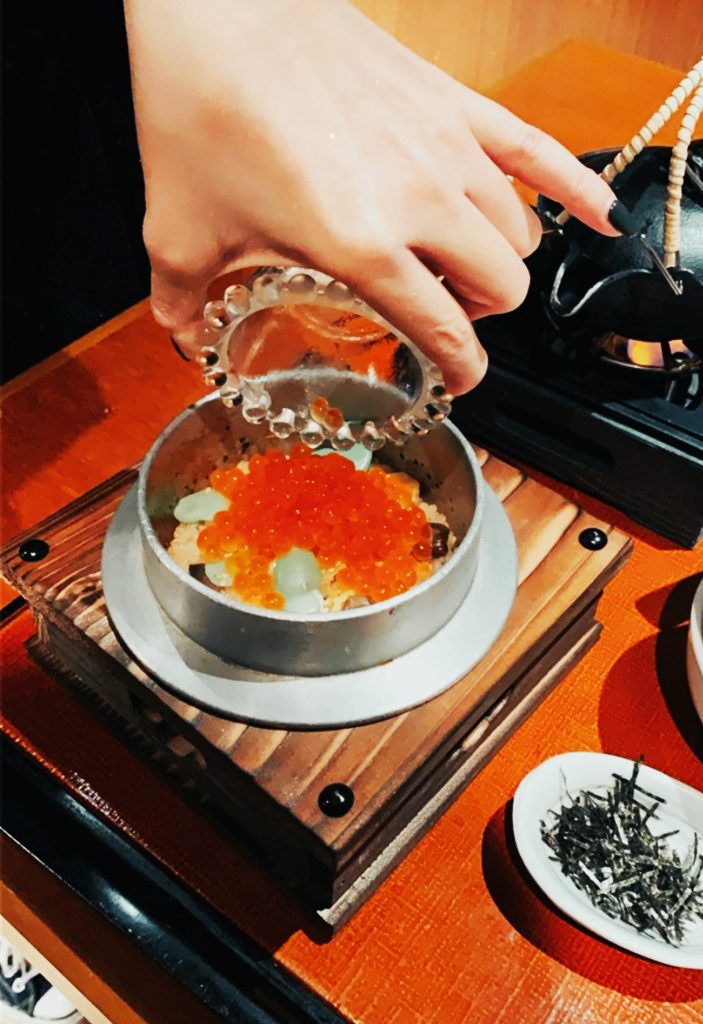 Sun With Moon's specialty dish also gets an exclusive flavor – the Tappuri Ikura Kamemeshi is a pot of steamed rice mixed with a huge helping of salmon roe. Best eaten by adding some tsuyu broth, the umami soupy rice is a simple yet comforting meal. While the dishes are available individually, some of the dishes can be ordered as a set so that you can enjoy more for less!
Finish off with some Japanese sweet treats. The Japanese city's take on a Spanish dessert – Sapporo Catalana with Hokkaido Milk Ice Cream – is a creamy, milky pastry (similar to a crème brulee) and paired with rich Hokkaido soft serve is a sweet, refreshing way to end your meal.
Quench your thirst with their selection of limited edition drinks that features the fresh fruits of Hokkaido. The Melon Double Blend is a sweet and sour mocktail of melon syrup and melon puree, and the Concord Milk Ice is a sweet mix of milk, Concord juice and Kyoho jelly, both equally refreshing. For those who enjoy a little tipple with their meal can opt for the Melon Highball, or a glass of Hokkaido Shiso Umeshu.
The Seasonal 13 Hokkaido Fair Menu will only be available until end of April.
Sun With Moon is located at 501 Orchard Road, #03-15 Wheelock Place, Singapore 238880. Open from 11.30am to 9.30pm.