Transport Yourself To The World's Most Exotic Locations Without Leaving Your Home
While most international borders are closed and planes grounded during the global COVID-19 pandemic, travel lovers can be assured they can still get their travel fix and help support the industry, without leaving the house. Whether recreating antioxidant-rich recipes from the cookbook behind wellness retreats to purchasing beautiful safari-inspired homewares in order to luxe up work-from-home spaces, read on for our top picks to fuel travel passions and support the tourism industry.
Bring A Touch of Safari To Your WFH Space with Singita's New Online Boutique & Gallery
With the rising effects of COVID-19, more and more individuals across the globe are advised to work from home and avoid international travel. Wanderlust-lovers can bring a taste of safari right to their door with access to Singita's new carefully curated new online boutique, with the help of leading South African design duo Cécile & Boyd. Since its conception, revolutionary design and effortlessly chic safari style have been a trademark of the Singita experience.
Earlier this year, the brand announced the highly-anticipated launch of its online e-commerce platform Singita Boutique & Gallery, bringing all of the award winning design products found at its lodges to guests' fingertips from the comfort of their homes. The Singita Boutique and Gallery will encompass an extraordinary range of art, home décor, tableware, furniture, jewellery and clothing. Online shoppers can add travel-inspired tweaks to their home office with relaxed style desk chair from Singita Lebombo, store their utensils in this woven safari leather desk accessory set or create a calming ambience with these geometric African brass candle holders. From the traditional woven underplates at Singita Boulders Lodge to the three-seater grey linen sofa at Singita Lebombo Lodge, guests can now experience the ambience of Singita without having to step out of their front doors. Highlight pieces include a hand-woven mosaic tapestry from the newly opened Singita Kwitonda Lodge, wildlife sculptures by internationally acclaimed artist, David Schaefer and an 18-arm brass chandelier. Additionally to these artefacts, customers can buy African style jewellery and chic safari apparel.
Visit: https://www.singitastores.com/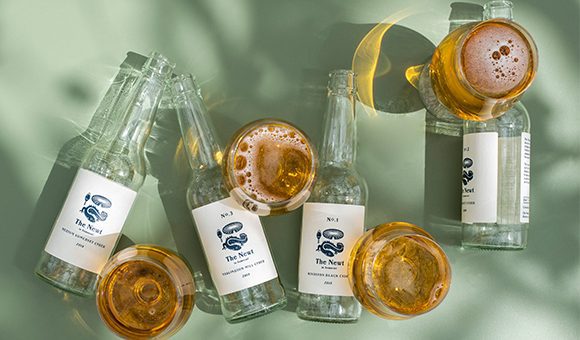 Support Local Somerset Crafts & Bring A Slice Of The West Country Home, From The Online Farm And House & Garden Shop From The Newt In Somerset
Celebrating all things Somerset – local and seasonal – everything at The Newt is inspired by its West Country heritage and artisan food production. The Online Farm and House & Garden Shop is a place to discover the best of local produce and craft, from freshly pressed juices and honey collected at The Newt, to some of the finest Somerset and West Country crafts and garden ware. Bottles of cyder, apple and pear juice are pressed at the on-site Cyder Press; jams and chutneys are all pickled using produce from the Estate's various kitchen gardens.
Guests can also purchase wines, oil and beautifully packaged chocolates from The Newt's sister property, Babylonstoren in the Franschhoek valley in South Africa. For the house and garden, guests can browse unique, handcrafted items have been handpicked to spotlight the incredible craft community in the West Country. Exquisite ceramics and textiles are found alongside candles and organic body oils.
Rates at The Newt in Somerset start from £275 (S$490) per night based on two sharing on a B&B basis. Rates include a personalised larder as well as access to gardens, estate and spa facilities. https://thenewtinsomerset.com/ Guests are able to buy whilst on site at the Farm Shop and House & Garden Shop at The Newt, as well as online: https://shop.thenewtinsomerset.com/home
Get A Slice Of The Iconic Scottish Hotel, Gleneagles From Home With Its Glengeagles & Co Line Of Luxury Leather Goods, Fine Foods And Home Gifts, Available Online
Drawing inspiration from the golden age of railway travel and all that the iconic Scottish hotel, Gleneagles encapsulates in the way of heritage and Scottish tradition, the hotel's Glen & Co range of luxury leather goods, fine foods and home accessories are available to buy online. Celebrating British and Scottish heritage, the collection of leather goods has been designed in-house by Ennismore Design Studio, and crafted by two of the finest UK leather goods manufacturers, Tusting and Royal Warrant holder, Launer London.
Meanwhile, guests can remember the tastes of Gleneagles and Scotland long after they have visited, with the Gleneagles & Co range of fine foods. These have been curated in collaboration with a number of local artisan producers who have finessed their craft over generations and showcase a wealth of traditional Scottish recipes and high-quality ingredients sourced in Perthshire and across Scotland.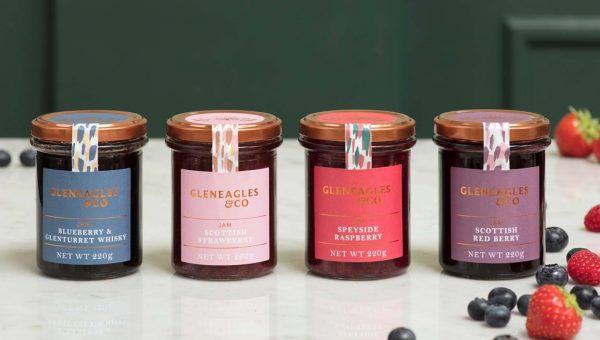 From the signature Three Fruits Marmalade and various fruit jams, chutneys and dressings, to Cracked Black Pepper Oatcakes, Earl Grey Shortbread and hand-made chocolate bars, this selection will get taste buds tingling and certainly look the part, in keeping with the glamour of recently-renovated The Strathearn restaurant. Also part of the Glen & Co collection are three beautiful candles – Bramble Juniper, Highland Mist and Wild Cherry – smells that will have guests fondly reminiscing their time beneath the rolling Ochil Hills.
Originally built by the Caledonia Railway Company, Gleneagles first opened its doors in 1924, and is one of the country's most iconic railway hotels. The genesis of the leather goods collection can be found in the popular 1950's hat box, which ladies used to carry on the trains to and from the hotel. Comprising a range of cross-body, hold-alls and messenger bags for men and women, along with smaller leather accessories, including purses and luggage tags, the collection carefully balances old-school elegance with a contemporary aesthetic and items are named after railway stations on the London to Gleneagles train route. The railway journey motif continues to permeate as the collection's deep navy, rich brown and striking teal palette references the colours used in steam locomotives during the early 1900s, including the LMS locomotive used on the London to Gleneagles route.
Complementing this, upon opening, the collection's lining adorned with thistles offers a glimpse of the hotel's past as it pays homage to a wallpaper pattern discovered in the hotel's archives, reinterpreted by illustrator Louise Mulcahy.
The Gleneagles & Co collection is available to purchase from https://shop.gleneagles.com or in the hotel's Retail Arcade. Prices start from £7 for a trio of Scottish jams; £45 (S$80) for a luggage tag; £37.50 (S$66) for a candle, up to £595 (S$1,058) for the Berwick hold-all. A personalisation service is available for those wishing to have their initials engraved on items from the collection.
Transport Your Senses To The Powder White Beaches of St Barths With Diptyque x Eden Rock – St Barths
Prestigious Oetker Collection hotel, Eden Rock – St Barths has called upon olfactory expert Diptyque to create a signature fragrance exclusive to the hotel. The scent has been expertly created to give a soli-flora composition of Ylang Ylang, whose precious yellow flowers are derived from a sustainable development programme on the island of Mohéli, part of the Comoro Islands – an archipelago of volcanic islands situated off the south-east coast of Africa. A highly bespoke and limited-edition range, in both product and aesthetic, the Diptyque x Eden Rock – St Barths collection comprises sweet-smelling candles, pillow mists and home fragrances. Caribbean icon, Eden Rock – St Barths reopened its doors in November 2019 following an extensive two-year renovation, after the devastating impact of Hurricane Irma in 2017.
The hotel revealed a complete transformation and restructure including new rooms and suites, a new bar and restaurant and spa concept. Diptyque meanwhile – established in 1961 – is world-renowned for exceptional fragrance, the most beautiful scented candles, and body and skincare that stimulates the senses for a uniquely luxurious experience.
The Diptyque x Eden Rock – St Barths range is available to purchase on Oetker Collection's online boutique, Eden Being: boutique.edenbeing.com/collections/eden-rock-st-barths. Prices range from £25 (S$45) for a pillow mist to £395 (S$702) for a 1.5kg candle
Purchase Handmade Limited Edition Items From The " Creations Dragonfly" Collection At Domaine Des Etangs
The Domaine des Etangs hotel was created through the work of expert craftsmen, stonecutters, cabinetmakers, carpenters and gardeners and it was their handiwork and knowledge, that helped to build the enchanting castle and its farmhouses from the land and the surrounding forests. Local talent remains at the heart of the Domaine des Etangs.
Creations Dragonfly is a collection of unique items that aspires to transform the emotions into objects, shedding light on the knowledge and intricate skill of the craftsmen behind it. Each object included in the collection originates from a tradition that has been nurtured by the passion and talent of these local craftsmen. Creations Dragonfly is committed to respecting the cycles of nature and this is reflected in the time, patience and utmost care that is required for these artisans to create these individual objects. Each creation is a limited edition, unique to a particular artisan and to the Domaine des Etangs.
Objects in the Creations Dragonfly collection include: 'Dans les rêves' a one-off handwoven mohair throw with silk edges, 'Singuliers' square and rectangular porcelain trays covered in vegetable-tanned leather, 'Empreinte du temps' a ceramic stool with rope embossing, and 'Ciel et Terre' an exclusive vintage Cognac that has aged for 22 years.
From leather to porcelain, ceramics to wood, stone to gold, glass to stained-glass, these objects come together in their shared authenticity, the intelligence of the craftsmen, a respect for nature and its cycles and the balance between the exceptional and the affordable.
These contemporary yet timeless objects are available to purchase at the boutique shop in the hotel. The shop features burnt wooden walls, taken from the traditional 'Crocodile technique' developed by Cognac coopers who char the lining of their barrels to enhance the amber hue of the spirit.
For more information and to shop the collection please visit www.domainedesetangs.com