Sun with Moon Japanese Dining & Café Launches 2018 Grand Menu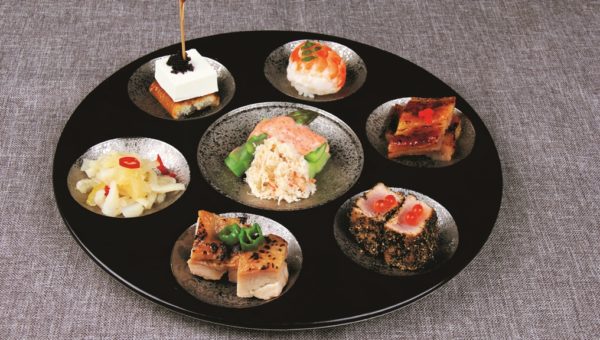 CONTENT: Yiew Kai Jie
SUN with MOON Japanese Dining & Café has unveiled their 2018 grand menu that will feature a repertoire of brand-new creations, together with new spins on all-time favourites. The 170 seater restaurant is committed to introducing traditional Japanese food not usually found in Singapore, as well as modern Japanese dishes since its inception in Singapore in 2005.
Start off the meal with the Zensai Mori ($16.80), an indulgent platter of 7 chef-curated appetizers. Take your pick from the grilled unagi with cream cheese, seared mini tuna steak with black pepper, grilled pork belly or grilled chicken thigh. Light bites like the mini prawn sushi, crabmeat and asparagus with mentai sauce as well as the refreshing pickled radish with yuzu and herring roe, will definitely whet your appetite.
Next up, SUN with MOON introduces a new spin of its signature dish Kamameshi, the Niku Atsu Hotate & Unagi Kamameshi ($26.80). Get a taste of traditional Japan within the steamy iron pot topped with luscious grilled unagi, and savour the rich aromas of extra thick-cut flame-seared scallops with fragrant Japanese rice. The accompanying soup broth and kamameshi ingredients are all meticulously prepared for a satisfying and heart-warming Japanese traditional dish. The fragrant rice is very well seasoned and fragrant, and the broth isn't overly salty and tastes very light as well. The combination of soup and rice makes for a very good pairing combination that helps to balance the dryness of the rice with a little added saltiness from the broth.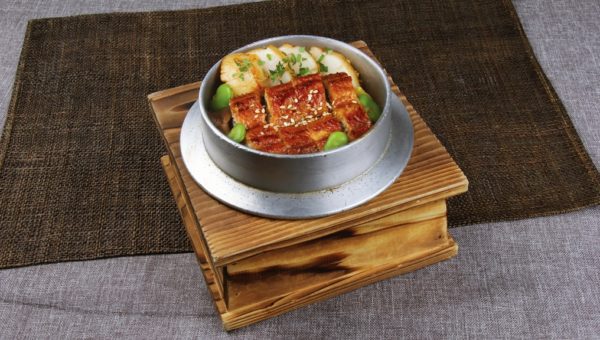 Slurp up the sweet broth of the piping hot Beef Miso Dare Sukiyaki ($25.80), made with Executive Chef Sawai's original miso dare blend with hatcho (soybean) miso from Okazaki in Aichi Prefecture. Instead of standard sliced beef which usually soaks up all the saltiness from the broth, diced US Ribeye beef cubes are traditionally served in the hotpot to retain the flavours of the beef longer for your enjoyment. The beef cubs are chocked full of flavour and combined with the multiple flavours balanced with the various vegetables in the broth- it makes for a very satisfying meal to combat the cold weather.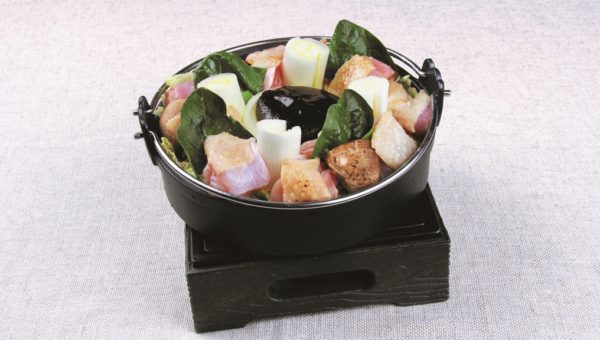 Meat-lovers will be delighted to try the Steak Moriawase ($45.80), a succulent grilled steak combo of Japanese Wagyu, US Tenderloin and pork steak (300g). To go along with the steak, diners can pick from 4 sauces, 3 of which are Sun with Moon original sauce blends – black pepper, red wine and goma mustard sauce. While the wagyu and tenderloin steaks were full of flavour and very tender, the pork steak was anything but soft or flavourful. The pork was rather hard and tasted bland, as if all the seasoning was just liberally applied to the protein rather then intensely rubbed into it. I would highly suggest sticking to the beef and pairing them with either the red wine or black pepper sauce for an added spicy kick to it that will leave a lasting impression in the mouth.
The latest Temari Sushi ($23.80) are bite-sized mini sushi balls which will surely be a hit amongst kids and adults alike. Fragrant Japanese sushi rice is lovingly molded into mini balls, and topped with fresh tuna, salmon, scallop, grilled eel, yellowtail, mackerel, swordfish, cuttlefish, salmon belly and boiled prawn.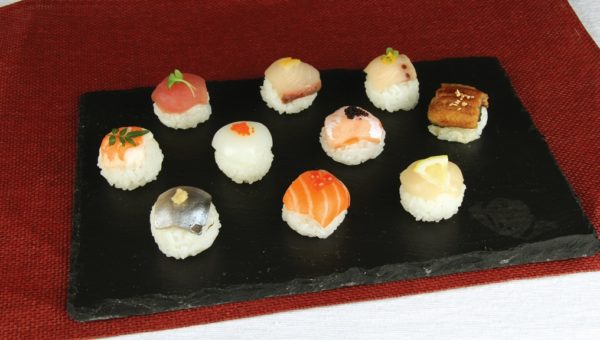 Alcohol-lovers will be delighted by the wide variety of sakes, wines, and spirits here at Sun with Moon, specially selected by in-house sommelier Mr. Daisuke Shibuya. Mr Shibuya achieved his Sommelier Certification in 2007, and has gone on to acquire many accolades in wine, sake and shochu appreciation. Discover the beauty of Japanese alcohols with selections such as the Umeshu Sampler, a tasting menu of umeshu from different regions of Japan. They are the Yuzu, Gin Kou Bai, Hannya Tou and Tantakatan flavoured umeshu- each having their own distinct sweet and light flavours that are sure to amaze and astound their customers!
Exclusively available at SUN with MOON, the San Sui Getsu sake label is an original collaboration between SUN with MOON, SUN with AQUA in Shanghai and Restaurant Suntory, Honolulu. Together with Sekiya Sake Brewery in Aichi Prefecture, most popular for their Hou Rai Sen Sake series, Mr Shibuya meticulously selected the sake rice for a smooth, original sake. Designed to match SUN with MOON's dishes and appealing to many palates, the original sake has a complex fruit aroma together with a faint sweetness that will go well with a delicious meal at SUN with MOON.
Sun With Moon Cafe is located at 501 Orchard Road, #03-15 Wheelock Place, Singapore 238880.
Sun with Moon is open daily from 12pm to 10pm from Sunday to Thursday and public holidays and 12pm to 10.30pm on Friday and Saturday and eve of Public Holidays.
For reservations, please contact them at (+65) 6733 6636 or email them at info@sfbi.com.sg.