Sushi Tei Welcomes the Autumn Season with it's New Menu Creations
To celebrate the autumn season, Sushi Tei has specially curated an exquisite new autumn menu featuring a range of fresh seafood to premium beef.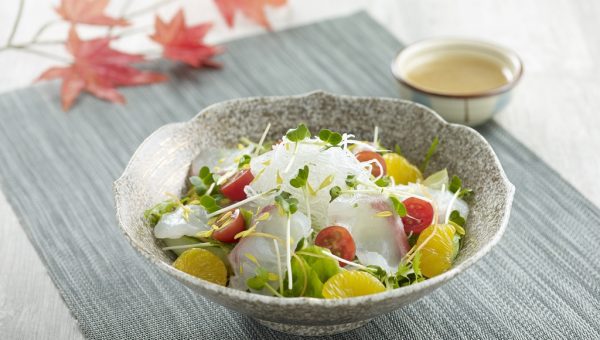 Start your meal with the refreshing Mikan Tai Salad, a colourful medley of mandarin orange sea bream and different types of fresh vegetables served with citrusy Hyuganatsu dressing. Mikan Tai is a type of well-known brand of sea bream in Ehime, which is located in the northwestern Shikoku, Japan. The farmers nutrify them with an enhanced feed of mikan (mandarin orange) to maintain the freshness of the fish. At the same time, this allows the delicate white fish meat to acquire a hint of citrus flavour. The subtle citrus flavor will spread across your palate, and this is further elevated by the choice of Hyuganatsu dressing.
Seafood lovers will be delighted with the Butter Kai Yaki – fresh scallop and squid baked deliciously in butter and topped with tobikko perfect as a starter.
Other starter highlight include the Truffle Sweet Potato Fries, a modern rendition of the traditional autumn staple where roasted sweet potatoes strips are deep fried and dusted with truffle powder; the Fruitti Autumn Roll, an sushi roll of baby octopus with cucumber wrapped in a colourful rainbow of mango, avocado and dragonfruit before being topped with cream cheese and ikura and the Yoshoku Lobster Croquette, a golden-lobster bisque soup croquette loaded with lobster meat, red frizze, shredded cabbage, cucumber, tomatoes and special homemade dressing.
For mains, Meat lovers can opt for the Canadian Pork Kimchi Don, where a blanket of fork-tender Canadian pork belly slices mixed with piquant kimchi cabbage lies atop a bed of fluffy steamed Japanese white rice as well as the Seafood Collagen Pasta– collagen-packed savoury seafood pasta bound to please all ladies! The pasta is served with a generous serving of squid tentacles & clams in a buttery, collagen packed sauce. The dish is then topped with fried beancurd and dried seaweed flakes.
Highly prized for its rich flavour, the Omi wagyu beef is arguably one of the finest beef in the world and Sushi Tei is giving diners the opportunity to enjoy Singapore's most affordable Omi Steak. Apart from its fine fat marbling, the beef boasts a sweeter and smoother flavour compared to other types of wagyu. A4 Wagyu Omi Beef is simply pan-fried to bring out the natural flavours of this quality ingredient.
Finish on a sweet high with their delectable dessert of Chocolate & Vanilla Panna Cotta with Frozen Strawberry. The creamy and smooth panna cotta layers melt in the mouth completed by an icy cold frozen strawberry at the top.
The brand-new dishes will be available at all Sushi Tei outlets for a limited time only from now till mid December 2019.
For more information please visit: www.sushitei.com