The Ranch Steakhouse Offers Exceptionally Good Steaks at A Reasonable Price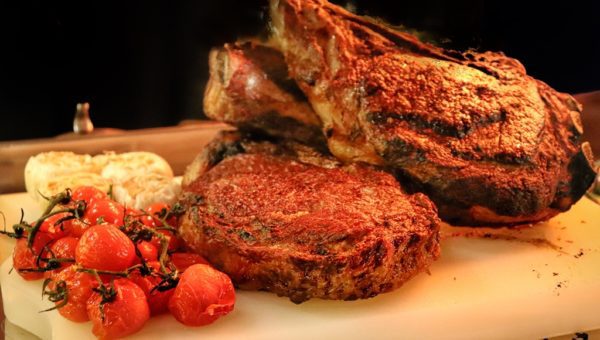 CONTENT: Andrew Kho
IMAGES: Tyler Koh for Luxe Multimedia
ASTON'S, a well-known Singapore dining destination for great western cuisine at a very affordable price is going a notch higher with the opening of their newest premium outlet – The Ranch Steakhouse at Clarke Quay.
Step into this high ceiling, classic Texas ambiance that would make you feel that you are back during the classic cowboy period. The place offers an outdoor bar seating just directly opposite the redtail bar by Zouk which hypes up the vibe in the place. Inside the restaurant is a quaint designed dining area that is welcoming for social get together, family gathering, or a simple casual meal to satisfy your cravings for steak.
The Ranch is a classic steakhouse concept that serves exceptional 30 days to 240 days Dry Aged and Grain-Fed Beef. The exclusive dry-aged beef is served with "bones in" which greatly enhances taste, aroma and tenderness of the meat. For starters their Wagyu Cold Cuts Platter (S$22.00) offers a selection of four types of sliced Wagyu beef, Cornichon and their in-house The Ranch Artisan Bread, a very good starter and perfect to be paired with their great selection of wines.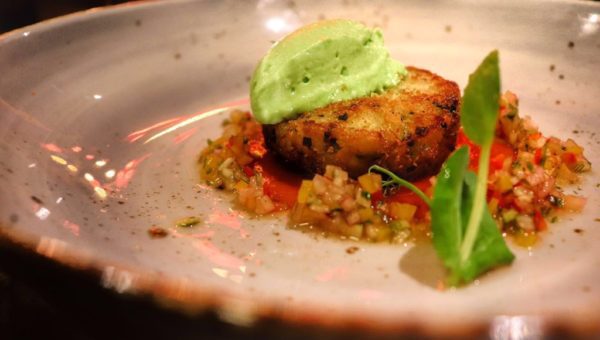 Other highlights I tried from their menu is their Homemade Crab Cake (s$18.00) which is prepared using premium crab meat, roasted red capsicum ketchup, cucumber relish and topped with avocado ice cream, as compared to the other restaurants crab cake, you can taste the freshness and really taste the succulent fresh crab meat inside the patty, while the avocado complements the cake without being too sweet.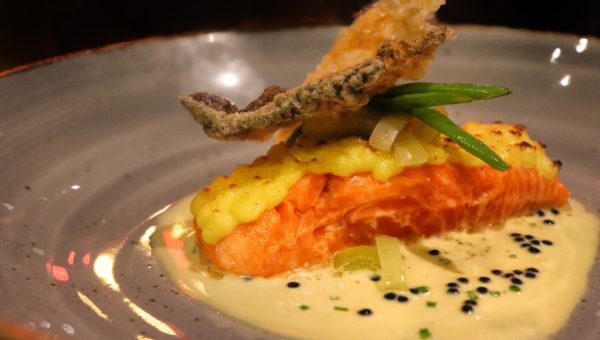 For those who aren't into beef, fret not as they got two seafood selections in their menu and we got to try their New Zealand King Salmon (s$33.00) which is pan-fried perfectly served with citrus leek & potato puree, Kenya beans and Caviar cream sauce. I love how the salmon wasn't overcooked and their bright orange flesh is retained.
The main highlight of the evening is their steak selections, the ranch uses Southpaw griller which is the same griller used by renowned steakhouses such as Morton's and Wolfgang. They also have their own dry aged meat cabinet, with the concept conceived by Aston himself when he was at Germany four years ago and decided to bring this to Singapore. Having said that, I had a high expectation of their steaks being an avid fan of steaks myself.
Served to me first was their Japanese Hokkaido Wagyu (s$98.00), i was quite fairly disappointed with the wagyu being a bit tough considering wagyu beef should be tender and melt in your mouth, i feel this wagyu was such a waste with the way it was cooked. next served to me was their 30 Days Dry Aged USDA Prime Bone-In Ribeye (min order 700g / s$ 13.00), surprisingly having it dry aged, the flavour is more intense and this time, the meat is tender, even though i would prefer it to be cooked medium rare, i would say this steak is a must order when you visit the place, just remember to order the way you would want your doneness to be. Complement your steaks with their selection of classic side dishes (s$8.00) such as creamed spinach, gratin Dauphinoise, garlic mashed potato and more..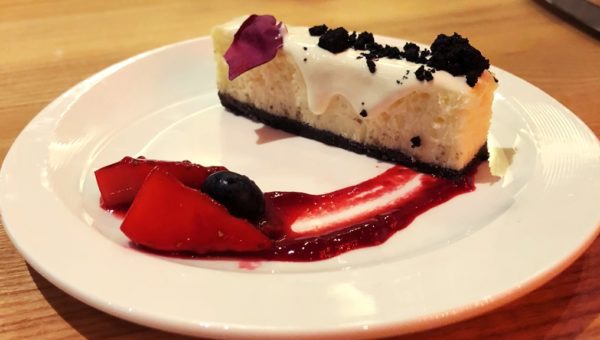 Lastly, end your meal with their delicious to die for desserts prepared by their own in-house pastry Chef. We fell in love with all of their desserts but let me list my top three favourites, out of the five dessert selections, I loved their Chocolate Paradise (s$12.00), Swiss Chocolate Ice-cream, hazelnut Chantilly, Feuilletine Tuiles & Salted Crumble, Snow White Bar (s$12.00), delicate layered cheesecake, charcoal crumble and berries compote, and thirdly, is their Warm Berries (s$12.00), Marinated mixed berries with a mix of granola's, cereals and Vanilla ice cream, tastes like your healthy breakfast meal. All of their desserts are superbly good and no doubt i loved it and i wouldn't mind coming back either to have a slice of good steak or just a dessert during one fine afternoon.
The Ranch Steakhouse being located in the iconic place Clarke Quay which is synonymous to great food, music and party – the place is perfectly suited to house the one and only "The Ranch Steakhouse" in Singapore that is offering good food at a practical price.
I would safely say that The Ranch is the newest place to go to for good steaks without being heavy on your pocket, a place perfect to bring your friends or colleagues for a casual dinner, a place to enjoy good wines and beer on weekends and lastly, a place to satisfy your appetite.
The Ranch Steakhouse is located at 3B River Valley Road, #01-15 The Foundry, Singapore 179021
For reservations please call +65 6256 0334 or visit: www.astons.com.sg/partners/theranch