Truedan Opens New Outlet at Orchard Gateway
CONTENT: Seraphina Tang
Popular Taiwanese bubble tea chain Truedan (Jenjudan) has opened its second outlet at Orchard Gateway, and now offers an all-new Brown Sugar Taro Milk drink to go along with the opening! Known for their variety of brown sugar-imbued drinks, Truedan is one of Taiwan's largest bubble tea chains with over 50 chains worldwide, from Tokyo to Australia.
First arriving in Singapore in March 2019 as Jenjudan to much fanfare at Citylink Mall, the chain has now re-branded itself as Truedan in order for international expansion – the latter being easier to pronounce. Truedan was first established at the famed Shilin Night Market in Taipei circa 2010, with its Mandarin name of "珍煮丹" meaning "elixir" and is also a clever wordplay on the pearls in their signature drinks, as well as a testament to their dedication of serving up high-quality beverages.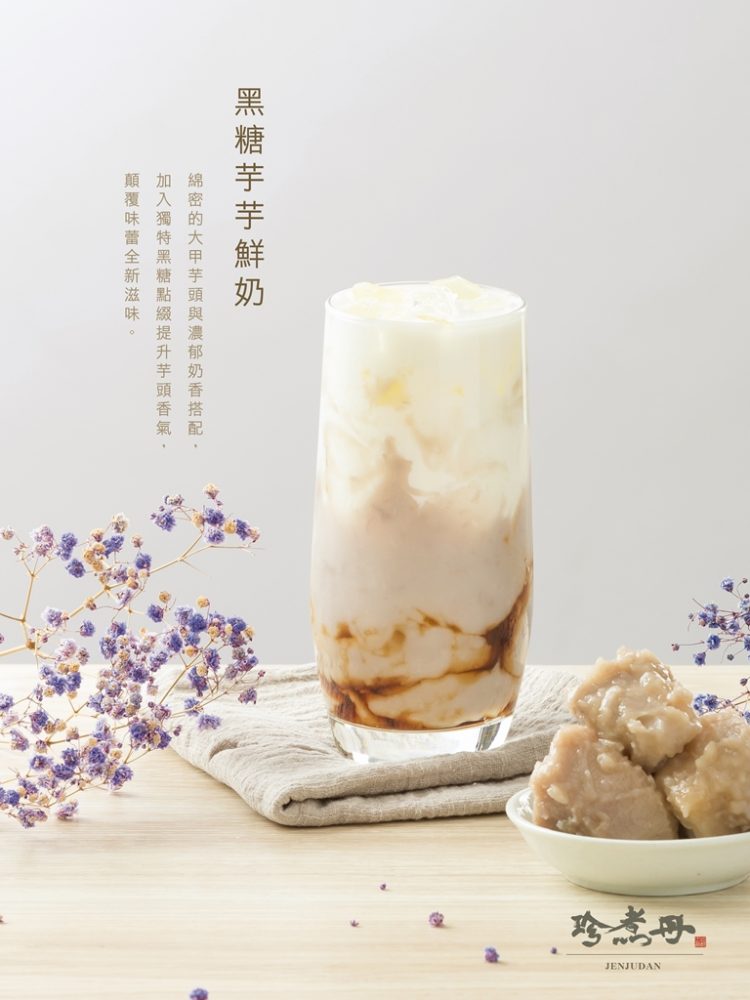 Here in Singapore, the brand offers over 20 delectable drinks, all carefully crafted with their premium proprietary Taiwanese brown sugar. Stir-fried over charcoal and a slow fire, the brown sugar is made into a fragrant caramelised syrup that is used to sweeten Truedan's beverages. Besides that, Truedan also airflows their boba all the way from Taiwan – dehydrated and vacuum-packed, these pearls are later slow-cooked in the brown sugar syrup to create a fragrant and flavourful mixture of QQ boba to top off their drinks! To maintain the freshness of the pearls, Truedan also ensures that the brown sugar boba mixture is cooked and replenished every two hours.
With the opening of Truedan's newest Orchard Gateway outlet, have a taste of their latest offering: the toothsome Brown Sugar Taro Milk ($5.90), where fresh Taiwanese taro is steamed and hand-mashed, then layered with fresh milk and swirls of aromatic brown sugar. A lovely lavender drink perfumed with the burnished brown sugar, this was akin to a taro milkshake, and is perfect for the season!
Chocolate-lovers will enjoy the Oreo Brown Sugar Boba Milk ($5.90), where crushed Oreo cookies, fresh milk, brown sugar boba and sweet crème are layered in a luxuriously creamy and addictive fusion of cookies-and-cream delight. The Passionfruit Green Tea with Nata de Coco & Brown Sugar Boba ($5.90) is a refreshing and fruity blend that is great as a thirst-quencher – as Truedan's drinks are all sweetened with brown sugar, you can even customise your preferred sugar level for the Tea Range to be 0%.
As a bonus, Truedan will also be giving away 800 pieces of their limited-edition beverage tote bag to customers who purchase the new Brown Sugar Taro Milk beverage from the CityLink Mall and Orchard Gateway outlets. In minimalist black and white, these beverage carriers are both stylish and eco-friendly – a great way to do your part to save the Earth without compromising on your love for bubble tea!
Truedan is located at: : Orchard Gateway, 277 Orchard Rd, #B2-10, S238896
For more details please visit: www.jenjudan.com