Una Una: Singapore's Cheapest Charcoal-Grilled Unagi Hitsumabushi
Una Una, an unagi specialty restaurant has officially opened in Bugis+. They are the first in Singapore to serve the best value, charcoal-grilled unagi hitsumabushi from $9.80 onwards.
Be treated with a wonderful spread of unagi offerings, such as: the Hitsumabushi, Unaju, Gozen, unagi sushi rolls, and unagi kabayaki (grilled) sets as well as other lip-smacking menu selections that Una Una has to offer, from appetisers to sashimi, salad, grilled items and sashimi maze don – all at extremely affordable prices.
Originated from West Central of Japan, Unagi Hitsumabushi ($9.80 for small, $14.80 for regular) is a Nagoya-style of enjoying unagi. Using authentic unagi sauce from Japan, the unagi here is freshly grilled over charcoal using a double-dipping technique. The unagi is basted with special in-house sauce made of shoyu, mirin and sugar and grilled over controlled temperature twice for about ten minutes. This gives it an alluring texture that is crisp on the outside, fluffy on the inside. Such dedication to the chef's grilling techniques, temperature control of the charcoal grill and the sweet basting tare creates an irresistible, melt-in-the-mouth goodness.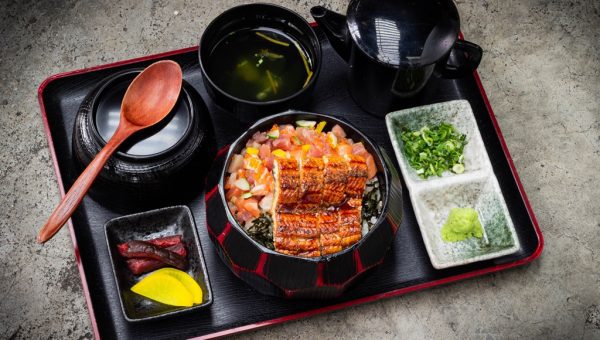 Enjoy the Hitsumabushi in 3 special ways to experience different flavour profiles. First, divide the bowl into four portions. Enjoy the first portion on its own and relish the depth of flavour of the eel. Then, for the second portion, add wasabi and green onions to a bed of springy Hokkaido rice and eel. For the third portion, make it to an ochazuke fare by adding the clear dashi to the above-mentioned mix. The final portion can be enjoyed however you like.
Served in a rice box, Unaju (bento box) is the Tokyo-style of unagi dish that is served with chawanmushi. Priced at $19.80 for regular size, unaju comes in a larger volume of rice compared to the Nagoya-style hitsumabushi. The eel is prepared differently, by grilling the eel over charcoal twice for only six to eight minutes under heightened control over the charcoal fire. This preparation method gives the eel a softer and more tender texture.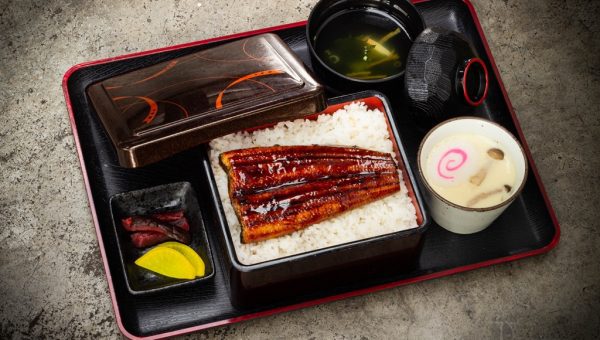 If you have a bigger appetite, go for the Salmon Ikura Ju (S26.80) that comes in a bed of glistening ikura roes, salmon bits fried with mirin and chuka wakame; or the Unagi Beef Shabu Ju ($22.80) – a medley of flavourful and juicy US beef short plate that pairs exceptionally well with the unagi.
Similar to Unaju, Unagi Sashimi Gozen ($29.80) is a delicious unagi dish prepared Tokyo-style in a rice set with fresh hamachi, maguro and salmon sashimi. Unagi lovers would appreciate Unagi Kabayaki ($33.80) that serves the entire portion of charcoal-grilled eel with rice and chawanmushi.
Expect a line-up of more unagi offerings at Una Una, including Unagi Omelette ($9.80 for three pieces), Unagi Chawanmushi ($6.80), Unagi Salad ($10.80), Unagi Roll ($15.80) and Unagi Poke Rice Bowl ($14.80). Made from many egg layers mixed with Una Una's light dashi (fish soup stock) made in-house with kombu and bonito, the Unagi Omelette boasts a custard-like texture, while bursting with the rich flavours of grilled unagi. The Unagi Roll comes with avocado, crab stick, and unagi slices, drizzled with Una Una's special in-house unagi tare.
Complement the meal with a variety of grilled items, sashimi, and maze don options at Una Una. Directly imported from Hokkaido, the Hokkaido Grilled Squid ($14.80) is perfectly charcoal-grilled until luscious, and goes well with grated ginger and mayonnaise, and shoyu. Served with either homemade yuzu pepper or tartar sauce made of cucumber, mayonnaise, onion and sugar, the Grilled Chicken ($9.80) is carefully grilled over charcoal for a crispy and juicy texture.
Dig into your craving for sashimi  with its Salmon Yonshu Mori (28.80 for four kinds) that serves sweet and succulent salmon from four different cuts – salmon harasu (belly), aburi salmon, sake, and salmon roes. One can also get the best of three kinds of raw fish – hamachi, maguro and salmon in one platter with the Sashimi Sanshu Mori ($24.80).
Una Una is located at: 201 Victoria St, #04-10, Singapore 188067