World's First Ever Pusheen Café Dedicated To The Online's Favourite Fat Cat Is Now Open In Singapore!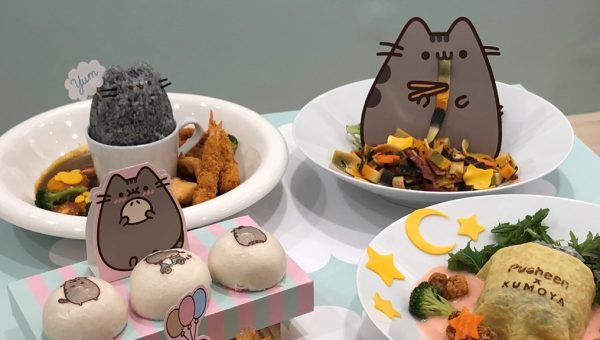 CONTENT: Michelle Ng
IMAGE: Luxe Multimedia
Pusheen, the famous cute adorable Internet cat who loves all kinds of food in the world, has just arrived in Singapore for her first ever pop-up café! The tubby cat and her friends Storm, Pip and Pugsheen are the next guests over at Kumoya, who's previously seen the likes of My Little Pony, My Melody and Miffy.
The pastel pink and blue café just screams adorable, and has plenty of merch and cute cats around. Even before you step into the café, you can also try your luck at the the Pusheen claw machine for some Pusheen plushies. And like always, the menu's got a re-haul featuring some new dishes designed by Little Miss Bento herself.
For starters, get the Pusheen Purrfect Special Green Tea Buns ($10.90+) which is a trio of bittersweet green tea buns featuring Pusheen on the top of the buns. They were almost too cute to eat! There's also the quintessential truffle chips.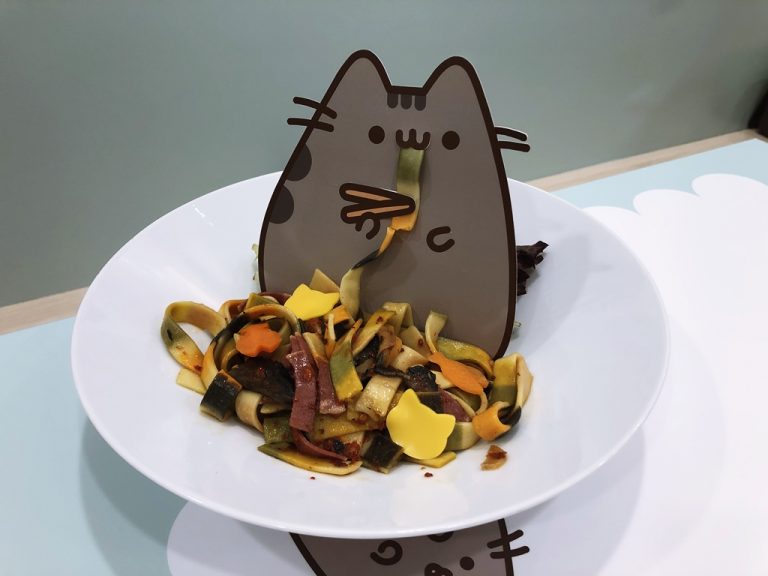 There are only 4 mains to choose from, but all are decent and just as Insta-worthy. The Pusheen-Loves-Pasta is a deliciously spicy aglio oilio with truffle and multi-colored pasta and a side of salad. It also comes in a vegetarian option! For something more comforting, the Pusheen Cat Nap Creamy Japanese Rice is your go-to. We couldn't resist the cute plating, where the charcoal rice comes shaped like a sleeping kitty, covered with a blanket of egg-crepe and soaking in creamy beetroot on a bed of salad. You'll be able to get your fair share of greens here!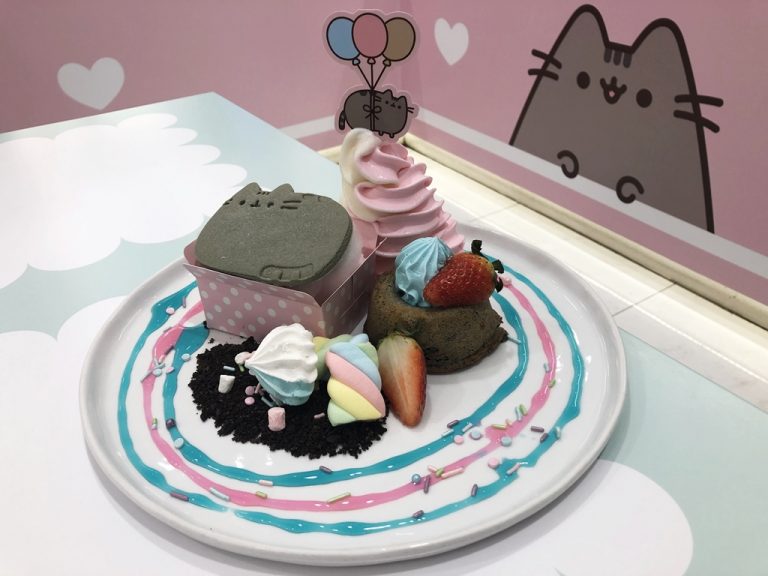 If you're looking for a sweet treat for the afternoon, try one of the desserts. The Pusheen-in-a-box Cookie And Cream Lava Cake is a nice gooey chocolate-y surprise. The star of the dish is the special double swirl Hokkaido soft serve that comes in a lychee flavor. The Pusheen Double Delight Fruitcake Burger is equally delicious, which is a dessert designed to look like a burger set. The fruitcake comes in the shape of a burger, complete with yellow chocolate that looks exactly like cheese, and is paired with a side of biscuits masquerading as fries.
Their Iced Chocolate and Strawberry Cheesecake Frappes are delicious and creamy. All the drinks also come with a limited edition coaster each, designed by Pusheen's founder just for this café! And yes, you can bring home the coasters as a little memento.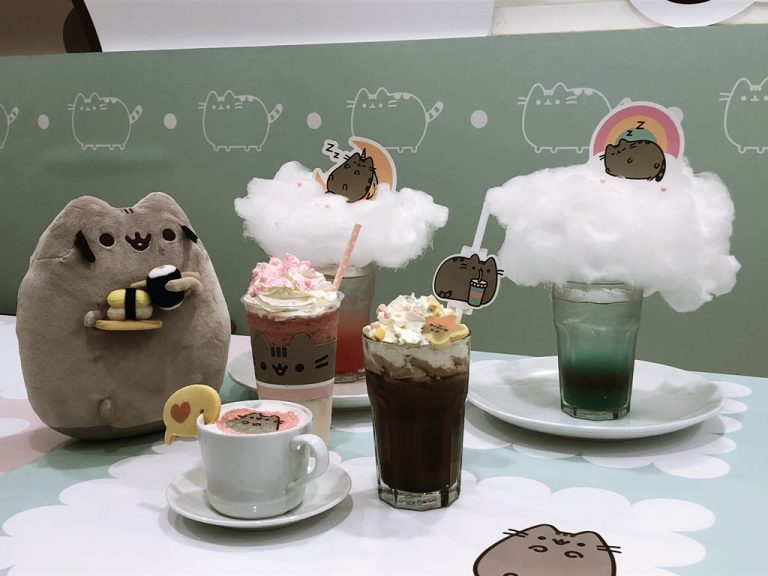 What to avoid: the Pusheen Purrfect Surprise Choco Ball-Of-Yum ($22.90+) pays homage to the melting ball of chocolate that's guaranteed to be a hit, but this choco-ball melts down into a warm bowl of milk and cereal. And half the time, it might not even melt down properly (it took two tries for us to get the choco ball to melt nicely). You'll do better with the other two desserts.
Do remember to grab plushie or a keychain on your way out! Some of the limited edition plushies like the Pugsheen, Pusheenosaurus and Pusheen as a narwhal are only available in one piece – you snooze, you lose. Other merchandise includes planners, stickers, bedroom slippers, and even cups and lunchboxes.
Kumoya x Pusheen Pop-up Café is located at 8 Jln Klapa, Singapore 199320 and is open until March 2019.
*Note that there is a minimum spend of $10 per pax and a 90 minute dining limit.