Oscar Wilde's The Importance of Being Earnest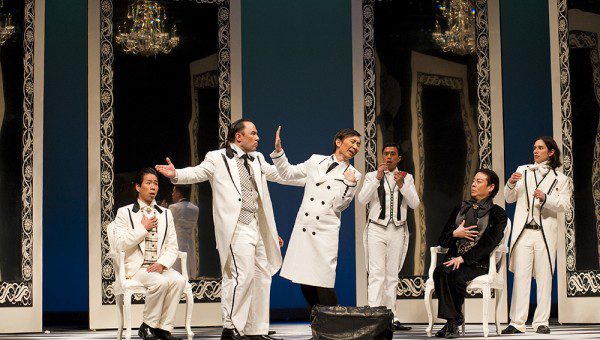 In April 2013, W!LD RICE will present its radical and absolutely 'W!LD' interpretation of Oscar Wilde's THE IMPORTANCE OF BEING EARNEST, at the Drama Centre Theatre.
The original sold-out three-week run in 2009 won critical and popular acclaim for director Glen Goei's provocative casting of an all-­‐male ensemble, its masterful performances, and slick and sophisticated production design. It went on to win three awards at the 2010 Life! Theatre Awards for Best Production, Best Supporting Actor (Chua Enlai) and Best Costume Design (Frederick Lee). The production also gleaned nominations for Best Director (Glen Goei) and Best Supporting Actor (Ivan Heng).
Be treated to a delightful evening show as the sensational international cast will bring you the best of Oscar Wilde's THE IMPORTANCE OF BEING EARNEST. Singapore's most acclaimed actors including Ivan Heng, Hossan Leong, Chua Enlai, Brendon Fernandez and Crispian Chan return, and are joined again by Daniel York from London and Gavin Yap from Kuala Lumpur. A new addition to the ensemble will be Lim Kay Siu who replaces Zahim Albakri as Rev. Canon Chasuble.
Putting paid to Wilde's credo that "style, not sincerity, is the vital thing", the company is dressed to the nines by Frederick Lee, and accompanied live by The Ensemble Dimension Players, a quartet brought together under the T'ang Quartet's The Ensemble Dimension Project. The latter is a platform for outstanding young musicians to undergo training and exposure by playing for public events and performances.
THE IMPORTANCE OF BEING EARNEST tells the story of Two dashing Romeos bend the truth to spice up their lives. Jack has invented a brother, Ernest, whom he uses as an excuse to escape his dull country life, and to visit the ravishing Gwendolyn. His best friend Algernon also decides to take the name 'Ernest' to court Jack's beautiful ward, Cecily, in the country. However, things get messy when their deceptions are discovered, threatening to spoil their romantic pursuits.
Oscar Wilde's remains one of the most performed comedies around the world, boasting some of the funniest lines in the English language and is also his most enduringly popular play. In WILD RICE's exciting production of The Importance of Being Earnest, celebrated theatre and film director Glen Goei puts a provocative spin on this comic masterpiece by casting an all-male ensemble – revealing new insights into Wilde's comedy about courtship, hidden identities, and the foibles of high society.
W!LD RICE's production is an exhilarating evening of wit, laughter and romance that is not to be misssed on any account.
THE IMPORTANCE OF BEING EARNEST is set to play at the National Library, Drama Centre Theatre from 10th April 2013 to 4th May 2013. Tickets from S$40 to S$75 and are now available from www.sistic.com.sg, at all SISTIC outlets and the booking hotline (65) 6348 5555. For more information, please check out www.wildrice.com.sg.