Oyster Bar: The Hidden Pearls and Oysters by the Bay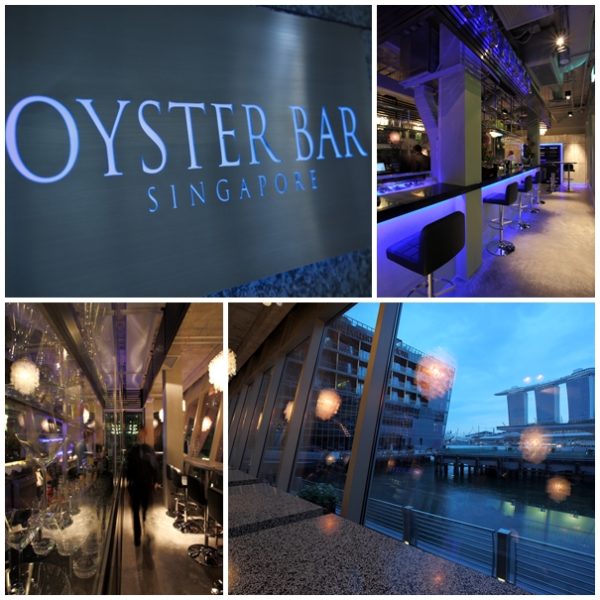 One would notice the shinning glass box in the day which is located next to the Fullerton Bay Hotel along Collyer Quay, however, little would know that it houses the freshest oysters in it. Oyster Bar is a perfect place to dine during lunch time with its intimate and cosy ambience, and its floor to ceiling glass exterior would allow diners to enjoy the magnificent view of the Marina Bay Sands and the Singapore Flyer just behind it. The atmosphere, with its granite table top, stainless steel seats, it gives the bar an exclusive dining experience in a quiet and lush environment.
At Oyster Bar, you can find a wide range of oyster delights, from the freshly shucked oysters to the baked oysters. These oysters are harvested from all around the world, and the chef explains that their some of the oysters are limited in stock as it is freshly flown in every few days to ensure the quality and freshness of the oysters.
We were pleased to be treated to a platter of different oysters ranging from the Gillardeau to Canadian Large, that was served with a lemon wedge and droppers with herbs and sauces specially blended by the chef. The Gillardeau oyster is rich in minerals and the Canadian Large goes really well with the specially blended sauces. The shucked oysters are seasonal and prices starts from $20 a pair.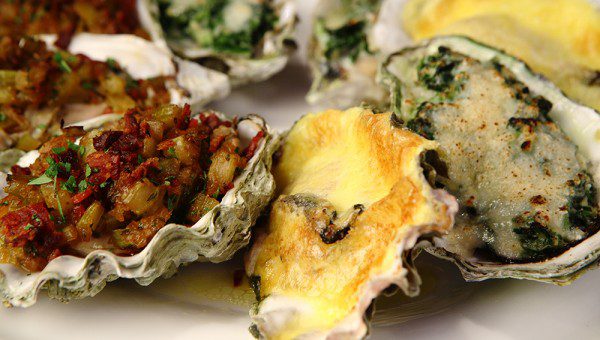 For those who cannot take the fresh and raw oysters, might wish to try out Oyster Bar's Baked Oysters: Rockerfeller, Dynamite Tobiko, and Flurry Chicken Floss from $30 for 3.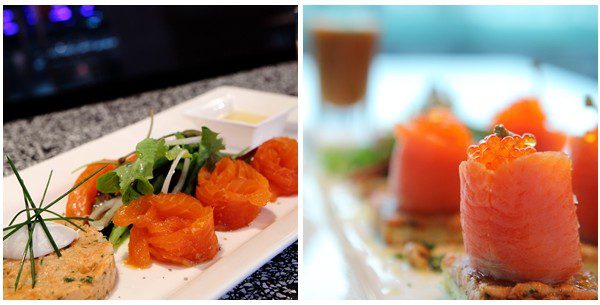 Oyster Bar is not only about oysters, it also serves other seafood and meaty delights that goes well with their unique blend of cocktails. One of the highlights is the Wagyu Beef and Salmon Toast, where the beef is tender and the smoked salmon goes well with the bite-sized toast.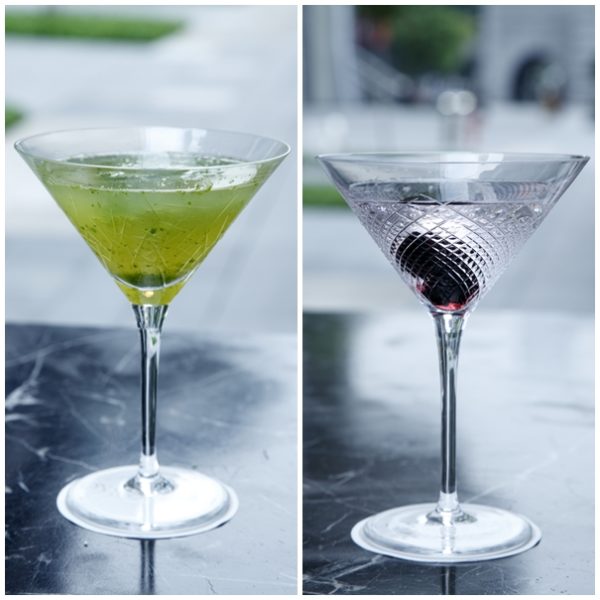 The cocktails are specially mixed by their talented mixologist, which prepared the Corriander Martini that goes well with the freshly shucked oysters as the corriander taste refreshes your taste buds and cleanses lingering taste of minerals from the oysters. The Gin Martini with the taste of the blackberries might be slightly strong for the light drinkers.
Overall, Oyster Bar would be the perfect place to dine in if you are looking for venue to host your clients or a gathering with a few friends.
Oyster Bar, 70 Collyer Quay, Customs House, #01-01, +65 6534 5534, info@oysterbar.com.sg, www.oysterbar.com.sg. Operating Hours are from Monday to Thursday, 11am to midnight; Friday to Saturday, 11am to 2am; Sunday, 11 am to midnight.