Honouring the Region's best in F&B industry at World Gourmet Series Awards of Excellence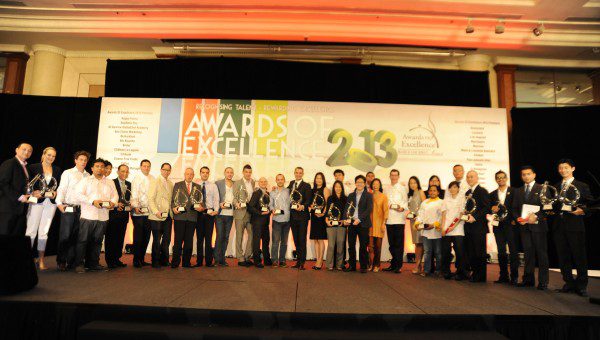 Following months of voting followed by vigorous judging and assessment by an independent panel of judges, Thirty-three exceptional individuals with extraordinary skills and a passion to excel in the food and beverage industry were recognised last week on 16 March 2013 at this year's World Gourmet Series Awards of Excellence 2013.
Over 600 of the F&B industry's finest, including past recipients, gathered to celebrate the winners in each of the 28 categories and the five scholarship recipients. The highlight of the Awards of Excellence is the prestigious Déliciae Lifetime Achievement Award which recognises a culinary visionary who has constantly strived for higher standards and contributed ideas to influence the development of the F&B industry.
At the Opening Address by Peter A Knipp, he said, "Today we celebrate the best of the best in the region's culinary scene. The World Gourmet Series Awards of Excellence is about nurturing new talents and about acknowledging the years of commitment by the established professionals in the challenging food and beverage industry."
Other distinguished winners who walked off with the top honours include:
CITIBANK Restaurant Manager Of The Year
Mr. Mauro Serrajotto, Le Bistrot du Sommelier
CLASSIC FINE FOODS Pastry Chef of The Year
Janice Wong, 2am: dessertbar
KITCHENAID Chef Of The Year
Patrick Heuberger, Le Bistrot du Sommelier
MEAT & LIVESTOCK AUSTRALIA Rising Chef Of The Year
Lee Boon Seng, OSIA, Resorts World™ Sentosa
TOP WINES Sommelier Of The Year
Mr. Daisuke Kawai, Les Amis Restaurant
AESTHETIC BAY Food Writer of the Year
Lin Weiwen for the article in epicure Magazine, October 2012 "Porridge With Pinot Noir?"
A LA CARTE PRODUCTIONS New World Wine List of the Year
Salt grill & Sky bar by Luke Mangan
BERNARDAUD Executive Chef of the Year
Andrea Sacchi, The Fullerton Hotel Singapore
COFFEX Bar Of The Year
Tippling Club
EPICURE Gourmet Distributor Of The Year
Indoguna
EUROCAVE Old World Wine List Of The Year
Les Amis Restaurant, Les Amis Group
FOODSERVICE CONSULTANTS Asian Cuisine Chef Of The Year
Yong Bing Ngen, Majestic Restaurant, New Majestic Hotel
GIORGIO FERRARI Wine Retailer Of The Year
Wine Connection
INDOGUNA Restaurant Of The Year
Tippling Club
LEXMARK Gourmet Retailer Of The Year
Huber's Butchery
MARRONE Culinary Institution Of The Year
At-Sunrice GlobalChef Academy
S.PELLEGRINO New Restaurant Of The Year
Esquina
SIA HUAT Food & Beverage Manager Of The Year
Mr Eric Guth, Capella Singapore
SICO ASIA Banquet Manager Of The Year
Mr Michael Tan, Resorts World™ Sentosa Singapore
STEELITE Outstanding Caterer Of The Year
Grand Hyatt Singapore – Onsite / Offsite Catering
THE MACALLAN Wine Distributor Of The Year
ewineasia
VISMARK Asian Restaurant Of The Year
Waku Ghin, Marina Bay Sands Singapore
ELECTROLUX Culinary Institution Of The Year (Regional)
Cilantro Culinary Academy, Malaysia
FONTERRA Pastry Chef Of The Year (Regional)
Frederic Chateau, Galazy Macau, Macau
Ludovic Douteau, The Peninsula, Hong Kong
LIFE INSPIRED Asian Restaurant Of The Year (Regional)
Ku De Ta, Bali
MANITOWOC Restaurateur of the Year (Regional)
David Thomson, Nahm, Bangkok
TUNGLOK Asian Cuisine Chef of the Year (Regional)
Lai Yau Tim, Tim's Kitchen, Hong Kong