INTERVIEW: Botanical Watercolour Artist, Lucinda Law
CONTENT: Henry Boen
Edible Beauty is the fruit of labour of watercolour artist, Lucinda Law, in collaboration with Verde Kitchen. Aside the glitz and glamour happening at the end of the rainbow, we traced back with Lucinda Law to find out about more about her journey with botanical art; uncover the creative process on her recent collaboration with Verde Kitchen; the amazing Lucinda Law x Verde Kitchen Workshop happening on the 28th of April; and the next big thing for the artist herself.
1. Luxe Society Asia: For a starter, can you share with us a little about yourself and your art journey/background?
Lucinda Law: I'm a botanical watercolour artist, an arts/design educator with more than 11 years of teaching experience, a travel writer and a creative entrepreneur. I started Within, a nature-led creative studio in 2016 and since then we've worked with more than 45 clients such as Mandai Park Holdings, Changi Airport Group, GuocoLand, Chanel, Bentley, Ministry of Foreign, Leica, Mulberry, Diptyque and Faber-Castell. The studio is always working on multiple ongoing nature-themed arts and design projects, commissioned artworks, botanical art workshops and nature-themed overseas creative retreats in collaboration with various botanical gardens and hotel partners in Asia-Pacific. I love immersing myself in the Creative Arts and have also previous worked as a cultural/travel editor and writer. I've a BA in Literature and MA in Fine Arts. I'm the first Arts and Graphic ambassador for Faber-castell Singapore and the first brand ambassador for Diptyque Singapore.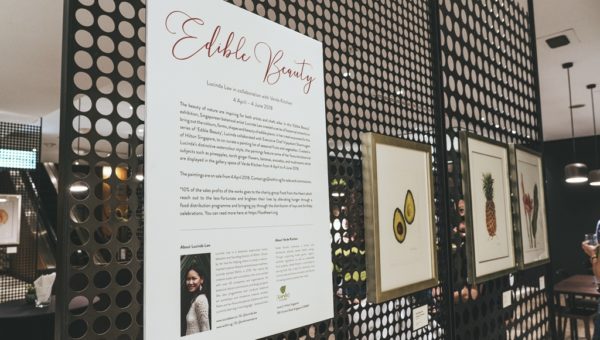 2. Luxe Society Asia: Growing up and getting into the creative/art industry, did you face any setbacks due to the unconventional choice? If so, how did you overcome these setbacks?
Lucinda Law: I didn't think that I faced any major setbacks that are extraordinarily different from other common industries. The values of hard work, rigour, practice and discipline are as necessary as any other work. If I experience any setbacks, I would usually pause and rest. Do something else first, then determine what is the best way forward from anything point I like.
3. Luxe Society Asia: I know this is probably the most common question to ask ever, but of all subjects available in the world, why the study of botanical matter?
Lucinda Law: I think the botanical subjects came after me. When I was 17, a book called Magic and Medicine of Plants was delivered to my house. The botanical illustrations in the book inspired me to paint. So, I taught myself to paint with the watercolour palette that I had in secondary school for three years. I told myself that I was going to be a writer, biologist or botanist when I grow up. But I've always had a secret wish to be a botanical painter and dearly wished to work with nature. I get to combine my many passions including getting everyone get to cultivate the appreciation of the beauty in nature and experience the well-being that comes with working closely with Nature in this work I do now.
4. Luxe Society Asia: Do you have any particular botanic that you gravitate mostly towards?
Lucinda Law: Scented flowers, palms and plants with big leaves.
5. Luxe Society Asia: Anyway, congratulations on your most recent collaboration entitled "Edible Beauty" with Verde Kitchen! What was your first reaction like when you were approached for this opportunity?
Lucinda Law: This collaboration had been so timely as it resonates with my new year goals of eating well, embarking on even more meaningful creative collaborations, and to continue our support for various charities.
6. Luxe Society Asia: On a personal note, what do you think was the main factor that successfully gelled the branding of Lucinda Law together with Verde Kitchen or vice-versa?
Lucinda Law: We were both inspired to draw attention to the beauty and benefits of the core botanical ingredients.
7. Luxe Society Asia: How was your creative approach like in this collaborative project?
Lucinda Law: Once I decided on the theme of the exhibition, I began researching and narrowing down a list of botanical subjects that were featured on Verde Kitchen. For these, I would ask Executive Chef of Hilton Singapore, Executive Chef Vijayakant Shanmugam for the available seasonal ingredients. He would send me the ingredients and I'll add these to my own personal list. My process will always be to hunt and "interview" the most photogenic subjects, photograph it, and then paint it.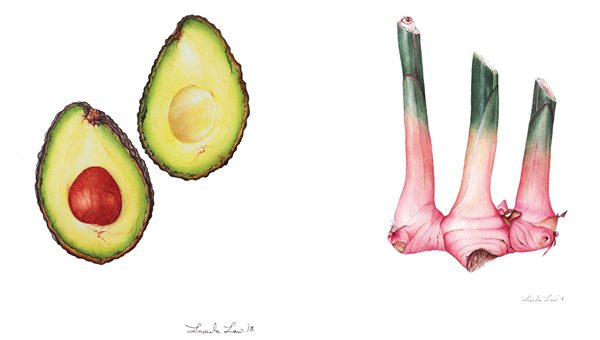 8. Luxe Society Asia: There were a total of 10 loveable artworks in Edible Beauty, and out of the whole assemblage, is there any in particular that became your golden child and why?
Lucinda Law: Each painting carries a memory for me because I would spend anytime from 28-60 hours on one painting. The pineapples are always my favourites, but this time round I think the avocados and gingers won me over.
9. Luxe Society Asia: In one last summarized sentence, describe Edible Beauty at your finest.
Lucinda Law: Edible Beauty is about finding beauty and gratitude in the food that nourish us.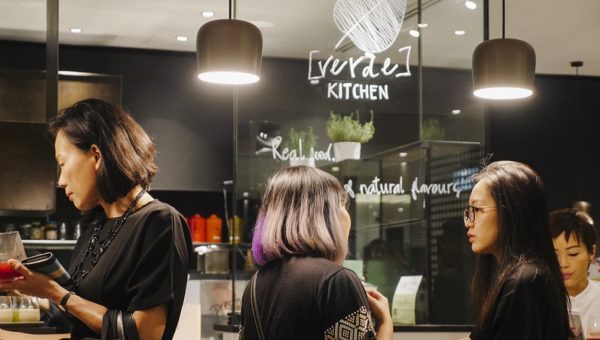 10. Luxe Society Asia: We were also made aware that you would be teaching a workshop on the 28th of May at Verde Kitchen, Hilton Singapore. For those curious individuals and followers that just want to know a little teeny-bit more, what can they expect from the 3-hour lesson?
Lucinda Law: I'm so excited to teach this workshop that will begins with a guided tour of the Hilton's vertical garden by Executive Chef Vijayakant Shanmugam and I'll then share my creative process behind each piece of my works displayed at the restaurant. Chef Vijayakant Shanmugam and I will prepare botanical subjects from the kitchen so the guests can find inspirations to draw. I'll teach the guests to create the artworks in mixed media and after the workshop, we'll get to feast on the delicious food prepared by Verde Kitchen.
11. Luxe Society Asia: We also heard about your other collaboration with Food from the Heart in this exhibition. How did it come about?
Lucinda Law: I love serendipitous events so when my chosen charity group, Food From the Heart, contacted me mid-way through my intensive painting session, to suggest a collaboration (not knowing that they had been chosen as my charity group for this event), it felt like a great omen that we're all doing something good together.  A few of the artworks are already sold and 10% of the sales proceeds will go to Food from the Heart which reach out to the less-fortunate by alleviating hunger through a food distribution programme and many other more meaningful programmes.
12. Luxe Society Asia: Lastly, what can we expect from you in years to come?
Lucinda Law: I'm excited to be announce the year-long calendar of our highly successful overseas creative retreat called The Art of Nature Journeys, which is centred around nature-led holistic art practice and held in locations such as Chiang Mai, Hawaii, Indonesia, Laos, Malaysia and mostly in locations in Asia-Pacific. The Art of Nature Journeys are once-in-a-lifetime full-immersion travel experiences, dedicated to creativity, cultural discovery and connecting to nature and ourselves. Our launch party is in May 2018 on my website, so I'm really looking forward to once again take my guests on a highly inspiring, multi-sensory and insightful art holiday in unique destinations close to nature. We're going to continue to focus on these three main areas which we're excelling: nature-art courses, botanical-led design campaigns and art commissions; "Art of Nature" creative retreats. More opportunities for exhibitions with brand collaborators who are kindly lending me their patronage are also coming up, so I'm duly filled with lots of inspirations to create.
Edible Beauty Botanical Art Workshop
Verde Kitchen is hosting an "Art & Dine" botanical art workshop on 28 April 2018, Saturday from 2-5pm. Conducted by Lucinda, the exclusive three- hour botanical workshop will be centred around illustrating and painting in watercolour and mixed media. Subjects include the edible plants featured in her exhibition and available in selected dishes at the restaurant.
The workshop will also include a private tour of Hilton Singapore's very own Vertical Garden by Executive Chef Vijayakant Shanmugam and great-tasting healthy refreshments from Verde Kitchen, priced at s$158 all-inclusive.
To register, please visit: http://ediblebeautybotanicalartworkshop.peatix.com
Verde Kitchen is located at: Level 2, Hilton Singapore, 581 Orchard Road, Singapore 238883