Hong Kong Disney Explorers Lodge: An Adventure Wonderland Awaits!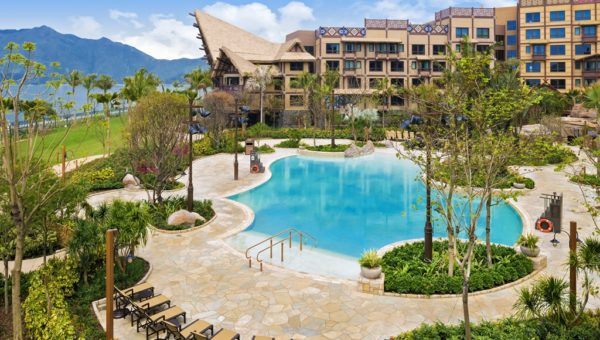 CONTENT: Yiew Kai Jie
IMAGES: Hong Kong Disneyland Resort
Hong Kong Disneyland Resort's newest adventure-themed hotel seeks to inspire the spirit of exploration in the heart of its guests.
Disney Explorers Lodge, the third and newest hotel of the Hong Kong Disneyland Resort, recently opened in April 2017. Dedicated to the spirit of exploration, Disney Exploration Lodge invites guest to leave their everyday worries behind and enter into a new world full of discovery, nature and exotic cultures around the globe!. The hotel features four distinct gardens based on cultures around the globe, along with new themed restaurants, a shop and a large outdoor swimming pool, appealing to everyone's spirit of adventure and to the desires of international guests for exotic experiences. Guests around the world can stay at the hotel and become explorers themselves, embracing the lodge's signature motto of "ad explorare et somniare" (To explore and dream)!
Exotic Accommodations
Packing a total range of 750 rooms, Disney Explorers Lodge's rooms are based on four distinct themes around the world that reflect the theme of adventure. First impressions of the lodge are that it resembles a huge hand-built house that is made out entirely of wood and it's exterior reminded me of Singapore's own D'Resort @ Downtown East Resort back home. Upon arriving at the resort, the staff will be there to greet you and escort you to a luggage storage area, for which guests are able to store their luggage free of charge before they check in or for visitors who want to leave their luggage in a safe and secure location before they visit the main theme park itself.
The rooms in the Lodge are based on four themes on different continents around the globe as well as partially inspired by four famous Disney movies. The themes are uniquely blended together to give an overall sense of adventure to the guest, to make him/her feel as if they are in a new foreign environment but still feel right at home.
The main lobby is filled with vintage travel decorations such as luggages that were inspired by travellers going to the African Savannah in the early 1900s, as well as a 30-seater communal space meant for guests to interact with each other, share their experience after a hard day's worth of adventure in Disneyland or for parents to rest their weary legs as their kids tune into old disney cartoons at the nearby kids' cartoon corner. For those looking for a perfect insta worthy shoot of the hotel, guests will be able to find four unique travel suitcases that belong to Mickey, Minnie, Donald and Goofy respectively that reflects their personalities or interests or cartoons that they have previously starred in!
The hotel boasts on it's efficiency to help guests check in as swiftly as they can, with a total of 14 counters manned by friendly staff that are catered to help check in even the most demanding amount of customers. The counters are decorated to look like suitcases, the counter's design allows more interaction with the guests as well as two dedicated counters that allow easy access for disabled guests as well. On the extremely rare off chance that there is a queue, parents may want to drop their children off at Dreamers Spring, a kids corner that overlooks the exterior of the Lodge for the children to have some fun and the hotel's recreation team to help host events for the children. (EG: Drawing, clay moulding events, singing, etc)
Upon checking in, guests will realize that the lifts in the Lodge are based on a hot air balloon design with familiar Disney characters narrating every step (floor) of the way.The rooms are incredibly spacious, with the decorations depending on the room theme that you choose. The special aspect about the Lodge is that guests are able to customize the rooms anyway they want to enhance their experience, or to make the rooms more comfortable for their children albeit at a small, additional cost.
The Iron Man theme ($120) consists of Iron Man decorations being placed around the room which includes a miniature soft toy and an LED Iron Man bed runner on the bed that guests will be able to bring home with them after they've finished with their trip or playing with them. (I know I did, a flashing Iron Man cape sounds really cool)
The Junior Explorer overlay theme- ($195) includes a miniature tent in the room for the kids to sleep and "camp" in for that authentic camping experience for the kids. The beds can be fitted with a child barrier for little children who can be a little playful. At the end of your stay in the Lodge, the tents and other amenities are yours to take and bring home with.
There are other themes that are available, and the rooms are highly customisable depending on what the guest wants, allowing you to have a very bespoke experience for you and your family! Just inquire or ask the staff beforehand if you have any special requests! (EG: The information board can be made to show a guest's birthday or anniversary)
Exquisite Dining Experience
Disneyland Explorer's Lodge packs 3 different restaurants that are able to cater to even the most pickiest of taste buds. Guests will be able to embark on an epic adventure of their paletes and sample local and international cuisines at this hotel that harkens to a grand era of exploration.
Dragon Wind- The restaurant that hosts the hotel's international breakfast buffet and transforms to a fully dedicated Chinese restaurant by dinner time. There is a huge range of food that varies from simple creamy scrambled eggs, Mickey-shaped waffles to oriental noodles.(But honestly, don't skimp out on the Mickey waffles) The kitchens have an open concept for guests to see what the chefs are whipping up for breakfast. During the breakfast service, Disney characters such as Mickey and Minnie will be walking around dressed in their unique adventure outfits for a unique photo opportunity, so get your cameras at the ready! During the weekends and Public Holidays, Dragon Wind caters Chinese Lunch Buffets and they even have two private dining rooms for special private celebrations.
World Of Colours- A restaurant that has a half breakfast buffet half menu concept, customers would have to order their main course first and get appetisers (usually salads or fruits) from the buffet, similar to Aston's Steak and Lunch concept. However, their main course could take a while to arrive, so do plan ahead to avoid flared tempers and crying at getting ahead of the crowd at Disneyland. Other than their breakfast buffet, their lunch and dinner menu focuses on general Western cuisine as well.
Chart Room- A casual cafe concept, this cafe is more of a place for guests to relax and have a cup of tea with elegant character themed cakes and designs. Should guests be looking forward to celebrate their children's birthday or to quell their inevitable desire to have a Frozen-themed cake, this is the place to be.
24 hour room service is always available for hotel guests and halal food is available upon request, just check in with the hotel staff and they will be able to assist you.
The Exciting Outdoors
Skirting the four different wings of Disney Explorers Lodge, are four distinctly themed gardens all named after characters from beloved Disney and Pixar animated films and filled with elements from their respective stories, giving guests much fun exploring all the 4 adventurous settings. The Kevin Garden which has a South American theme is named after the giant bird in "UP".The Little Squirt Garden of Oceania celebrates Squirt, the playful sea turtle in "Finding Nemo". Named after the baby elephant from The "Jungle Book", the Hathi Jr Garden puts guests right in the heart of Asia. The Rafiki Garden, which has an African Savannah theme, is named after the wise mandrill from 'The Lion King." Each garden holds actual plants from their own respective region brought in to provide the bona fide experience for the guests in terms of sight and scent.
Should any guests be staying at any Disneyland hotel, they are welcome to try any of the different facilities that the other two hotels have to offer, such as the different swimming pools(Gym and playroom are only available at two other hotels, not at lodge).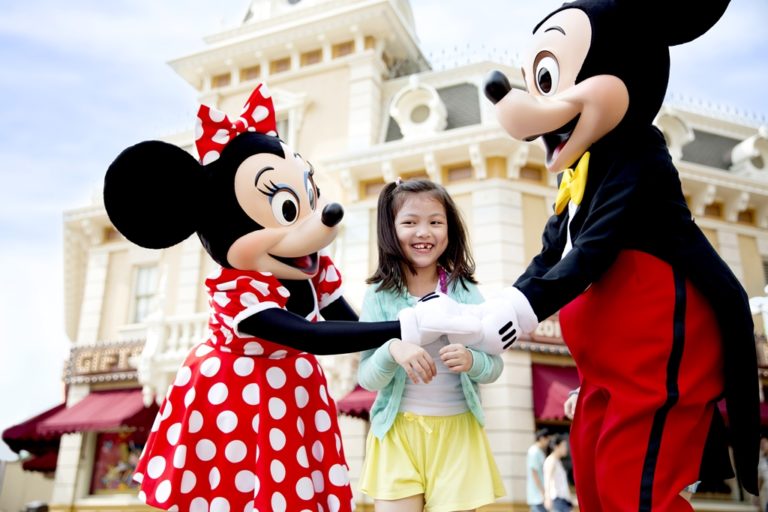 The Ultimate Christmas Vacation in Hong Kong
Make it the ultimate Christmas by planning a vacation at the resort! Guests at any of the three resort hotels will feel the festive spirit thanks to gorgeous decorations all around and a collectible souvenir set in each room, which includes a Christmas amenities box, Disney slippers, a door sticker and postcard. Different Christmas-themed recreation activities will also be available for guests staying at any of the three resort hotels, including arts and crafts workshops, a Little Santa training workshop and more.
This Christmas, guests staying at any resort hotel can enjoy an exclusive "Extra Magic Hour" in the park from December 21 to 23! Hotel guests can be admitted to the park early (from 8:30 to 9:30 a.m.) to enjoy selected attractions, dining and shopping fun in Fantasyland, Tomorrowland and Main Street, U.S.A.
Place an order for a special Tsum Tsum Christmas Wreath Package for HK$600 prior to the stay and watch as loved ones light up upon seeing the gingerbread cookies and personalized Tsum Tsum Christmas Wreath, a great memento for the special holiday stay.
Guests who book the resort's hotel for two nights or more through selected travel agents can enjoy a round trip of the refreshing "Star Ferry Water Tour" at HK$2 (original price at HK$180 and HK$160 for adult and child respectively). Additionally, special privileges including discounted 2-Day Ticket and 1-Day Ticket with a merchandise voucher and a popcorn coupon are available from now to December 31, 2017 at designated travel agents for guests to celebrate Christmas with their loved ones in this holiday season.