Relax and Enjoy The Freshest Seafoods at Bayswater Kitchen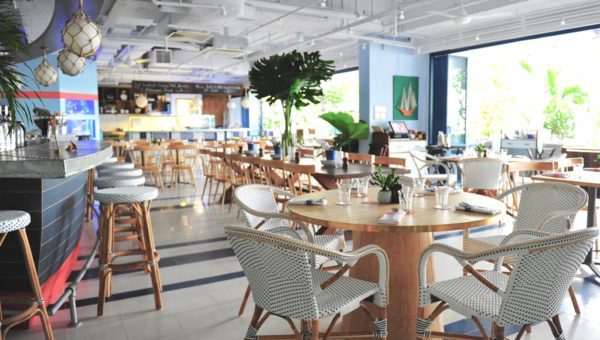 CONTENT: Andrew Kho
Located at the waterfront precinct and award-winning Marina at Keppel Bay is Singapore's newest dining concept, Bayswater Kitchen.
The restaurant brings a laid back seaside dining experience with its seasonal produce, fun and nautical-inspired open design concept, this is the newest restaurant by The Privé Group which is also behind renowned local F&B and nightlife outlets including its namesake Privé, with five outlets across Singapore, EMPRESS, Bang Bang, LuLu's Lounge, Roadhouse and The Green Door. The launch of this newest restaurant concept marks the groups 10th year anniversary.
Drawing inspiration from the distinctive location of Bayswater Kitchen, the nautical-themed interior is designed by HUI Designs and amplifies the overall seaside vibe such as the boat inspired bar, a raw seafood bar, and live fish and lobster tanks. Wooden chairs and sofas with maritime striped cushions are peppered throughout the indoor and al fresco areas. Inside, a private "recreation room" has been created to offer fun entertainment for the entire family, including a foosball table and a custom made ping-pong table. The area can also be converted into a private dining area for up to 26 guests.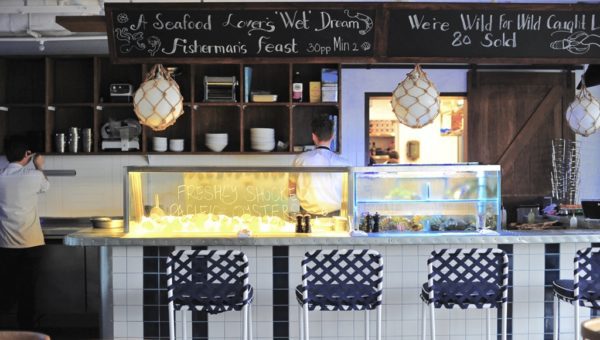 Helmed by chef de cuisine Jack Allibone who has over ten years of experience and most recently worked as sous-chef at award-winning seafood restaurant Angler in London, The Food served here is simple, casual and family oriented dishes creatively prepared,infused with freshness and flavour in every bite. The signature highlight of this restaurant is their seafood dishes which is carefully selected to ensure its freshness before serving it to their guests. Bayswater Kitchen also caters to meat lovers and vegetarians with juicy steaks, tender hormone-free chicken, grilled vegetables and refreshing salads.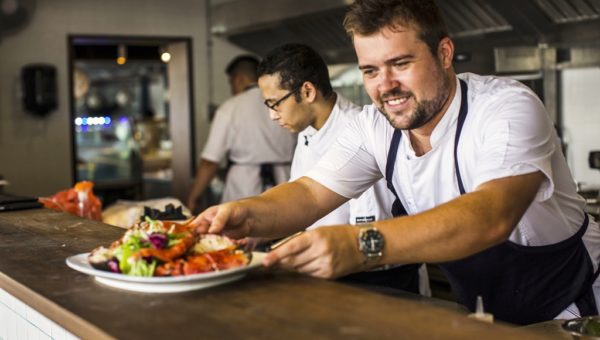 For Starters we tried the Chicken Liver Parfait with Pickled Shallot and served with freshly baked Sourdough, if you dont like the taste of Chicken liver, try this and this would surely make you change your mind as this is just oozing with goodness.
Most dishes served here are meant to share such as our favourite Mains, the Chef's Seafood Platter which includes Grilled Lobster, Prawn, Beer-Battered Cod, Crispy Calamari, Japanese Mackerel and Fresh Oysters, this dish alone is enough for 2-3 persons. Another favourite is the Wild Red Snapper, this is a whole snapper with Curry spices, scallion, yoghurt and seaweed salad, as i mentioned earlier, their seafood's here are fresh!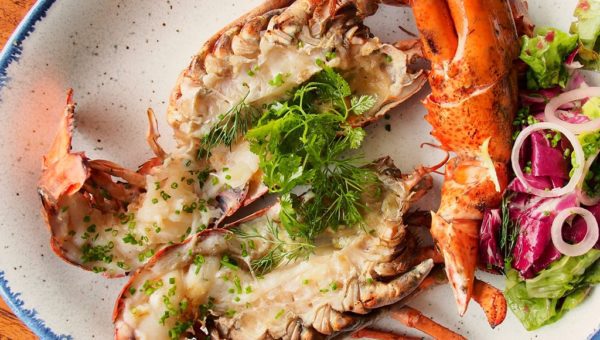 Opt for some sides with their Butter Roasted Cauliflower baked with Parmesan and Hazelnut Pesto, you wont even think that this is a cauliflower, for kids who aren't into vegetables, this dish will make them change their mind. For kids and adults young at heart, try the Seaweed " Shake It Till You Make It' Straight Cut Fries, it is typically a shaker fries with their homemade Sriracha & Garlic Dip, why not give it a try?
Lastly, a meal wouldn't be complete without desserts, and what stood out among all we tasted is their Banoffee, a combination of Chocolate, Caramel, Oats and Milk Ice Cream in a bowl, they manage the recreate this classic recipe and they just pulled it off.
Celebrating its first holiday season, Bayswater Kitchen unveils unique seafood-centric Christmas dishes featuring delightful ingredients from the sea with a Festive Seafood Platter consisting of Salmon Gravlax, Prawn Cocktail, Oysters, Cod Cakes and Whipped Cod Roe (S$30 per person, min 2 pax). Meat-lovers can also indulge in a hearty Whole Roast Chicken served with Cabbage, Bacon, Cauliflower Cheese, Roast Potatoes and Honey Roast Parsnips (S$28 per person, min 2 pax). The satisfying and comforting Christmas Pudding Tart paired with Brandy Ice Cream (S$16). A special 8 course New Year's Eve menu is also available from S$118 per person.
Bayswater Kitchen will continue normal operating hours throughout the holiday period, but will be closed on Christmas Day (25th December 2017) and New Year's Day (1st January 2018).
Bayswater Kitchen is located at: 2 Keppel Bay Vista, 098382 Singapore
For reservations please call: +65 6776 0777 or email: info@bayswaterkitchen.com.sg, for more information please visit: www.bayswaterkitchen.com.sg