Italian Osteria Da Maria Opens in Bali
Long time friends and collaborators Maurice Terzini and Adrian Reed of Motel Mexicola have partnered too open Da Maria Bali.
Da Maria is a modern Italian restaurant in the Osteria style and is the brainchild of Australian Restaurateur, Maurice Terzini. With stunning interiors by Roman architects Lazarini Pickering, Da Maria highlights the diversity of Italian food, wine, music, fashion, art and friends, with more than a little Capri in the heart of Seminyak.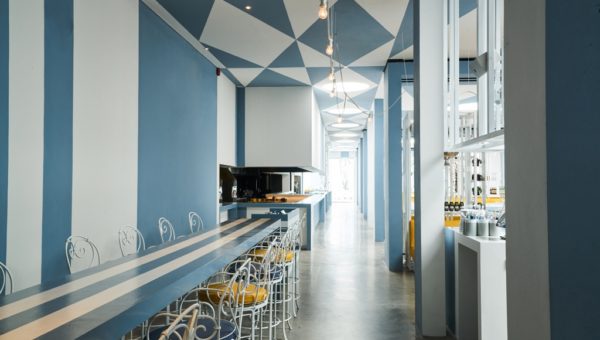 Maurice Terzini is one of the Australia's most highly regarded creative entrepreneurs, best known for establishing several truly iconic Australian dining venues. Terzini has a gift for dreaming the big picture and executing it, often ahead of his time and breaking ground in ideas, style and locations. It is this standing that he now brings to Da Maria. With spectacular dining destinations in Sydney such as Icebergs Dining Room and Bar (IDRB) and Da Orazio Pizza & Porchetta in Bondi Beach and The Dolphin Hotel in Surry Hills along with influential dining locations such as Caffe e Cucina and Melbourne Wine Room early in his career. Terzini has set a high benchmark for impeccable dining and is now turning his eye to establishing successful dining destinations in Asia.
Menu at Da Maria features accessible menu that represents a modern approach to simple and classic Italian flavours. The Pizza dough for a start is fermented for 24 hours and inspired by special Neapolitan artisan techniques, cooked in local, Naples inspired lava stone ovens.
Terzini and his team have designed a fun and accessible menu that represents a modern approach to simple, classic Italian flavours, with pizza undoubtedly front and centre. With dough fermented for 24 hours and inspired by special Neapolitan artisan techniques, the pizzas are cooked in local, Naples inspired lava stone ovens. Another spectacular offering is the Traditional Italian Porchetta (whole local pig) marinated in local herbs and cooked slowly over coals. Lighter offerings include appetizers such as Asparagus with anchovy butter and parmesan; Snapper Crudo with tomato, chilli and marjoram and Octopus with overnight beans, red wine vinegar and parsley. From the wood-fired grill comes King Prawns with chili, black olives and mint and the Abruzzian Arrosticini, traditional lamb skewers with lemon and rosemary salt in share plates for 5 to 15 guests.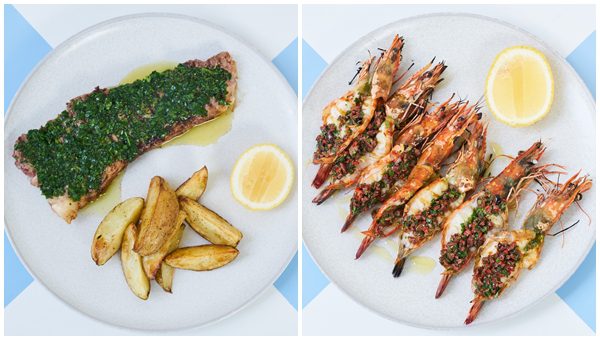 There are variety of fresh pasta dishes such as Oreccheitte with spanner crab, zucchini flowers and lemon or Gnocchi pesto alla Genovese. To end your meal, a series of desserts such as Bomboloni or the Da Maria Tiramisu, a house specialty of watermelon served over fresh ice with optional Campari, Lime Sherbet or Chili Salt is available. For guests wanting to embark on the Da Maria feasting journey, the La Panarda menu is more of a celebration than a meal and offers groups of diners a selection of dishes to share.
For those who wanna cap their evening with late night drinks, the bar at Da Maria has a very Bar Americano feel and focuses on elegant simplicity with most drinks having the flavour profile of Campari or Aperol, blended with white spirits, local fruit and citrus. Classic Italian favourites such as the Negroni and Spritz are complemented by most of the classics but with an emphasis on the less sweet, aperitif style. Da Maria also makes many of their in-house liqueurs, including their vermouth. The wine list is deliberately contemporary, simple and carefully selected to perfectly suit the style of cuisine.
"Spending my early years on the Adriatic coast in Italy with my Italian parents really cemented in me a love of the culture and heritage and gave me a life-long passion for Italian hospitality," said Maurice Terzini. "I became particularly inspired by the Italian love of food, sharing meals, entertaining and conversation. I started to evolve that into this philosophy that everything is connected – food, wine, fashion, art, music and friends – they all go into the melting pot to create special places where all the elements come together naturally. I love Bali, especially now that the restaurant and entertainment scene is becoming increasingly sophisticated."
Da Maria Bali is located at Jl. Petitenget, Kerobokan Kelod, Kuta Utara, Kabupaten Badung, Bali 80361, Indonesia.
For more details, reservations or information please visit www.damariabali.com