Long Queue Expected as The Bird Lands at Marina Bay Sands
The 190-seater two-storey restaurant incorporates modern-rustic design with industrial touches using familiar textures and colors signature to its flagship location, including accents of reclaimed wood, recycled machinery parts and mason jars, while incorporating additional greenery and live plants unique to the cultural roots of the signature Singapore gardens.
CONTENT: Andrew Kho / Michelle Ng
James Beard nominated and award-winning Yardbird Southern Table & Bar is finally here in Singapore. Operating under the name of The Bird Southern Table & Bar, expect Southern U.S. classic dishes such as the famous 100-year-old recipe Lewellyn's Fine Fried Chicken, Shrimp 'n' Grits, Classic Buttermilk Biscuits and Waffles.
The Bird also features exclusive Singapore dishes with a modern infused twist to the local cuisine such as, the Low Country Laksa – a skin-on snapper filet, served with Carolina gold rice pirlau, enhanced with sweet corn and spiced pecans served with a crispy poached farm egg and a caramelized ginger and coconut broth.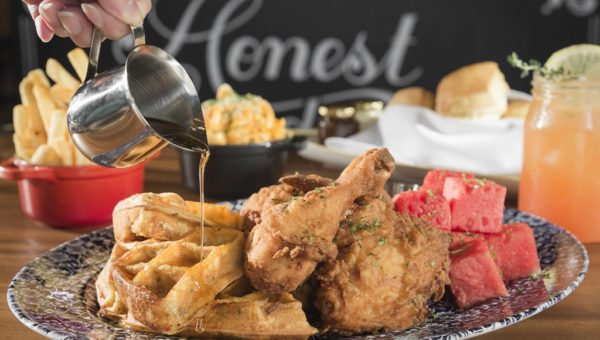 We got a chance to meet John Kunkel, Founder and CEO of 50 Eggs Inc, the company behind some of Miami's popular restaurants such as, as the award-winning Yardbird Southern Table & Bar, Swine Southern Table & Bar, Lime Fresh Mexican Grill and of course Singapore's latest dining destination, The Bird Southern Table & Bar.
In our interview with John Kunkel, he reveals his very first food venture, choosing Singapore as his first pioneer outlet in Asia, partnering with Marina Bay Sands and the future plans of his restaurant group 50 Eggs Inc.
Luxe Society Asia: You company name is called 50 Eggs Inc, Is there any meaning behind it?
It's actually a a line from a Paul Newman movie called Cool Hand Luke. It came out like in the 1970s, and in the movie he's this very strong-minded individual that does whatever everybody tells him he can't do. So when I was starting out this restaurant business, I was intending to design restaurant concepts that people thought wouldn't work, and design areas that people haven't been in. I also tend to be hard-headed myself, so it was a good fit for our company name.
Luxe Society Asia: At what age did you realize that you have the passion for cooking and what encouraged you to open your first restaurant?
I started cooking when I was about 15 or 16, and it was actually one of my first jobs. I really enjoyed working in a restaurant, and it's super fast paced, and you got to multi-task. It's not for everybody. But with my personality, i really enjoyed it. But it was only really in my twenties that I realized that I wanted to do this as my career. I've always been working in a restaurant for extra money or just as a job and I learnt a lot during that time; and then I realized that I was good at it, and I should pursue it as a career.
Luxe Society Asia: What was the very first restaurant you opened and what was the inspiration behind the concept?
I have cooked from fine dining to casual food – loads of different styles! For my first restaurant, I opened a more casual bakery cafe, that I thought was half passion half business. I wanted to be interested in the food that I was cooking and I wanted to figure it out as a business person what would be the best fit for the market. It was called Taste Bakery Cafe and it became very successful. We did loads of movie catering, and it was a very fun concept.
Luxe Society Asia: Among all other restaurants you opened like Lime Fresh Mexican Grill, Khong River House and Swine Southern Table & Bar, what sets Yardbird Southern Table & Bar apart from the rest?
Yardbird is very special to me, because it was the food that I grew up with. A lot of family recipes are still in this restaurant. I was inspired to cook for my grandmother and family on the Southern United States, so this food is very personal to me.
Luxe Society Asia: You Opened Yardbird Southern Table & Bar first in Miami followed by Las Vegas, what made you decide that you wanted to open here in Asia?
When we first opened in Miami, it wasn't known for comfort food. Miami was known for sushi and loads of partying. We were kind of able to bring something new to the dining scene. Las Vegas came calling to us, and they have one of the largest collections of restaurants anywhere, and everyone there is fighting for customers out there. They wanted to offer something more unique, and Yardbird was becoming very well-known in Miami, so it was a very easy decision to go there.
It was very similar coming to Singapore. Singapore is one of the key culinary influences and scene worldwide. You have some of the very best chefs here too. We wanted to come and showcase what we can do. Singaporeans have a very high standard of food, they love food, great cocktails. Together with our partner, Marina Bay Sands, it was a very easy decision.
Luxe Society Asia: What made you chose Singapore as your pioneer outlet in Asia?
The Sands was our partner in Vegas, and through them, it was an easy way to penetrate the Southeast Asian market. We hope to open additional stores, but now we are still focusing on this one.
Luxe Society Asia: Are there any reasons behind why you are operating as The Bird Southern Table & Bar here in Singapore instead of Yardbird Southern Table & Bar?
We actually kind of started referring to Yardbird as 'The Bird' like 'We are going to The Bird'. And we wanted the name to be unique in Singapore, and chose this name.
Luxe Society Asia: Who is John Kunkel when he is not in the Kitchen?
Pretty much the same guy! I'm pretty consistent as an individual.
Luxe Society Asia: Singaporeans are anticipating for your very first outlet here in Singapore, what could they expect in terms of the food menu and any special dish/dishes that they must try?
Our fried chicken, waffles and watermelon have become a really popular dish. It's something that everyone needs to try. Our BLT, our shrimp and grits, our chicken and biscuits – all of them have become classics of this restaurant.
We also have introduced some dishes exclusive to this restaurant here – we have a beautiful black pepper crab cake that was more inspired from East Coast, United States in cooking but with a black pepper sauce that was inspired by the Singaporean tastes here. We also have a fish dish that is like a Creole or low country dish. we took a lot of flavors like caramelized ginger coconut broth in a kind of laksa style dish with a tempura egg on top. It's a east-meets-west dish.
There are also cocktails that are exclusive to this particular store that were inspired by our travels here and our surrounding area.
Luxe Society Asia: What are the future plans for 50 Eggs? are you planning to open more presence here in Asia?
We certainly like to open more restaurants in this region. We've gotten interest from folks in Australia, Hong Kong, Japan. We want to expand the brand but we just gotta see!
Luxe Society Asia: Do you have a motto in life?
Good enough is never enough!
The Bird Southern Table & Bar is located at: B1-07 (Galleria Level) & L1-82 (Bay Level) The Shoppes at Marina Bay Sands, 2 Bayfront Avenue, Singapore 018972
Open from 11am to 11pm daily, Lunch (11am to 4pm) and Dinner (4pm to 11pm) daily, and a signature weekend brunch (10am to 4pm).
For Reservation, please call 6688 9959 or email: TheBirdReservations@MarinaBaySands.com or visit: www.marinabaysands.com/restaurants/american/the-bird-southern-table-and-bar.html