Michelin Launches Gourmet Lifestyle Web Portal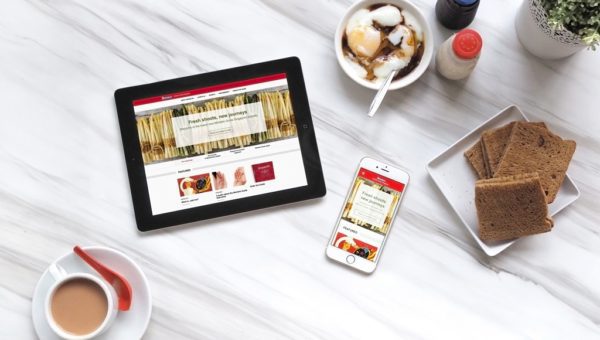 Michelin unveiled a slate of new initiatives leading up to the anticipated release of MICHELIN guide Singapore 2016 in the second half of this year.
This includes the official launch of a comprehensive English-language gourmet lifestyle web portal, guide.michelin.sg, an Asia first for the MICHELIN guide. The web portal will offer daily articles on restaurant trends, personality interviews and the MICHELIN guide-related news to make Michelin dining more accessible to all.
Last November, French tyre company Michelin, which has been publishing the MICHELIN guide since 1900, announced a collaboration with global wine authority Robert Parker Wine Advocate for the development of a Singapore edition of the MICHELIN guide in 2016. Singapore is the fourth territory in Asia – after Japan, Hong Kong and Macau – and the only country in Southeast Asia to be included in the MICHELIN guide's coverage of over 26 countries. This collaboration includes a series of exclusive events, in conjunction with the launch of the MICHELIN guide Singapore. More information will be announced in the coming months.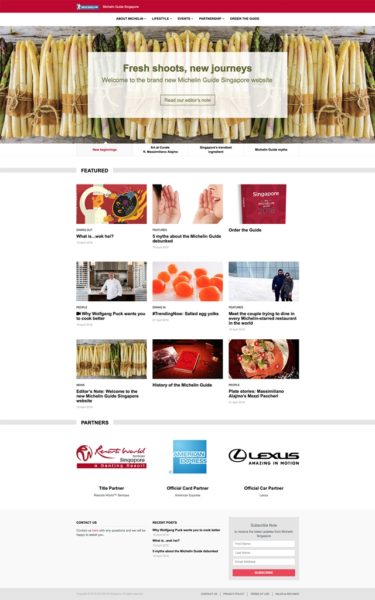 The gourmet lifestyle content is presented in five categories: News, Features, People, Dining In and Dining Out. Dedicated gourmands should bookmark News for the latest restaurant news and first-hand updates on global MICHELIN guides announcements. Aspiring young chefs and talented home cooks will enjoy the recipes, cooking tips and opinion pieces personally shared by Michelin-starred chefs in Dining In; while People will feature exclusive interviews with the MICHELIN guide's representatives, renowned chefs, and influential food experts in Singapore and beyond.
"Beyond serving as a trusted restaurant guide, the MICHELIN guide Singapore website will make the Michelin dining experience more accessible through practical and informative daily content that will help connect local and visiting diners with their favourite Michelin-starred restaurants and chefs," says Hock Sen CHAN, Vice President, Michelin Asia Pacific "The beauty of a digital platform is that everything is highly interactive, and we hope to tap on this to foster an online community of food lovers."
Besides sending in questions to be answered by Michelin chefs and food personalities, and submitting original creations to be showcased in the web portal's crowd-sourced recipe section, MICHELIN guide aficionados can also log onto guide.michelin.sg to place advance orders for the MICHELIN guide Singapore 2016 and book seats at the MICHELIN guide Singapore and Robert Parker's upcoming Matter of Taste food and wine events.
The MICHELIN guide Singapore 2016 is now available for pre-order at SGD39.95, inclusive of GST and free delivery within Singapore.
For more info about the history of the MICHELIN guide and the star rating system please visit: http://guide.michelin.sg/the-inspection-process
For more informations about the MICHELIN guide please visit: http://guide.michelin.sg/michelin-myths