Potato Head's Three Buns Opens at Quayside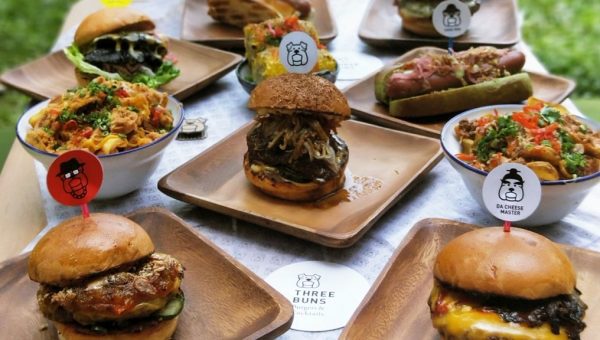 Potato Head Family unveils their first stand-alone location in Singapore, Three Buns, at a new home in Robertson Quay. The launch features a newly curated menu with exclusive combinations and popular signatures, as well as a weekend brunch menu and expertly crafted tropical cocktails which will tickle each and everyone's taste bud.
The 80-seat burger bar is fitted with upcycled interiors and sustainably made furniture handcrafted by Indonesian artisans. The environment is in synergy with the Potato Head Family ethos of "Good Times, Do Good" with all-natural materials such as upcycled, compressed wood scraps and eco-friendly cement. Put together from workshop waste products, the central communal table lends an industrial vibe while lush potted plants lend the well-lit space a verdant tone.
Helmed by Executive Chef Adam Penney, who has worked at Lonsdale — one of London's most fashionable restaurants, known globally for making iconic burgers from scratch, he will continue this approach at Three Buns Quayside with 95% of the menu being handmade, controlling exactly what goes into each burger, including house-made sauces and premium cheeses from US, UK and Greece. The brand only uses the highest-quality grass-fed Australian meat — each patty is made from two prime cuts of beef, and is simply seasoned with nothing else but kosher salt, to retain its flavour integrity.
Three Buns Quayside features five brand-new burgers alongside all-time favourites, as well as mains and bites with Asian influences created exclusively for Quayside, and even a sweet treat between two buns — a good ol' ice cream sandwich.
Here are some of Three Buns must try burgers exclusively available at Quayside: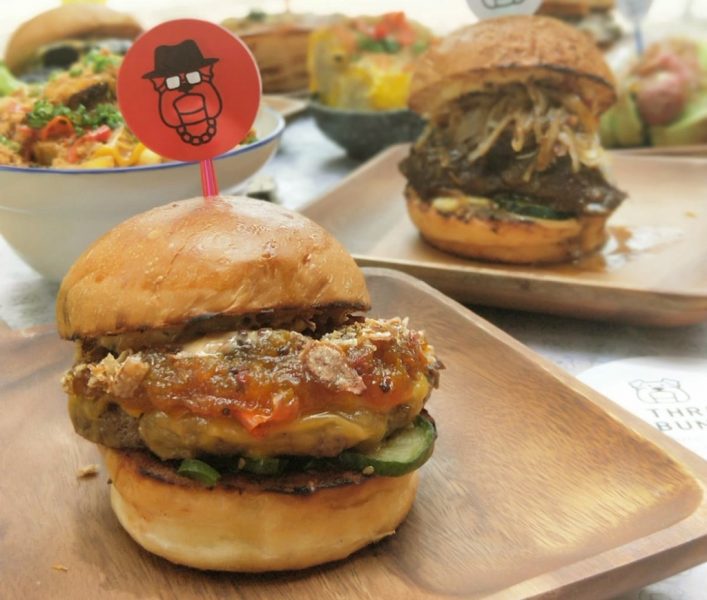 Bun DMC $16– A nostalgic throwback to the burgers from Head Chef Adam's childhood, the Bun DMC features an interesting home-made watermelon rind relish stacked on bawang goreng (fried shallots), onion puree, and Three Islands Mayo (mayo, ketchup, sriracha) on well-toasted buns oozing with melted cheese.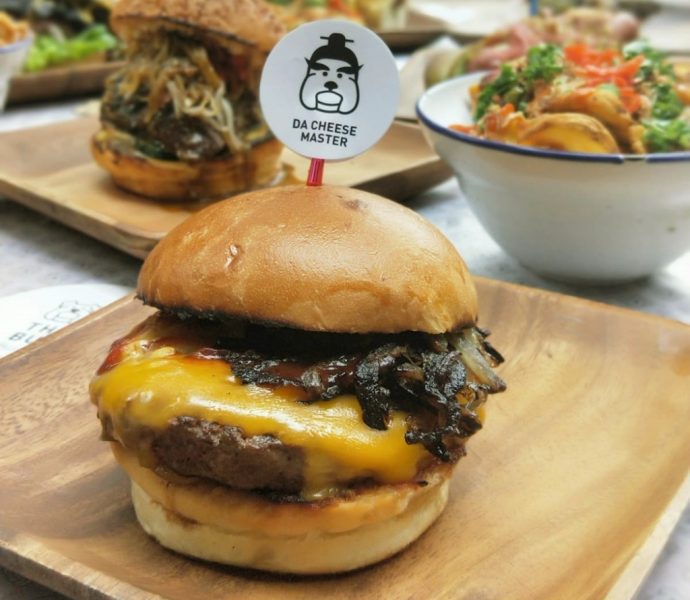 Da Cheese Master $15 – Inspired by the dirty old-fashioned truck stop burger, you're definitely gonna need napkins for this delicious mess of juicy black Angus beef patty in gooey double cheddar, charred onions, double ketchup and rich white miso paste.
Red Man Burger (Beef Rendang) $28– A hearty sweet and spicy blend of over 10 spices and ingredients including gula melaka is stewed for 2 hours, then spread on tender beef cheeks which is sous vide for 24 hours. Now fully infused with flavour, this fatty goodness is topped with handmade virgin coconut mayo on fluffy coconut buns made from fragrant coconut oil and coconut milk. Sedap!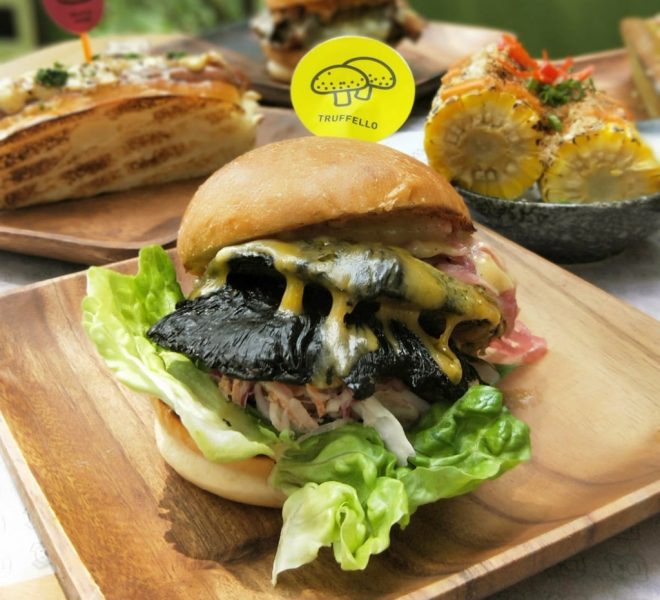 Truffello $15– vegetarians are covered too. The latest meat-free burger on the menu is centred around the heavenly combination of 2 key ingredients: truffle and Portobello mushrooms. Juicy, whole portobellos are generously slathered with a rich garlic miso truffle-butter sauce, seared and served together with an indulgent cold slaw with truffle oil.
Aside from the burgers, Three Buns Quayside has brand-new bites to go along with your delicious burgers.
Take a bite out of the Quayside-exclusive Seng Dog ($12), an ode to Sen Dog from hip-hop's Cypress Hill. The Asian-inspired hotdog is topped with wasabi mayo, Three Buns relish and bawang goreng, all nestled in a freshly toasted matcha bun. The cheeky Miso Dirty Fries ($9) come drenched in miso béarnaise, smoked chicken sausage and floss, chives, scallions and pickle chilli, while the Ayam Chicken, marinated in a spicy and tangy Korean BBQ sauce, will have you fighting over the last piece, lastly, tuck into Three Buns' version of a good ol' ice cream sandwich, the Vanilla Guerilla ($9). Creamy vanilla ice cream drizzled with an irresistible gula melaka coconut butter scotch sauce is sandwiched between toasted dark chocolate demi brioche buns.
Three Buns is also offering a weekend brunch fare every Saturday and Sunday from 11am-4pm. Chef Adam whips up mean creations like the Kinky Afro ($21), a stack of savoury buttermilk pancakes served with a homemade chicken sausage patty, fried free-range eggs, sun- dried tomatoes and a generous drizzling of genuine maple syrup. The Blueberry Basic ($15) expect these fluffy buttermilk pancakes to come drenched in a special house-made sauce comprised of vanilla salt, vanilla pods, thyme and coffee grounds for a complex, flavourful rendition of the much-loved classic.
Three Buns is also offering their crafted cocktails as well as two new milkshakes, the banana based 3 Monkeys ($18) and chocolate-filled Aye Sailor ($18) made with house-made vanilla ice cream.
All the syrups, sauces, and ice cream at Three Buns are made from scratch in-house, and the restaurant is committed to minimal food waste.
Three Buns Quayside is located at: 60 Robertson Quay, #01-01, Singapore 238252
For more details please visit: www.threebuns.com