Stay Healthy this Lunar New Year with Elemen's Nutritious, Meatless Menu!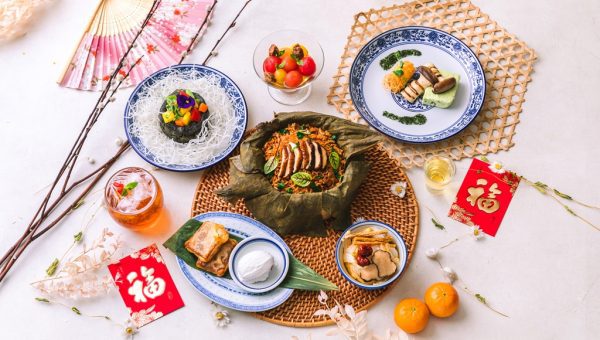 CONTENT: Yiew Kai Jie
IMAGE: Luxe Multimedia/ Elemen
Afraid of losing all your gains over the Chinese New Year Period? Are you scared of all the empty calories that you will gain from the countless pineapple tarts and hotpot sessions with your friends and family? Fret not, as Elemen aims to keep you healthy over the CNY period with a salutary yet filling eight-course menu! The fertile menu brings about abundance and well-being for everyone with nutritious dishes.
Elemen has earned a devout following by both vegetarian and non-vegetarian diners, with various outlets at Millenia Walk, Thomson Plaza and Harbourfront Centre. Most of Elemen's regulars are mostly non-vegetarians, who are fans of the wholesome, creative and hearty cuisine served here. The restaurant is committed to using premium plant-based and natural ingredients in its delectable dishes to promote well-being for the health-conscious. Most importantly, they do not use mock meat in their dishes which contains a lot of unhealthy preservatives and does not add anything beneficial to the dish.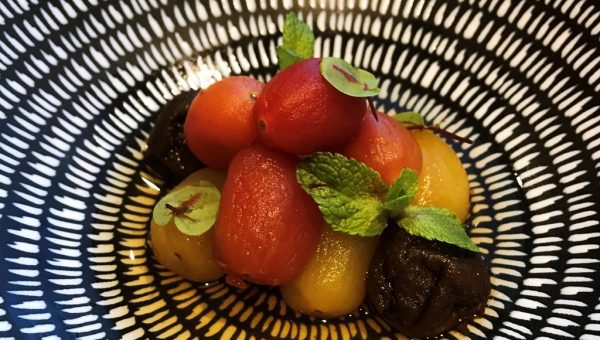 The eight-course menu starts off with a appetizer dish- bright red and yellow Sour Plum Cherry Tomatoes in a special homemade plum sauce that will definitely whet appetites. This dish is extremely sour, to the point that it is enough to make you wince and recoil as the tomatoes pop in the mouth. It will be more of a hit with the elders or for those who need to nurse a sore throat, but it acts as a equalizer if you've eaten something extremely sweet before coming to the restaurant.
Afterwards, tuck into mouth-watering menu highlights like the Double-Boiled Truffle Soup imbued with the unmistakable fragrance of truffle shavings and truffle oil, and slow-cooked for over 6 hours with goji berries, monkey head mushrooms amidst a plethora of Chinese herbs. Apart from promoting blood circulation, the soup also helps to reduce high blood pressure and balance out the taste from the sour tomatoes.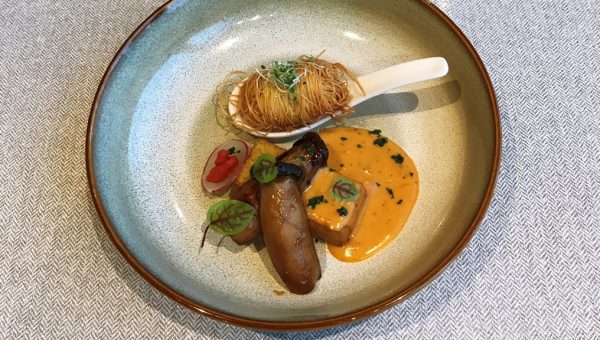 The eight course menu also features the luscious Homemade Soft Edamame Tofu with Pan-fried Oyster Mushrooms. Made from scratch in-house daily, the lovely emerald creation is packed with health benefits and delicate flavours. Served on the side is crisp-fried golden bee hoon shreds wrapped around beancurd skin and mushrooms. The tofu will not disappoint with its pleasant, soft texture while the mushroom's texture give off the impression that you're eating meat. The Mongolian sauce helps give the tofu a creamy finish and tastes like a classic steak sauce- helping meat lovers to cope with an all vegetarian menu.
Elemen's version of a popular Singaporean favourite, the Yam Ring with Assorted Vegetables has been marinated in natural charcoal for a subtle charcoal fragrance. Diners will love the crispy crust, as well as the smooth and creamy yam paste. The best fish on the menu, gently slice into the yam ring and let the vegetables flow out like a lava cake! The yam combined with the vegetables makes for a mean main course that will leave you wanting for a second portion!
To cleanse the palate, an intricately concocted refreshing Apple Cider, specially imported from Taiwan will be served mid-course.
As a homage to Elemen's signature fusion culinary style, the Lotus Rice with Porcini Mushrooms features fresh, rich porcini mushrooms and wild rice wrapped in fragrant lotus leaves. However, the rice wasn't as strongly imbued with the scent of the lotus leaves as one expected, it could have been much stronger and much more fragrant.
Specially created for 2019, the Golden Nian Gao with Coconut Ice Cream is a traditional dish with a modern twist! Succulent slabs of nian gao, with beautiful purple strips made from healthy purple rice, have been fried to golden perfection. Pair this with cool spoonfuls of coconut ice cream and it will provide a sweet and happy ending to a delectable meal!
To end off the course, freshly brewed Iced Osmanthus Red Tea boasting a natural floral fragrance will be served. Don't forget to bite into the nutritious healthy Osmanthus grass jelly at the bottom of the cup when you sip on this delicately scented tea- it is very refreshing once the whole meal is over!
On top of the 8-course menu, there are also several other CNY offerings at Elemen.
Their Prosperity Truffle Yu Sheng features a delightful medley of yusheng ingredients, konnyaku "salmon" slices, drizzled with homemade sour plum sauce infused with truffle oil and topped with lush black truffle slices. It comes in two sizes, retailing at $38.80++ (3-4 pax) or $48.80 ++ (6-8 pax), available for both dine-in and take-away. While the usage of the konjac was used to substitute the texture of fish, it is lacking rather badly in terms of taste as it it tasteless although it has hints of a fishy scent. The dish will be a huge boon for vegetarians or for those who cannot indulge in raw fish, but a boo for meat lovers.The whole dish is covered with the scent of truffle due to the truffle oil and slices of black truffle.
Elemen also offers delicious CNY treats such as the Golden Honey Walnut nuts ($16.80+/bottle) and the Honey Macadamia nuts ($19.80+/bottle) available for take-away.
The Prosper-licious 8-course Menu is available for dine-in only from 8 Jan – 19 Feb 2019, at $42.80++/pax.
Elemen is located at these three locations: Millenia Walk,(#01-75A/76 9 Raffles Boulevard, Singapore 039596) Thomson Plaza (#01-113, 301 Upper Thomson Road, Singapore 574408) and Harbourfront Centre (#02-85,1 Maritime Square,Singapore 099253)
Elemen is open daily, from 11.30am to 4.00pm (last order at 3pm) and 5.30pm to 10pm.
For reservations, please contact them at +65 6238 0511 (Millenia), +65 6452 0351 (Thomson Plaza) and+65 6904 9568 (Harbourfront) respectively.
For more information, please visit http://www.elemen.com.sg/