Usher in a Prosperous Year of the Earth Pig with the Lunar Delights from Cherry Garden
CONTENT: Andrew Kho
IMAGE: Luxe Multimedia
With the Lunar New Year fast approaching, many of us are wondering where is the best place to welcome and celebrate the year of the earth pig. Whether you are celebrating with friends, family, Mandarin Oriental Singapore's Cherry Garden offers one of the best dining venue to usher in a prosperous new year.
Available till 19 February 2019, Cherry Garden's Head Chef Cheng Hon Chau has created some unique dishes just for this special occasion.
Choose from not one but five Yu Shengs available, Prosperity Yusheng with Salmon and Crispy Fish Skin , Salmon Yusheng with Alaskan Crabmeat with Black Truffle, Treasure Yusheng with Scallops and Crispy Fish Skin or Vegetarian option Garden of Health Yusheng with Fresh Fruits and Vegetable served with julienned Rosella fruit and velvety spring onion sauce. For non-vegetarian, you can opt for either Alaskan crab meat, salmon, black truffle or black caviar.
One of the highlight and only available in Cherry Garden is the Luxurious Pen Cai, served in a traditional 'basin dish', this is Singapore;s largest pen cai filled with fifteen premium ingredients such as four-head abalone, lobsters, scallops, sea cucumber, prawns, roasted duck, lotus chicken, roasted pork belly, dace fillet, dried oyster roll, conpoy, black moss, tientsin cabbage, yam and wolfberries. Advance order is needed for this dish.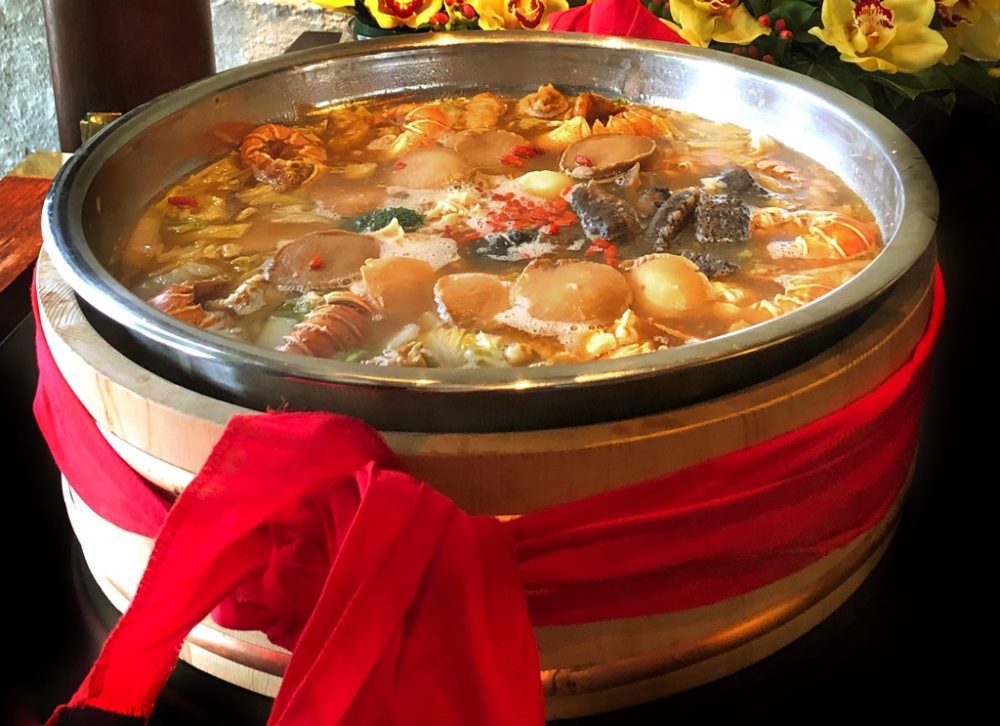 As this year is the year of the pig, a must have in every table is the Braised Pig's Trotter with braised six-head abalone and black moss. The pig trotter is braised for two hours and made with soybean paste, this is ideal for takeaway or dine-in.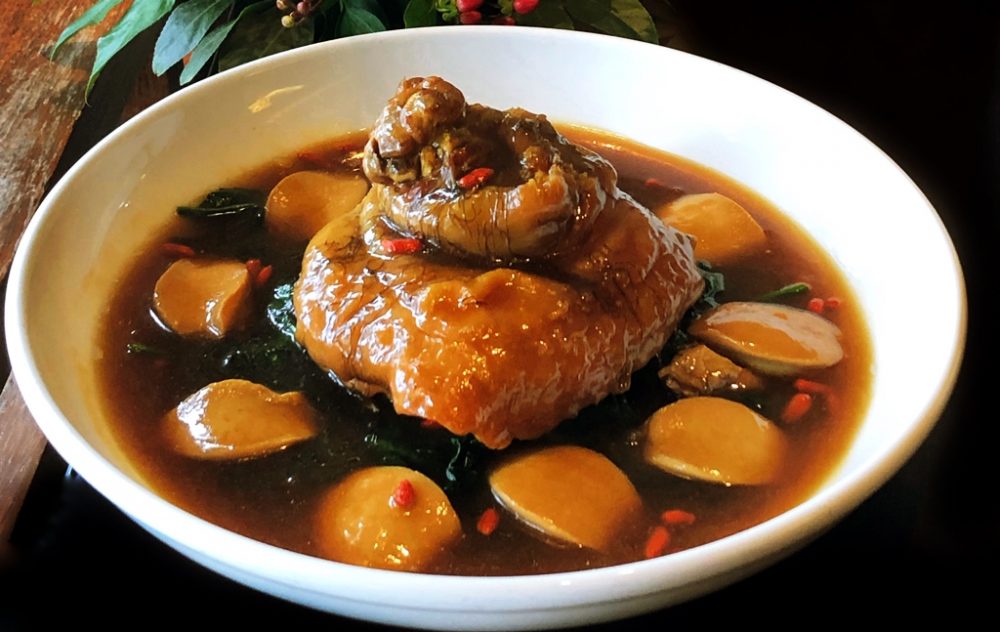 End your meal with their refreshing Chilled Aloe Vera Jelly with Lemongrass and Dried Rose Petals, don't worry as the sweetness is just right and not overly sweet.
Other delectable goodies such as the Pineapple Sable available in six or nine pieces in teal boxes with the iconic fan emblem or cookies such as Kueh Bangkit, Almond and Peanut are also available for takeaways or giveaways.
For restaurant reservations, please email mosin-dining@mohg.com or call +65 6885 3500
To place orders for goodies, please email mosin-festive@mohg.com or call +65 6885 3081. Please allow two (2) days for processing of orders.
For online orders, please visit www.singapore.mandarinorientalshop.com
Cherry Garden is located at: Mandarin Oriental, Singapore, 5 Raffles Avenue, Marina Square, Singapore 039797