The 7th Edition 1855 The Bottle Shop's Wine & Whisky Week 2019 Returns!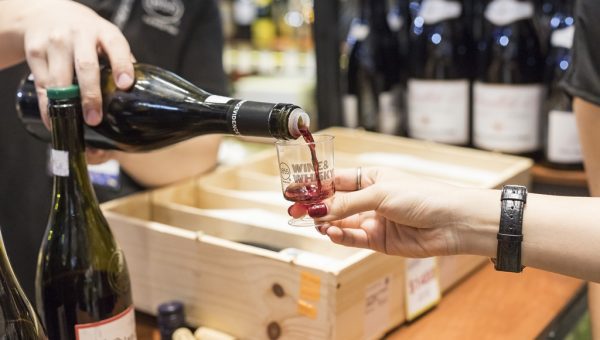 The biannual 1855 The Bottle Shop's Wine & Whisky Week (WWW), featuring a first of its kind immersive experiential "Breathe: Garden of Aromas" theme, returns and is ongoing till 12th May at Suntec City East Atrium Level 1. Back with a bang, the seventh edition offers an ethereal retail experience like never before. In line with the season of spring, the concept of 'Breathe: Garden of Aromas' aims to create a fun, interactive, and immersive space for wine & spirit lovers to taste, discover and play. Step into a beautiful garden paradise and enhance your appreciation of every label, as you explore the diverse array of aromas and bouquets in fine wines and spirits.
Since its inception in 2016, every instalment of WWW has received overwhelming response from participants, who get to enjoy the unique experience of wine and whisky tasting, education and shopping under one roof. WWW is the largest wine and whisky event in Singapore, featuring over 500 wine and spirit labels from over 10 countries including France, Italy, Chile, Scotland, Japan, Australia, New Zealand, Taiwan, USA and Spain at attractive discounts.
During the 13-day event, visitors can taste and indulge in a thoughtfully curated selection of wines & spirits, discover their palate and experience a rich array of aromas through an interactive and educational display, and revel in a multi-sensorial retail experience.
The exquisite wine selection features the exclusive new-to-market Lebanese winery Chateau Marsyas, the highly rated Dr. Loosen Graacher Himmelreich Riesling GG 2017 and many more. Visitors can also get their hands on the entire Game of Thrones Single Malt Scotch Whisky Collection, and savour over 100 labels featuring single malt, grain and blended whiskies, sakes from boutique breweries and gin, etc.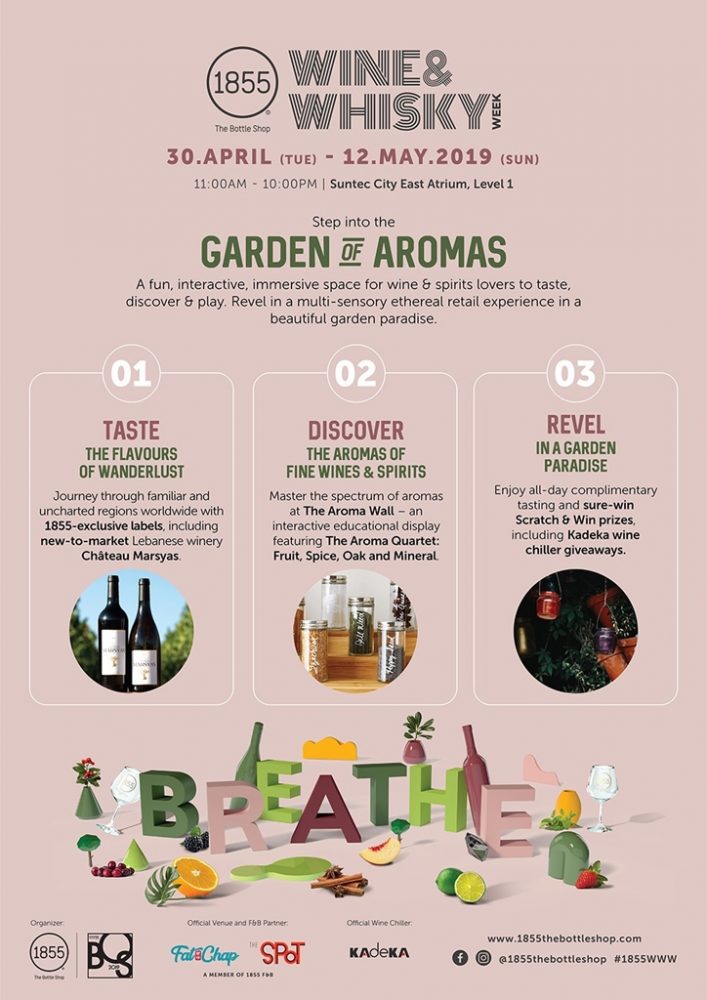 Discover Your Palate at the First of its Kind Aroma Wall
Inspired by the wide spectrum of aromas in fine wines and spirits, 1855 The Bottle Shop has put together a unique Aroma Wall that features four selected aroma groups – The Aroma Quartet – that represent and embody the main wine selection of the event's spring edition: Fruit, Spice, Oak, and Mineral.
Nosing your alcohol is quintessential to enhancing the overall tasting experience. In fact, some scientists claim as much as 80-90% of the flavour you experience is attributed to your sense of smell.
The special Aroma Wall features an interactive and photogenic display of aromatic elements commonly found in fine wines and spirits. Visitors will have the opportunity to learn from experts on how to differentiate the unique aromatic components in their glass. Get a whiff of each individual scent to sharpen your olfactory intuition and identify the key aromas in your favourite labels.
Limited Edition & 1855 Exclusive Labels From Around The World
Journey through both familiar and uncharted regions with 1855 The Bottle Shop's international showcase of iconic ultra-premium labels. The selection includes three exclusives; new-to-market Lebanese wine Chateau Marsyas 2011, historic Portuguese 100-pointer Ne Oublie Port Wine 1882, top Italian wines by Il Poggione as well as the incredibly rare whisky Johnnie Walker Blue Label Ghost & Rare Port Ellen.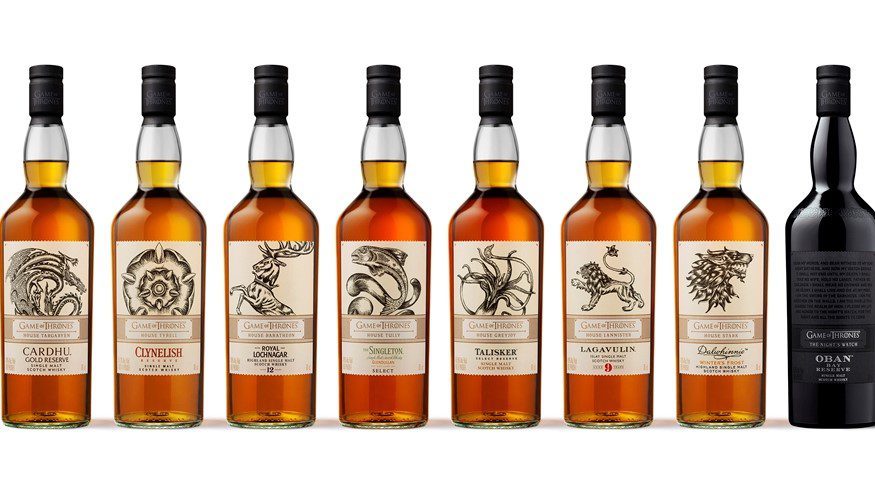 Highly Raved Game of Thrones Single Malt Scotch Whisky Collection
Game of Thrones and whisky fans, you're in luck. Launched by Diageo and broadcaster HBO in February this year, the phenomenal collection – consisting of eight limited edition single malt scotch whiskies inspired by the hit TV series – has been highly raved about by both whisky- and Game of Thrones-obsessed fanatics. If you have not gotten your hands on them, now is your chance.
The full set of the Game of Thrones Single Malt Scotch Whisky Collection is available at S$1,188 during the event. Each of the rare scotches is paired with one of the iconic Houses of Westeros, as well as the Night's Watch, giving you an authentic taste of the iconic Seven Kingdoms and beyond. The entire collection comprises:
Exciting Contests such as sure-win scratch & win, Wine Chiller giveaway are available throughout the event.
The 1855 The Bottle Shop Wine & Whisky Week Event is ongoing till 12 May 2019 at Suntec City East Atrium, Level 1, Singapore 038983 ( Between Tower 3 & 4) from 11am-10pm. Admission is Free!