Experience Thai Luxury at Sheraton Grande Sukhumvit
Sheraton Grande Sukhumvit is part of Starwood's The Luxury Collection – a group of unique hotels and resorts offering exceptional service to an elite clientele. Hotels under The Luxury Collection enable the most discerning traveler to collect a world of unique, authentic and enriching experiences indigenous to each destination that capture the sense of both luxury and place that are distinguished by magnificent decor, spectacular settings and impeccable service.
Location
Sheraton Grande Sukhumvit is located in the heart of Sukhumvit – the largest street in Bangkok and one of the popular locations for shopping, dining and leisure activities. The hotel is approximately 45 minutes from Suvarnabhumi International Airport and conveniently connected to the BTS Asoke station and Terminal 21 shopping mall via the sheltered sky bridge.
Any travellers will be spoilt for shopping and dining options conveniently available within walking distance from the property, not to mention El Gaucho – one of Bangkok's best steakhouse is just around the corner.
Room
We stayed at the 70sqm Luxury Suite which features a separate living room and a master bedroom with crisp cotton sheets and decorative silks, sheer colored drapes from the Saint Moritz Sati collection, and carpets. The bathroom features a separate shower and bathtub with amenities by award-winning local Thai brand THANN.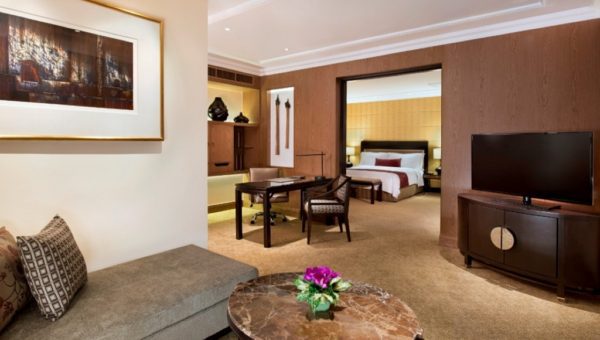 Sheraton Grande Sukhumvit, offers a selection of 420 well-appointed guest rooms, including 40 exceptional luxury suites and 6 palatial suites which among them is the most requested "Raja Suite" – a Thai Theme Suites with your own tropical garden which is always booked throughout the year.
* Sadly the "Raja Suite" wasn't available during our visit; if not we would love to stay in this room. We highly recommend this room to any travelers who want to experience authentic Thai ambiance without leaving the city.*
Business and leisure travelers can look forward to 24hr personal butler service, available for all Grande Deluxe and suites staying guests. Each room features a signature Luxury Collection bed, dressed in 300-thread-count cotton sheets, spacious walk-in closet, a bathroom with separate shower and bath, a LCD television, and a fully stocked refreshment center.
Dining
We could only boast about the wide array of tempting food choices within the hotel, Orchid Café serves all day International buffet and ala carte from Breakfast, Lunch and Dinner. Speak Italian at Rossini's with their sumptuous Italian cuisine and Sunday Jazz Brunch, for late night cocktails, light snacks and Live music, sit back and relax at The Living Room, or head to Barsu for a more quiet environment while enjoying your cocktails, wine and some simple comfort food. Fancy authentic Thai cuisine? We highly recommend you to try the hotel's one and only Thai restaurant called Basil – opens for Lunch & Dinner & Sunday Brunch.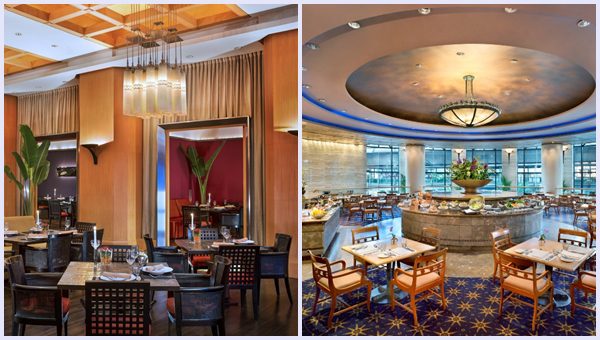 Facilities
Sheraton Grande Sukhumvit is equipped with outdoor Swimming Pool, Fitness Centre, Grande Spa to sooth your tired muscles, Business Centre and The Library wherein you can enjoy quiet moments, read a book from their huge collection available or gather your friends for some games and drinks. Very rare do we see a Huge Luxurious library in a hotel so this is something unique.
Service
Sheraton Grande Sukhumvit's hospitality is just superb. From the day of your arrival, throughout the duration of your stay, up to the day when you are to check –out, the staff are very attentive to every guests needs, caring enough to ask what you need, where do you want to go or what do you wanna eat up to the point of recommending you some ideas. Lastly, they give you a warm Thai hospitality that makes you feel at home and safe.
Verdict
We give this property at 5 out of 5 rating simply for the following reasons, location is very accessible to any destination via any public transportation, dining choices inside and within the property is more than enough choices for any travelers to choose from, rooms are very huge and comfortable, staffs are friendly and courteous and having a Thai theme suites within a five star property is a very clever idea, a hotel within a hotel with a touch of Thai ambiance, any first time travelers to Bangkok or even regular travelers but haven't stayed in this Thai themed suite must definitely experience it.
Sheraton Grande Sukhumvit is located at 250 Sukhumvit Road, Bangkok, 10110, Thailand
For more information and bookings please contact +66 (0) 2649 8888 or visit www.sheratongrandesukhumvit.com