Foodpanda Presents an Ultimate Gourmet Block Party: Bites & Vibes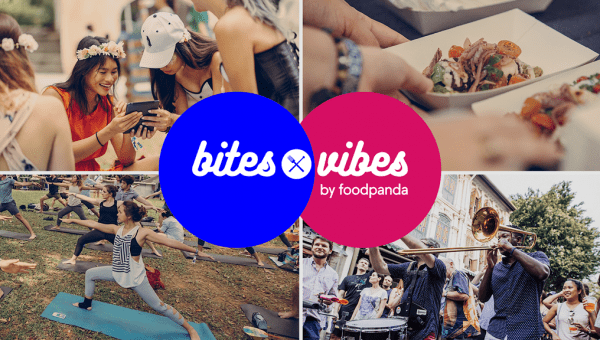 On Sunday 9th September, foodpanda will be partnering with Sunshine Nation and leading lifestyle brands to transform the iconic Amoy Street into a spectacle of pop-up food stalls and bars, live bands, DJs and wellness activities. Open to all ages and free to enter, bites & vibes will also champion sustainability with minimal waste initiatives, aligning with foodpanda's green mission.
Devour The Bites
With food and beverage choices from Singapore's most popular restaurants, partygoers will be spoilt for choice. Guests can indulge in fine Greek dishes from ALATI, sumptuous dim sum from the Dumpling Darlings, Mexican fare from Vatos Urban Tacos along with crowd pleasers Park Bench Deli, BoCHINche Ding Dong, The Market Grill, Burger Joint and DON HO. Ben & Jerry's will also be on hand with ice cold sweat treats.
To satisfy your drink cravings in the best way possible, get refreshing cocktails shaken and stirred by the leading mixologists from Proof & Co. – the group behind Asia's leading bars, such as 28 HongKong Street and Manhattan. For the beer lovers, the good folks over at Tiger will get guests in on the action with some cold brews. PengWine will also be at bites & vibes, serving up endless glasses of wine and sangria, as well as hosting intimate wine tastings.
Soak in the Vibes
Just before all the feasting (and drinking) kicks off, guests are invited to work off the guilt and sweat off the impending calories by taking part in some fun, free and interactive fitness classes from the likes of F45 Training, Pure Yoga and WeBarre. For less intense options, a host of lawn games will be available including an XXL Jenga as well as wine tastings.
As no street party would be complete without music, revel in the tunes and beats from homegrown musicians Sam Rui, Maricelle, DJ Sivanesh Pillai and Sobs, to international acts like Toppings, Bari Rumbles Brass and DJ Mack Hampson. With acts throughout the day, the music contributes to the overall laidback, fun Sunday vibes.
Go Green, Go Plastic-Free
Aligning with foodpanda's green mission, the fun and light-hearted event will champion sustainability with minimal waste initiatives. Working in close partnership with Detpak and all participating vendors, foodpanda will be using biodegradable packaging made of sugarcane pulp, eliminating the sale of single-use plastic water bottles and providing water coolers for visitors.
Bites & Vibes is happening on 9 September 2018, Sunday from 12pm till 10pm at Amoy Street. Entry is free while purchase of food & beverage is separate.
For more details please visit Bites & Vibes Facebook page: https://www.facebook.com/events/272985810126814/