Chloé and UNICEF Launches "Girls Forward" with Lucy Boynton & Katie Holmes
To mark International Women's Day on March 8th 2020, Chloé is proud to share the names of the exceptional women who will kickstart and raise awareness for Girls Forward, the global partnership between Chloé and UNICEF.
Through social media channels, Lucy BoyntonGaby Aghion and Katie Holmes will show their support for UNICEF gender equality programmes which are helping girls lead and foster a world that is relevant for them and future generations. With Chloe's support, UNICEF will help reach 6.5 million adolescent girls and young women around the world with skills to advance in the workplace. This initiative, which encompasses digital and technology skills as well as entrepreneurial advancement, will be implemented in countries such as Bolivia, Jordan, Morocco, Senegal and Tajikistan.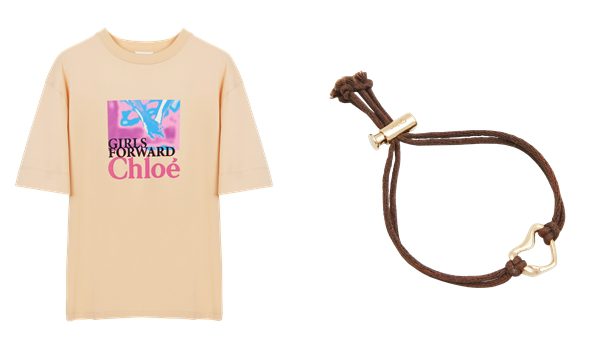 As part of this campaign, Chloé debuts a T-shirt, necklace and bracelet with 100% of purchase proceeds directed towards UNICEF.* The organic cotton jersey T-shirt, available in two colour ways, features two hands clasped in a gesture of togetherness, along with the message, Girls Forward.
These cause-related products is now available on Chloe.com and in selected Chloé boutiques in 5 countries: France, Japan, Korea, the United Kingdom and the United States.
This partnership towards equal opportunities echoes the spirit of Gaby Aghion, who founded Chloé in 1952 who was known to have said, "To all women, I always say, you must dare."