Ladies, It's Time to Get Suited Up at Benjamin Barker
CONTENT: Henry Boen
Benjamin Barker is famously recognized for their bespoke tailoring services and clean suits for men. It was a long-standing motto but have since been a thing of the past when it ended decisively on the last week of August 2018, where the first womenwear line was introduced alongside their flagship store opening at Cineleisure, Singapore. Entitled the 'Red Label', women with an inclination towards a masculine vibe in their dressing aesthetic can now seek solace from flouncy dresses and skirts and opt for structured shirts, dresses and tailored blazers at Benjamin Barker.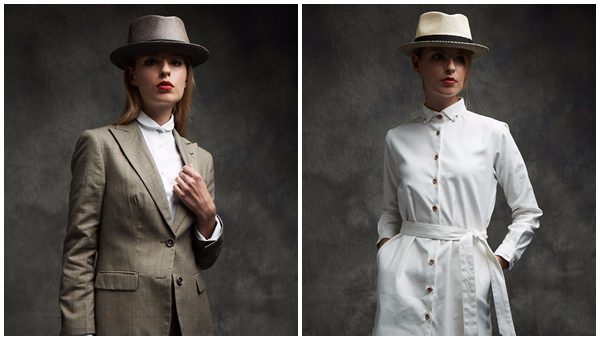 Muted tones of blues and creams dominated the first-ever womenswear line-up; aptly reflecting the lushness of Southern plantations where the initial design inspiration was based on. The addition of whites brought forth the rustic vibe of summer days, contrasting against the darker options as an interesting alternative. Men's 2018/2019 collection was also introduced together and adapted a very similar palette to the 'Red Label'. Both collections were kept tightly aligned to the house's ethos of dapper style, timelessness and craftsmanship.
The two-storey flagship store is divided to an exclusive 60-seater Benjamin Barker Café on the first level and the actual store on the second. The interior choices of neutral oak, cement and brass accents were decided as a modernistic style reflection of the Benjamin Barker consumers. Vinyl records, music posters and post-war fixtures build a narrative of an adventurous dandy or quaintrelle lifestyle with a penchant for luxury coffee (like Papa Palheta), food and fashion. Overall, the store, the products and the leisure were a beautiful cohesion of elements that were definitely successfully in captivating the essence of Benjamin Barker.
Benjamin Barker Flagship Store & Cafe is located at: Cathay Cineleisure Orchard #01-01, 8 Grange Road, Singapore 239695