Reebonz Launches First Luxury E-commerce Hub
Since its establishment in 2009, Reebonz has witnessed a massive growth from its modest membership base, business offerings and organizational strength. Originally starting off as an online platform bridging the gap between luxury and affordability to being Southeast Asia's No.1 online luxury retailer, Reebonz provides access to over 150,000 luxury products across 550 brands globally today.
The launch of the Reebonz's E-commerce Hub saw a first-of-its-kind luxury e-commerce hub in Southeast Asia, leverages on technological advancements and innovation to support the growing needs of the business. Embracing new technologies and adapting it to optimise operational efficiency is a key driver in sustainable growth for the business. Automated warehouse solutions enhance delivery timeliness and productivity, key in maintaining the brand's credibility and last mile efficacy.
To commence the launch, Chief Executive Officer of Reebonz Limited, Mr Samuel Lim, gave his opening address and candidly shared the realistic journey of running an e-commerce business. This was followed by Mr Iswaran's speech, which was subsequently accompanied by a ribbon cutting ceremony, along with two other key players—Mr Daniel Lim, Co-founder of Reebonz Limited and Mr Chua Kee Lock, Chief Executive Officer of Vertex Venture Holdings.
The media and various other guests were taken on a private tour around the Operations of Southeast Asia's number 1 online luxury retailer. This opportunity gave them an exclusive insight into the processes of how merchandises are received, authenticated, photographed, packed and shipped out in a central distribution warehouse.
The tour, led by Mr Samuel Lim, together with the senior management team, saw guests going through key levels of the building such as, The Eye (Level 1), The Touch (Level 2), The Soul (Level 7) and The Feel of Luxury (Level 8). This journey gave guests a deeper understanding on the company's commitment in productivity, rapid experimentation and experiential services needed to deliver the world of luxury to its customers.
Housed within the Warehouse is also a 54-level high security carousel storage system which stores the coveted Hermès, jewellery and luxury timepieces. The brand has expanded its reach in existing markets and through the use of data analytics, changed the landscape of luxury shopping by understanding the buying behaviors of its customers. Reebonz also provides a trusted platform for Asian Designers to showcase and sell their works.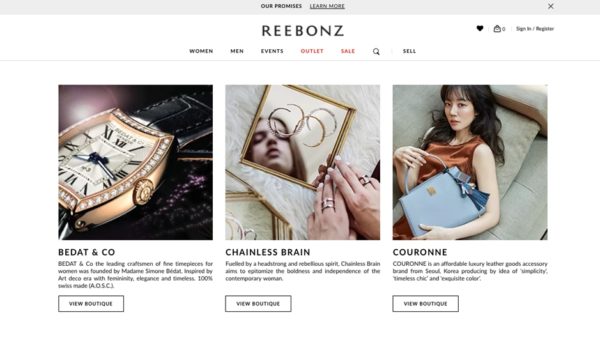 "Reebonz has leveraged on technological advancements to build on the efficiency of its delivery to its customers, shipping to more than 17 countries globally. "Innovation is the key in staying relevant to the changing landscape of luxury fashion," said Mr Samuel Lim, CEO of Reebonz Limited.
To date, omni-channel marketing strategy has remained a key business strategy. The brand maintains its stand-alone store at Suntec City and continues to invest in key markets around the world including Australia, China, Indonesia, Malaysia and Korea to name a few.
As the tour ended, guests had their portraits drawn and personalised by Grace Ciao, a celebrated local fashion illustrator.
Acknowledging the business success, Daniel Lim added, "Without our customers, employees, stakeholders and business partners, there would be no Reebonz. We will continue to innovate and challenge what we have achieved to continue evolving the luxury ecosystem we have created, staying relevant to our customers throughout their luxury consumption journey."