Ginett: Affordable Wines and A Casual European Dining Experience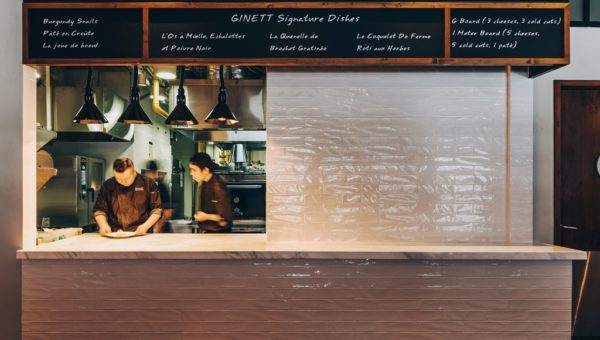 CONTENT: Michelle Ng
Tucked away along Middle Road, Ginett is already known as the go-to place for hearty lunches and cheap wines.
Having cut out the distributors and buying straight from the source, Ginett offers top-quality wine at affordable prices. Their wines start from $6 per glass which gives you a good reason to have a glass of wine everyday.
With over 70 wine choices, it can be tough selecting one. Do ask your waiter for wine recommendations, as they will be able to give you the best selection depending on your tastebuds.
Their food offerings are also not to be trifled with. From bar bites to full entrées, they've also got a whole range of delicious dishes to complement your chosen tipple for the night. Even the bread baked freshly in-house everyday is flavorful. I couldn't seem to have enough!
They also have a cheese board with a selection of cold cuts that is a must-try for those who love cheese. The cheese varies based on the daily selection, and includes options like the pungent blue cheese and the Camembert cheese that's served alongside Parma ham and chorizo. Tip: dip your cheese into the rosemary and thyme infused honey that comes along with your cheese board for an additional layer of flavor.
If you fancy something heavier, try their Roasted Baby Chicken. The chicken, specially flown in all the way from France, is cooked sous vide style with Provencal herbs to retain the juiciness of the meat. The star of the dish was probably the mashed potatoes side that was served alongside the chicken. The mash was drowning in truffle, and had a smooth creamy texture that just made you want to shovel spoonful after spoonful into your mouth.
Those who prefer something stronger in taste can give the La Joue de Beouf a try. The Wagyu beef cheek is braised for over 12 hours to make the meat tender and succulent, and is drenched in tasty gravy.
Finish off your meal with some desserts for a sweet touch to end the night with The Mille Feuille, a vanilla flavored crispy puff pastry that just cleanses your palate. If you're feeling a little more adventurous, you can try the Teh Tahrik Tart which draws inspiration from local flavors.
Not just for the night owls, Ginett also welcomes those who love brunch.
Eggs make up a large portion of the brunch menu, and you can have it cooked in many different ways. The Smoked Salmon Egg Cocotte is a slow cooked egg served with salmon and cream atop crispy toast is a classic breakfast combination, and the Poached Eggs and Merguez is inspired by Mediterranean flavors, with two poached eggs in tomato sauce and cumin cream that comes with crispy potatoes and lamb sausage.
The brunch menu also offers a much wider selection of sweets and desserts. The Banana and Walnut Waffles has found the right balance of crunch and fluffiness, and their cold brews are a good kick-start to the day.
Ginett is open daily from 7AM till late, serving breakfast, lunch, dinner and bar bites, with a late last order for food until 10.30pm from Sundays to Thursdays and 11.30pm on Fridays and Saturdays. Brunch is served on weekends from 11AM to 4PM.
Ginett Restaurant and Wine Bar is located at 200 Middle Rd, Singapore 188980. For more details or reservations please call +65 6809 7989 or visit www.hotelgsingapore.com/dining/ginett