Suit Up with Thom Browne Fall/Winter Merino Wool 2016 Collection
Get your hands on Thom Browne devotees can now get their hands on an assortment of Woolmark-certified suits and knitwear, in time for Fall 2016. Recently appointed as an ambassador for The Woolmark Company, the leading American fashion designer pushed the boundaries for Spring/Summer 2016 as he unveiled a variety of lightweight wool suits perfectly apt for the warmer months. Browne returns this Fall with a tailored line that heroes wool and perfectly fuses business with creativity in a way that only Thom Browne can.
Known for his signature grey cropped tailored suits, Browne's hand-made tailoring based collections have earned him a celebrity following, and whilst his style often references mid-50's and early-60's American sensibility, his innovative design and craftsmanship keeps him evolving forward into the 21st century. One of the collection's highlights is the Fun Mix Suit, which Browne describes as a season hero.
"Using a fun mix of seven different 100 per cent wool fabrics, this classic three-button sports coat with my signature backstrap trouser allowed me to explore the vast possibilities and versatility of Merino wool," explains Browne. Using a mix of black and white houndstooth fabrics, grey herringbone fabrics and black and white 120's birds' eye fabrics, the Fun Mix Suit weaves Browne's eccentric personality with a modern twist.
"Australian Merino wool has been important in my work since way back, and since I have always used wool suiting fabrics it was a natural journey to partner with The Woolmark Company. I've always mostly worked with wool; for me, each piece I create is special in its own way." And with such a strong passion for this natural fiber, Browne is also breaking misconceptions that wool is only suitable for cold conditions. "I don't always think of seasons or climates when I'm designing. Concepts always come first."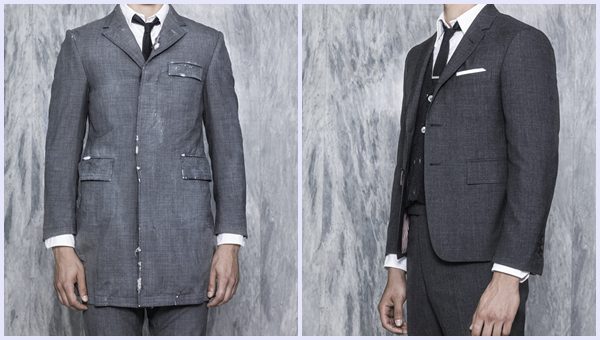 Created with the support of The Woolmark Company, which has assisted in the supply chain and sourcing of production channels, Thom Browne's latest collection is currently available in key stockists globally and through Thom Browne stores. In addition to the impeccably cut wool suits and luxurious knits are a range of wool accessories including hats and scarves.
Thom Browne Fall 2016 collection are available at the following global retail outlets: 10 Corso Como Seoul, Barneys New York, Dover Street Market, Hankyu, Harrods, Harrolds, Isetan, Joyce, Lane Crawford, Le Bon Marché, Net-A-Porter, Selfridges, United Arrows, and Thom Browne stores.