Bawah Reserve Officially Launches With New Amphibious Seaplane
Bawah Reserve, the highly anticipated opening of 2018, officially launches with a new amphibious seaplane – spectacularly transporting guests to the far-flung corner of Indonesia, where six forest-clad islands and 13 beaches of white hourglass sand await.
Within this pristine and previously uninhabited marine conservation area, Bawah Reserve caters to outdoor adventurers with an appetite for indulgence as well as paradise seekers looking for relaxation. Bawah Reserve offers the true meaning of all-inclusive luxury, by being the only retreat in Asia to include all spa treatments, guest experiences and round-trip transfers via its new amphibious seaplane.
Situated 300km North-East of Singapore, Bawah Reserve is an intimate, luxuriously sustainable retreat featuring 35 standalone suites, surrounded by clear turquoise waters, blue lagoons and coral reefs.
Perfectly combining luxurious moments within natural surroundings, Bawah Reserve houses a maximum of 70 guests at any one time – giving each visitor the feeling that they are escaping to 'their own private island'.
The Experiences
Bawah Reserve perfects the art of hospitality where all aspects of the stay are catered for. Once on the islands, guests can indulge in endless unrivalled experiences – all included and curated – by their assigned personal host. From kayaking and snorkelling adventures around the lagoons to treks through the forest, hands-on cooking classes, gourmet suppers, alfresco dining on the beach and unlimited spa treatments – Bawah Reserve encourages total relaxation or reinvigoration.
The Spaces
Surrounded by the wonders of the South China Sea and enveloped by lush forestry, Bawah Reserve features a host of enchanting spaces. AURA, the spa sanctuary presents wellness with a difference – where therapists are dedicated to identifying personal preferences to achieve a deeply relaxed state, establish equilibrium or rejuvenate the mind and body. The beachside infinity pool offers a cooling dip with breath-taking views of the lagoon below. The library of inspiring novels and travel journals, alongside an outdoor cinema, will occupy the mind. For those wishing for a more of an active retreat, the 100ft high yoga pavilion and tennis courts in the adjacent grounds will energise the body.
The Cuisine
Exquisite cuisine awaits at Bawah Reserve's beachside and treetop restaurants, where delicious gastronomy combined with a personalised service make dining at Bawah Reserve unforgettable. At Bawah Reserve, style and sustainability go hand-in-hand, and organic produce is grown on the island – overseen by Bawah Reserve's on-island Permaculturist. Working with the Executive Chef, the team creates an unsurpassed approach to island dining, effortlessly curating special requests for a completely personalised dining experience. Recipes are a sensational mix of typical Indonesian flavours and refined international culinary art. Bawah Reserve also features three bars where local flavours meet timeless classics, complimenting cocktails with island-grown herbs.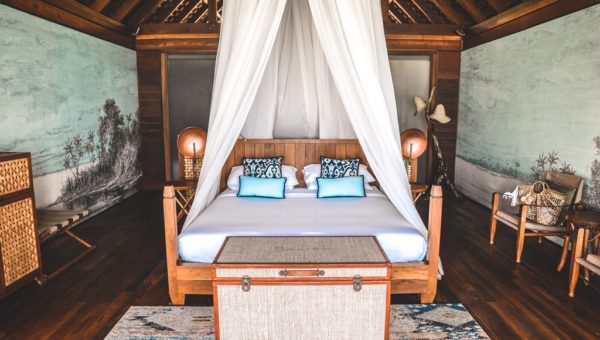 The Suites
The island suites themselves feature locally sourced natural fibres – from bamboo found on Bawah Reserve's own shores to locally recycled teak and copper, all luxuriously finished into 35 standalone suites. Guests can choose between 21 Beach Suites offering breath taking sea views, 11 Over Water Suites giving stunning dawn to dusk vistas and 3 Garden Suites shrouded by idyllic, natural scenes. Each accommodation features a beautifully appointed bedroom, spacious bathroom and a relaxing outdoor living area with incredible views across the lagoon.
The Journey
The journey starts in Singapore, where guests are collected from their hotel, airport or residence by one of Bawah Reserve's chauffeurs. A travel butler then picks guests up from Tanah Merah Ferry Terminal and escorts them by ferry to Batam International Airport, where they will board the private amphibious seaplane. 80 minutes later, guests will land on Bawah Reserve's spectacular lagoon, in front of their suite – just in time for a gourmet lunch.
The Bawah Reserve experience can be booked from USD1,780 for two people per night, and includes the following:
Private suite for two adults
80-minute round seaplane trip from Batam International Airport
Round trip ferry transfers from Singapore
Unlimited spa treatments in AURA
Bespoke, all-day dining – from dining in the restaurant to ordering in-room, through to taking a gourmet picnic to one of Bawah Reserve's five other islands
All activities – from snorkelling to kayaking, trekking and bespoke excursions (on land or sea)
Cooking lessons and personal tours of the ground with the chef and permaculturist
Daily yoga classes
For more information on the Bawah Reserve experience or to book, please visit: www.bawahisland.com