An Artful Presentation of Afternoon Tea at The Drawing Room with The St. Regis Singapore & Manolo Blahnik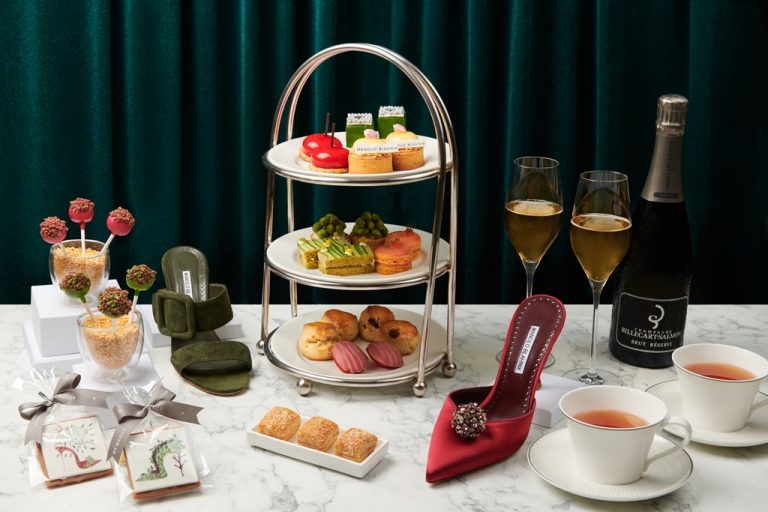 CONTENT: Seraphina Tang
This season, indulge in an exquisite and creatively curated afternoon tea at The St Regis Singapore, inspired by luxury footwear designer Manolo Blahnik.
In partnership with the eponymous and highly influential designer, The St. Regis Singapore has launched An Artful Presentation of Afternoon Tea at The Drawing Room from now until 29 February 2020.
Inspired by Manolo Blahnik's seasonal collection, the Afternoon Tea has been fashioned after the season's colour themes, exquisitely crafted and presented by the hotel's culinary team.
Starting off the Afternoon Tea experience will be the famed St. Regis ritual of the Champagne Sabrage, on entrance to The Drawing Room. Have your phones ready if you want to capture a shot or video of the moment! Begin the Afternoon Tea with a flute of from Billecart Salmon Champagne, paired with an amuse-bouche of Comté Cheese Feuilleté, served tableside along the curated St. Regis Singapore signature tea blend.
Following that, a kaleidoscope of treats are to follow: the bright and rich Chocolate Rocher with Silver Pearls, mimicking the signature Manolo Blahnik buckle; the tart and refreshing Cherry Mousse; and a lovely Kumquat Tartlet with Gold Nuggets. These are presented in an elegant three-tiered stand alongside delectable savoury bites such as the Crab Tart with Crunchy Wasabi Green Peas; Salmon Cream Cheese Double Decker with Salmon Roe, and the Avocado, Feta and Cucumber Sandwich. Don't forget to leave some space for the lovely assorted scones – fluffy and warm, absolutely moreish when paired with the accompanying jam and clotted cream. The Afternoon Tea is finished off with a pass-around of gorgeous Ruby Chocolate-coated Red Velvet Madeleines, and Nitro Pear-Caramel Lollipops.
An Artful Presentation of Afternoon Tea at The Drawing Room, presented by Manolo Blahnik and The St. Regis Singapore is ongoing till 29 February 2020 and priced at S$78.00++ per person, includes a glass of Champagne Billecart Salmon
For reservations and enquiries, please call The Drawing Room at +65 6506 6860, or email bls@stregis.com.