Celebrate The Festive Season At Food Capital, Grand Copthorne Waterfront Hotel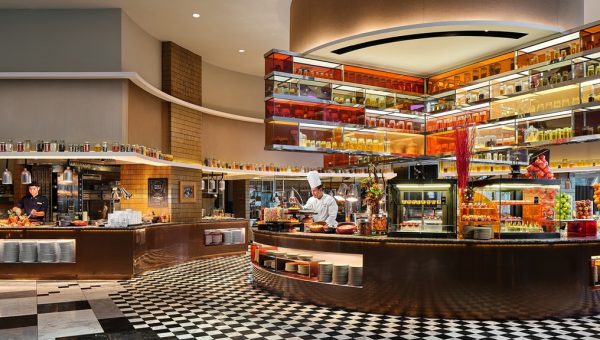 CONTENT: Seraphina Tang
Christmas is almost upon us – if you are still pondering over a place for a festive food gathering with loved ones (within safe distancing measures, of course), not to fret! Food Capital at Grand Copthorne Waterfront Hotel has reopened, offering an a la carte Christmas buffet along with International dishes and a delightful Riverside Barbeque selection.
Take your pick from a spread of over 50 dishes, ranging from grills to festive specials to international dishes and comfort foods. Savour the best of the festive season with jolly-good picks from the carving station: we especially liked the Honey Glazed Ham with Pork Jus and Apple Purée, or go for the Christmas Roast Turkey with Chestnut Filling, Cranberry Jam and Giblet Jus, as well as Oven-Roasted Prime Rib with Rosemary, Garlic and Port Wine Jus.


Another highlight of the buffet is its Riverside Barbeque, with chefs grilling up your orders a la minute, so your food is smoky-hot and fresh! Have the luxurious Grilled Lobster Tail with Garlic Butter, or go for multiple skewers of the sweet Live Prawns and delightfully charred Chicken Drumsticks (we certainly did). Don't forget to dip them in the accompanying sauces for a burst of flavour – we liked the Black Pepper Sauce, or go for the Sambal Chilli Cincalok if you want more heat.


Of course, it is a buffet after all: enjoy a variety of other dishes, from the creamy and flavourful signature Grand Copthorne Laksa, to the fragrant Wok-fried Black Pepper Turkey with Leek and Ginger or crispy Tempura. We were also pleasantly surprised by the addictively fluffy Garlic Butter Naan that paired well with the Mutton Stew with Lentils. If you're a seafood lover, we highly recommend ordering the Seafood on Ice (available for Buffet Dinner only), a gorgeous platter that looks just as good as it tastes, with fresh and sweet crustaceans like prawns, Chilean scallops, black mussels and cherry clams.

Don't forget to have a sweet treat at the end of your meal too! Finish off your meal with the Festive Orange Marmalade Log Cake and Red Fruit Panna Cotta for some citrusy notes, or have a skewer of marshmallows from the chocolate fountain and freshly-made waffles served with ice-cream for a bit more indulgence.

For reservations, please call +65 8168 1539, email dining.gcw@millenniumhotels.com or visit Website 

Food Capital, Grand Copthorne Waterfront Hotel
392 Havelock Rd, Singapore, 169663
Food Capital Festive Buffet 2020
Dates: 4 to 30 December 2020 (excluding 24 and 25 December 2020)
Lunch: S$54.40
Dinner: S$70.40
24 December 2020
Lunch: S$62.40
Dinner: S$78.40
25, 31 December 2020 & 1 January 2021
Lunch & Dinner: S$78.40
Opening Hours:
Lunch: 12 to 2.30pm
Dinner: 6pm to 10pm
Closed on Mondays