David Thompson's Aaharn Launches New Lunch Menu and Seasonal Dinner Dishes
Aaharn, the world-class exploration of Thai food in the historic Tai Kwun by David Thompson appoints new head chef Boonyapat Pariyasakul (Dtoy). Along with the appointment, the celebrated culinary team unveils a new lunch offering with palate-tantalizing specials to its one-of-the-kind fine Thai dining experience. Now open for lunch, guest can enjoy modern and refined Thai dishes at Aaharn day or night, and immerse in the Central nightlife at the Armoury Bar.
The winner of Asia's 50 Best Restaurants Lifetime Achievement Award and White Guide's Global Gastronomy Award, Chef David Thompson is a recognized world authority on Thai food. Also Aaharn's mastermind, he is dedicated to delivering an elevated and unparalleled Thai dining experience at Aaharn and Armoury.
Aaharn's kitchen also has a new addition to the team – head chef Dtoy, who has over 14 years of extensive fine-dining experience all over the globe. With the arrival of Chef Dtoy, David hopes to inject inspiration and spark culinary chemistry at the popular restaurant at Tai Kwun.
"I have worked with many of the Aaharn team before the restaurant was conceived, and it's been nothing but a success. I believe that along with new Hong Kong team members, we will be able to create new heights through a common connection of culinary passion in all of us." said David.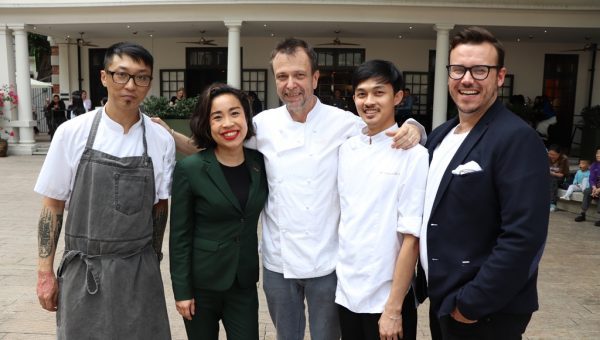 In addition to Nahm, Dtoy has acquired over 14 years of all-rounded experience across Australia and Thailand, honing his skills at top restaurants, consulates and United Nations events. With a comprehensive and authentic Thai cuisine knowledge, as well as his shared vision of preserving it with an innovative approach, David believes that Dtoy will bring Aaharn to another level with his creativity.
Lunch at Aaharn is available starting at HK$198 for 2 courses and HK$228 for 3 courses (excluding 10% service charge) from Tuesday through Saturday. Whether it is an energizing weekday lunch or a relaxed lunch on Saturday, Aaharn welcomes guests with equally tantalizing dishes. From aromatic curries to refreshing Prawn and Basil salad with exotic ingredients like Banana Blossom, new items will reflect Aaharn's honoured approach of delivering authentic Thai adapted to diners from the international city of Hong Kong.
Meanwhile, the dinner menu has incorporated new dishes inspired by David's continuous explorations in Thailand. The country's blessing of an abundance of fresh produce and regional cooking methods allows David and the team to introduce new elements to Aaharn's menu regularly. As the legendary figure in Thai food devotes to promote and preserve the cuisine, he sees maintaining its integrity just as important as building its popularity, and to be as faithful as possible to the cuisine he adorns.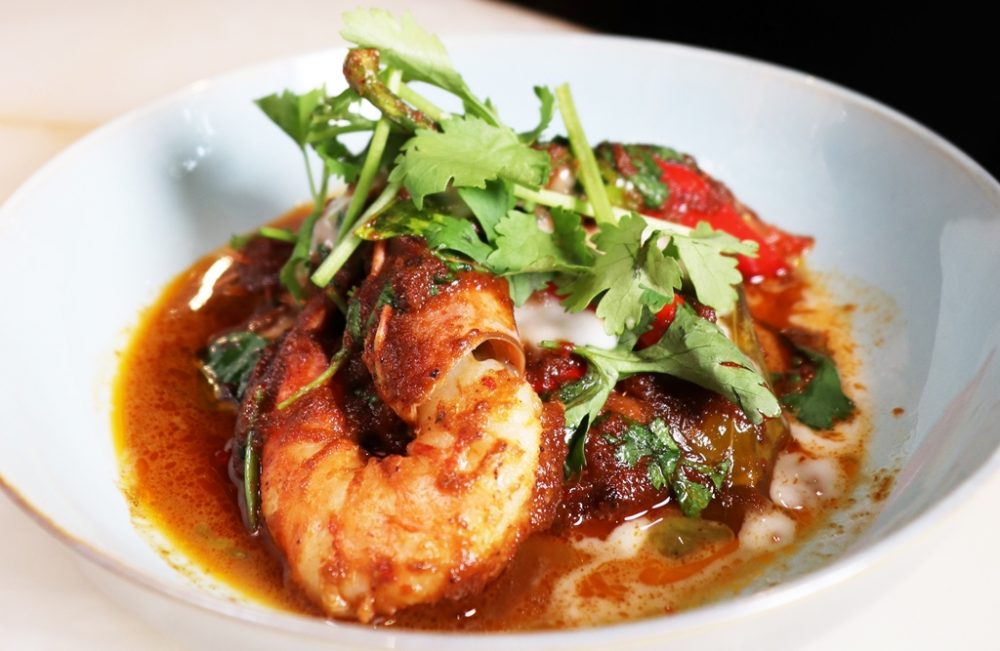 Backed by his passion and philosophy, diners at Aaharn can enjoy delicacies created to honour ingredients' seasonality and gastronomic satisfaction without losing authenticity; each filled with love, positive energy and integrity, the three inevitable components that David wishes diners to feel as he brings original authentic taste that pleases and nourishes.
Situated in the historical Tai Kwun, Aaharn and Armoury carry the mission to push dining experience to the next level with fine art pieces and impeccable interior. Set to shake the Thai dining scene in Hong Kong, the bar and restaurant is dedicated to bringing every dinner an all-rounded experience. With Armoury Bar, guests can wind-down before or enjoy the nightlife after dinner at Aaharn with a variety of wines, innovative cocktails and draught beers, accompanied by modern bar bites from Aaharn's kitchen.
While enjoying the world-class exploration of the best Thai cuisine in town, diners will find themselves surrounded by artwork curated by Ben Brown Fine Art. From Vik Muniz, Hiroshi Sugimoto, to the eye-catching "Acapella" sculpture by the Sovereign Asian Art Prize winning Pakistani artist Halima Cassell, the collection brings to life a buzzing atmosphere in the historic setting. With a constantly evolving menu offering the most seasonal and authentic tastes from Thailand, any visit to Aaharn restaurant and Armoury will be a gastro-art affair that cannot be found elsewhere in Hong Kong.
Aaharn is located at: 02 Armoury Building, Tai Kwun Centre, 10 Hollywood Rd, Central, Hong Kong.
For reservations or enquiries please call: +852 2703 9111 or visit: www.aaharn.hk