Double the Dutch, Double the Flavor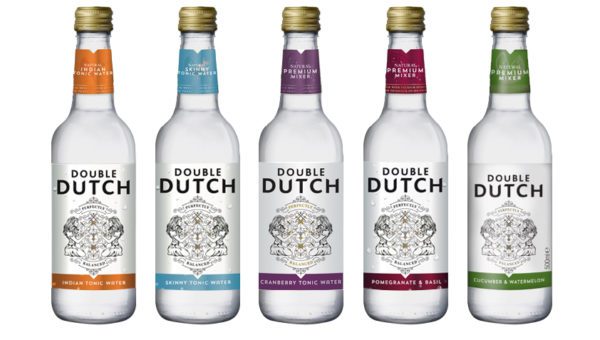 CONTENT: Yiew Kai Jie
Distributed by Singapore-based, brand specialist company Gain Brands, Double Dutch, "the perfect twin for your perfect tipple", has finally arrived in Singapore. Since the UK-incorporated premium brand for mixers and tonic waters burst onto Europe's bar and restaurant scene in 2015, it has quickly become the company to watch and continues to be an exciting brand to disrupt the market and excite the taste-buds. Double Dutch now has five signature mixers available in 12 countries in Europe, the USA and now, Singapore.
The Origin Story
Founded by Dutch twin sisters Joyce and Raissa de Haas – hence the brand's eponymous name – Double Dutch was born from a vision and an ambition to unite great spirits with complementary mixers that enliven and enhance the flavor of a mixed drink. The twins were frustrated by the fact that while the global market in alcohol led to better quality and more choice, the mixers and sodas designed to accompany the spirits remained bland and unstimulating.
This would lead them to experiment and create their own line of syrups and sodas, which would eventually become their passion. Building further on their dream, Joyce and Raissa made the decision to move to London to study and graduate with a Master of Science (MSc) in Technology Entrepreneurship. Combining their love for and knowledge of their subject, their dissertations centered on their findings on numerous experiments in food-pairing and painstaking market research to discover the very best mixers that could invigorate the world's finest spirits.
Revolutionizing the World of Beverages
Soon after their launch into the market, the brand has received a long string of awards for their various flavour and innovations. In October 2015, Double Dutch received the coveted Virgin Foodpreneur Award by Sir Richard Branson for most creative, inspiring and disruptive F&B start-up in the UK. Following which in 2016, Double Dutch won Best Premium Adult Soft Drink at the World Beverage Innovation Awards.
Double Dutch mixers indeed has revolutionized how one enjoys their spirit of choice with their favorite mixer. With complex flavors that augment spirits, satisfying aromas that enhance each drink's superlative quality and smoothness to delight the palate, Double Dutch is much more than a "double the taste" sensation. It is a way of discovering a whole new world of mixed drinks. The drink can even be enjoyed on its own with finger food such as a cheese platter over catching up with friends.
Customers can now find Double Dutch soft drinks (Pomegranate & Basil, Indian Tonic Water, Cucumber & Watermelon, Slimline Indian Tonic Water and Cranberry Tonic Water) served and retailed in select food and beverage establishments in the city, including Monti, Summerhouse, Garage, Secret Mermaid, The World is Flat (at Changi Airport Terminal 1), Wild Barley and Sasha's Fine Foods. They are also listed on Deliveroo, UberEats and FoodPanda for home-delivery.
So if one ever wanted to stand out from the routinely boring Gin and Tonic crowd, try experimenting with the five different tonic water flavors that Double Dutch has to offer by mixing the two drinks together. You would never go back to just any mundane brand of tonic water, because when you go Double Dutch, you never go back.
Double Dutch drinks are available in 200ml and 500ml bottles with the 200ml retailing at S$2.30 per bottle.