Glenfiddich 23 Year Old Grand Cru: Redefining Whisky with a True Taste of Luxury
CONTENT: Yiew Kai Jie
Glenfiddich has unveiled an exquisite 23-year-old expression with exclusive variants for Global Travel Retail that sets new standards for travel launches.
The world's most awarded single malt scotch whisky has released its newest whisky to be added to the family-run distillery's prestigious collection of aged single malts -the Grand Cru. An exclusive expression that's been matured for 23 years and finished in rare French cuvée oak casks, it blends the finest flavours from Scotland and France, to create a true taste of luxury to celebrate with one's friends or loved ones.
Grand Cru is the first and only Glenfiddich Single Malt to undergo this exceptional finishing in French cuvée casks that once contained the liquid that went on to become some of the world's most extraordinary sparkling wines. The remarkably rich whisky, already intense in flavour thanks to long maturation in American and European oak casks at the Glenfiddich Distillery, is further bolstered with a sweet intensity from the rare French cuvée casks.
"Breaking category conventions once more, this unusual collaboration presented an exciting opportunity to create a spirit that further elevated our unique Glenfiddich style. We experimented with the maturation time and hand-selected the right balance of 23-year-old Glenfiddich casks out of our unique collection of old age malts. The further influence from the oak of the French cuvée casks added an extra layer of complexity thanks to the liquid they once held. Marrying the best of both worlds, the final liquid presents an exceptional finesse and is a special tribute to each cuvée cask the malts were finished in." said Brian Kinsman, Glenfiddich's Malt Master.
The sleek black glass bottle with its gold Grand Cru print and evocative golden closure are presented in an opulent black box featuring a sparkling golden firework design, created to emanate the spirit of celebration and the true taste of luxury contained within. Simply push the interior of the box to flip and reveal the bottle of elixir within.
Realising the importance of the travel retail sector and the regional strength of Asia Pacific, Willam Grant & Sons has partnered with DFS and CAG for an exclusive one-month travel retail launch of the Grand Cru at Singapore Changi Airport from 5th September till 5th October. To create a point of difference for travellers, a 75cl 43% abv exclusive variant has been created for DFS, while a 70cl 43% abv exclusive variant will be available through its other valued GTR partners.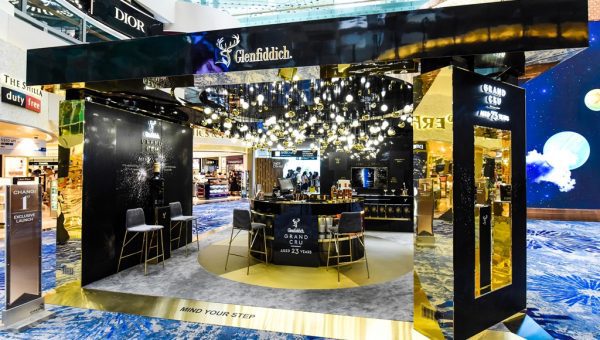 Additionally, there is a special pop-up booth at the departure area at Terminal 3 that was specially created to educate shoppers or travellers about the brand new whisky with its non-conformists, interactive elements. The booth feature unmissable photo-sharing opportunities, chances for travellers to personalise their own Grand Cru bottles and complimentary gifts to make the moment evermore special.
Alongside Changi, the new whisky was released across key International airport locations last 1st October that includes Hong Kong, Seoul, Kuala Lumpur, Taipei, Tokyo, Auckland, Melbourne, Sydney, Delhi, Dubai, London, Paris, Edinburgh and New York.
The Grand Cru is best enjoyed neat and paired with rich-flavoured food such as chocolate or caviar to pair with the intensity of the whisky and to give it a luxurious texture finish on the palate.
Two special offers are also available for travellers till the end of the year: travelers will receive a free Glenfiddich weekend bag with a minimum spending of S$120 on Glenfiddich products or a free Glenfiddich collapsible luggage with minimum spend of S$300 on Glenfiddich products.
Glenfiddich Grand Cru is available via DFS stores in Changi Airport or it can be found on www.ishopchangi.com at the price of S$350.