Hua Ting Steamboat Introduces Lok Lok Hotpot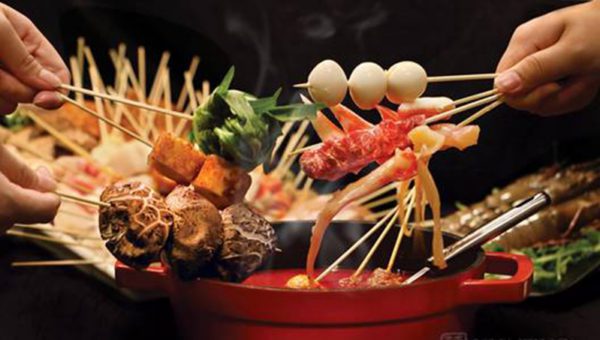 Hua Ting Steamboat gives the ubiquitous hotpot yet another twist and introduces new gourmet experience with the well-loved Lok Lok Hotpot, available from 1 August.
Inspired by fond memories of his childhood, Hotpot Chef Desmond Wooi puts his spin on this popular Malaysian fare, each Lok Lok Hotpot features a simmering satay broth specially concocted by Chef Desmond, where diners can enjoy dunking skewers of seafood and morsels of meat including Japanese Scallops, Beef Cubes, Pork Belly, Sliced Chicken, Cuttlefish and more – a gastronomic experience that whet appetites and add a touch of nostalgia to any convivial gathering!
Lok Lok Hotpot is available from1 August 2016 and priced at $48 per set, ( subject to service charge and prevailing government taxes) , for lunch from 11.30am to 2.30pm and dinner from 5.30pm to 10.30pm.
Hua Ting Steamboat is located at Mezzanine level #01-08 Claymore Connect,, 442 Orchard Rd, 238879. For reservations and enquiries, please call Hua Ting Steamboat at 6739 6628 or email steamboat.huating@millenniumhotels.com.