JOHNNIE WALKER HOUSE™ Launches in Singapore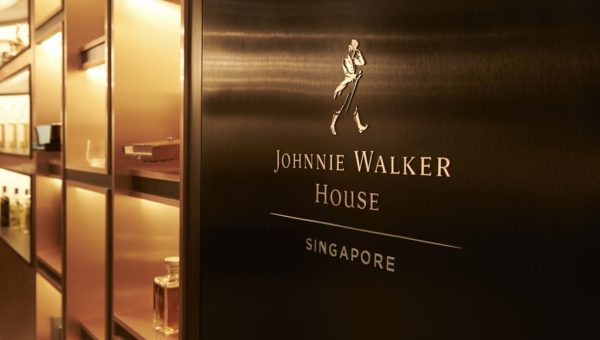 The first of its kind in Southeast Asia, the first by-invite-only private suite where Diageo will offer directly to connoisseurs, its prestige range of rare and collectable Scotch whiskies. A joint venture between Moet Hennessy Diageo Singapore and distributor partner Singbev, who will continue to distribute the core JOHNNIE WALKER portfolio to trade channels.
"With whisky appreciation in Asia significant and growing, there is great opportunity for Diageo. Being the clear leader for Scotch in the world, we are best placed with both variety and capacity to provide world-class luxury Scotch experiences to the market," said Apurvi Sheth, Managing Director Emerging South East Asia and Joint Ventures, Diageo. "In Asia, there is rapid growth of interest in rare whisky not only as a collectible asset, but also for investing and gifting. As consumers become more discerning, they are also actively seeking out access and rare experiences. The opening of JOHNNIE WALKER HOUSE in Singapore – ostensibly the hub for fine spirits in South East Asia – is a natural next step to bring the best of our luxury Scotch portfolio to the region."
Overlooking a historical trading port, JOHNNIE WALKER HOUSE Singapore is located in the Diageo office, near the mouth of the Singapore River – where the first bottles of JOHNNIE WALKER would have passed through decades ago. Access to JOHNNIE WALKER HOUSE Singapore is offered to private collectors and fine whisky enthusiasts only by personal invitation. To be found inside JOHNNIE WALKER HOUSE Singapore, are some of the rarest expressions of blended and single malt Scotch whiskies from Diageo's 28 operating and 11 closed malt distilleries which consists of the Rare blends from the John Walker & Sons Collection, including the JOHN WALKER & SONS MASTER BLENDERS COLLECTION™, which pays tribute to the visionary Master Blenders of JOHNNIE WALKER and the Limited edition Special Releases from some of the rarest, most highly sought-after single malt distilleries of Scotland, including Brora and Port Ellen.
JOHNNIE WALKER HOUSE Singapore will also be home to a private client team of Scotch whisky experts who can provide guests with advice on whisky cellar curation and direct access to Diageo's blending rooms, distilleries and craftsmen – including the Master Blender himself, Dr Jim Beveridge. Guests will also have exclusive access to services, such as the John Walker & Sons bespoke Signature Blend and unique Casks of Distinction programme.
"Over the last 5 years, there has been rapid growth of interest in rare whisky as a collectables, evidenced also by the success of our JOHNNIE WALKER HOUSE limited editions," said Lawrence Law, Global Director for Johnnie Walker. "With the addition of the JOHNNIE WALKER HOUSE private suite in Singapore, we look forward to bringing the rarest of collections to enthusiasts – complemented with exclusive, unforgettable experiences."
The JOHNNIE WALKER HOUSE Singapore marks the twelfth addition to the network.
To find out more about JOHNNIE WALKER HOUSE, visit www.johnniewalkerhouse.com.