PS.Cafe Ann Siang Hill Launches All-New Weekend Brunch Menu
CONTENT: Yiew Kai Jie
PS.Cafe has introduced an all-new brunch menu that's exclusive to its largest three-storey enclave tucked away atop Ann Siang Hill. The new dishes are simply designed for sharing amongst friends or brunch mates as the cafe perched at the peak of the hill makes for the perfect spot to eat or chat away a lazy weekend accompanied by two hours of free-flow prosecco, wines, cocktails and beer.
The weekend brunch menu focuses on both traditional brunch fare with PS.Cafe's own take on new exclusive dishes. Some starter items on the menu include classic brunch dishes such as the Rustic Mushroom On Toast ($12++) and Almond and Chia Seed Granola ($11++) that are must-order dishes on the menu if you and your mates are looking for a tantalizing and hearty starter to your brunch session.
The new mainstays include mouth-watering offerings such as the Grilled Cheese Toasties ($12++), Fried Laksa Noodles ($14++), and Snapper Chowder Pie ($15++) with mashed potatoes and salsa verde. Despite its off-putting name and look, don't be deterred by its greenish exterior! Crack the crust open with a spoon, dig and pull out a very generous amount of fresh snapper in the dish that is cooked to perfection and imbued with all the flavour of the salsa verde!
Two brand new yet unconventional brunch dishes include the Seared Sumac Sirloin ($14++) and Green Harrisssa Chicken ($12++). The reason as to why these dishes are deemed unconventional is due to the fact they are served on a stick like a kebab while being slow-cooked over a rotating grill. However, as unorthodox as it sounds, the proteins each bring their own strengths to the table as the sirloin is tender and imbued with the smoke from the grill (the smoked onions and yoghurt can help balance out the smoke if it is too overwhelming on the palete) and the chicken itself is extremely succulent if accompanied with the right amount of salsa and mint sauce.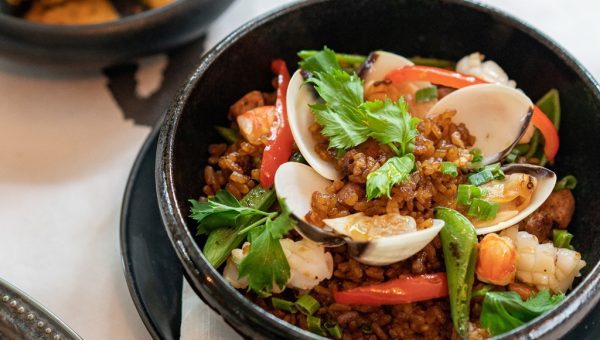 Fresh seafood brunch dishes include the Wok Smoked Paella with prawns, calamari, pippies and chorizo ($16++) and Flaked Salmon Niçoise with string beans, olives, spinach and tuna aioli ($12++). The Salmon Nicoise has the taste and texture that is almost reminiscent of consuming a piece of salmon sushi roll in your mouth that makes a perfect salad to share with your brunch mates! Don't believe us? Order it and try it out for yourself!
A brunch session is never complete without some sweet treats to end the meal! To that end, the Dinky Jam Filled Donuts ($12++) and Petit Banana and Blueberry Pancakes ($13++) will prove to be more than sufficient to satisfy your sweet tooth cravings and bring the merry brunch session to a close.
The dishes are available a la carte with two-hour, free-flow ($60++) drinks options that includes some of the greatest hits from PS.Cafe's comprehensive drinks list. Guests can enjoy a broad selection of drinks such as Wine – Langmeil Riesling from Australia, Prosecco, Cocktails such as the classic PS. Bloody Mary, as well as Peroni Lager from the tap. Note: The two-hour free-flow booze offering will begin upon the first drinks order.
The new Brunch Menu is exclusively available at PS.Cafe Ann Siang Hill from 9.30am to 4pm on Saturdays and Sundays.