Rice Dumplings to Enjoy This Dragon Boat Festival 2021
CONTENT: Andrew Kho

Can't believe that it has been a year and Dragon Boat Festival is again fast approaching, this year it will fall on 14 June, and as while dining-in is temporarily suspended till 13 June or who knows if it will be extended, this shouldn't be an excuse for you to skip this annual tradition that began more than 2,300 years ago.

Here's some noteworthy rice dumplings Zòngzi (粽子) you would want to enjoy or share with your loved-ones and friends.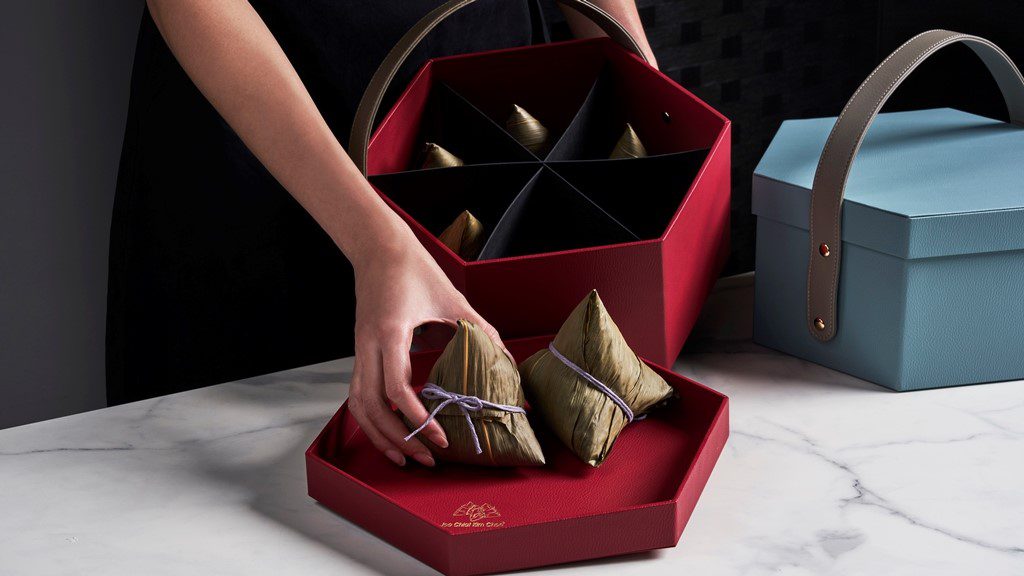 Editor's Choice: Joo Chiat Kim Choo
This Dragon Boat Festival, popular local dumpling brand Joo Chiat Kim Choo unveils its exquisite leatherette Emperor's Heirloom No.2 gift box and new velvety Memory Trove gift box of premium handmade rice dumplings (粽子) that are perfect for gifting or savouring with family and friends.

Must try is the decadent Emperor's Dumplings, the premium braised pork is stewed with a blend of 22 spices along with luxurious filings consisting of exceptional ingredients such as umami dried scallops, Chinese sausage, golden egg yolks, gingko nuts, roasted chestnuts, and chewy premium grade shiitake mushrooms, and are meticulously wrapped in fragrant bamboo leaves.

Two unique seasonal rice dumplings flavour this year is the Hakka Pork Belly with Preserved Vegetables Rice Dumpling and Pulut Hitam Nonya Rice Dumpling.

Simply spend a minimum of S$20 on Joo Chiat Kim Choo's rice dumplings within a single receipt to qualify for a chance to win a brand-new Mercedes Benz A-Class Hatchback One lucky winner will be chosen through a lucky draw on 29th October.

Emperor's Heirloom No. 2 gift sets are available in either teal or maroon and will house six divine Emperor's Dumplings while the Memory Trove Gift Set, you may choose six items among indulgent kuehs like Kueh Salat Cake, Kueh Tai Tai, artisanal sauces such as Gula Melaka, Nonya Kaya, Hae Bi Hiam Floss, and Hae Bi Sambal, and delightfully tasty rice dumplings. Both gift set can be purchased exclusively on Joo Chiat Kim Choo's website, at Isetan Scotts, or Takashimaya.

Joo Chiat Kim Choo rice dumplings is available from their stalls or Joo Chiat Kim Choo's official website, participating FairPrice stores, Takashimaya, Isetan Scott's and selected Cheers convenience stores island-wide.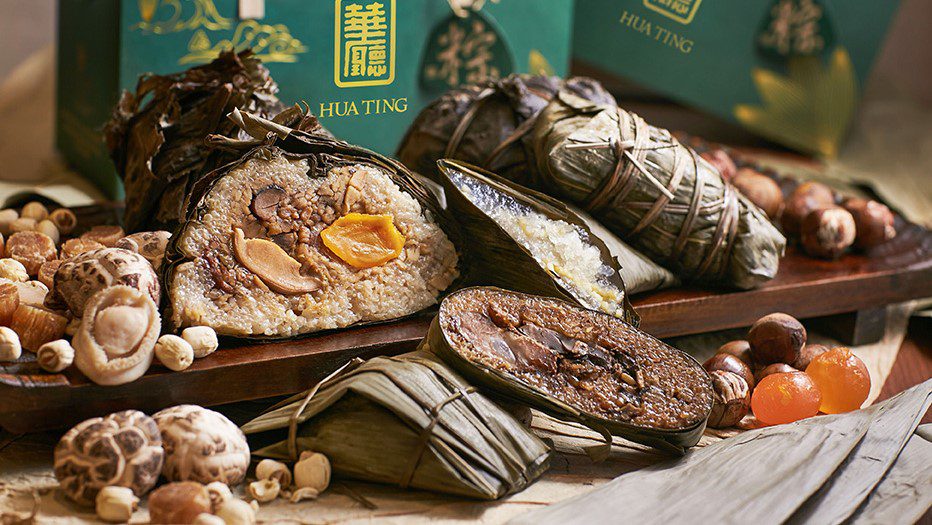 Must Try: Hua Ting, Orchard Hotel Singapore
Hua Ting Restaurant unveils three house-crafted rice dumplings for takeaway and gifting. First is the Signature luxe savoury Hong Kong Style Rice Dumpling with South African Abalone, Pork Belly, Roast Duck, Salted Egg Yolk and Mushrooms; and two new creations – a nutritious rice dumpling with Pork Bone Cartilage, Preserved Vegetables and Mushrooms and a nourishing sweet Sago Rice dumpling with Bird's Nest and Green Beans.

The Hong Kong Style Rice Dumpling with South African Abalone, Pork Belly, Roast Duck, Salted Egg Yolk and Mushrooms 港式南非鲍鱼裹蒸粽 is shaped like a rectangular golden pillow instead of the pyramid-shape and meticulously handcrafted with premium ingredients from the finest glutinous rice, specially imported bamboo and lotus leaves, then steamed for six hours to develop its mouth-watering taste.

Two new rice dumplings this year is the Rice Dumpling with Pork Bone Cartilage with Preserved Vegetables and Mushrooms猪软骨梅菜炒米粽, a perfect indulgence for the health conscious which contains collagen and is interspersed with Pork Bone Cartilage, Preserved Vegetables and Mushrooms for a delicious taste and health benefits.

Lastly, is the sweet and fragrant Sago Rice Dumpling with Bird's Nest and Green Beans燕窝水晶西米粽, a must-have for all dessert lovers. Each wrapped with Premium Bird's Nest and Green Beans with the delicate sweetness of Sago, Dip it in Chef's homemade Ginger Sauce for a refreshing wonder.

Hua Ting Restaurant's Assorted Dumpling Set 美味三宝粽 is ideal for gifting to families, friends and business associates. Each set is priced at S$65.80 and comprises all 3 varieties available till 10 June 2021.

Enjoy 20% discount for pre-order by 1 June; 15% discount for orders between 2 June and 10 June. Early bird discounts are not applicable for the assorted set. Gift boxes are provided with min S$70nett spend.

Hua Ting is open daily from 11.00am to 9.00pm for delivery, pick-up or drive-through service, for orders please call Hua Ting Restaurant +65 6739 6666 or email huating.ohs@millenniumhotels.com or Order  Online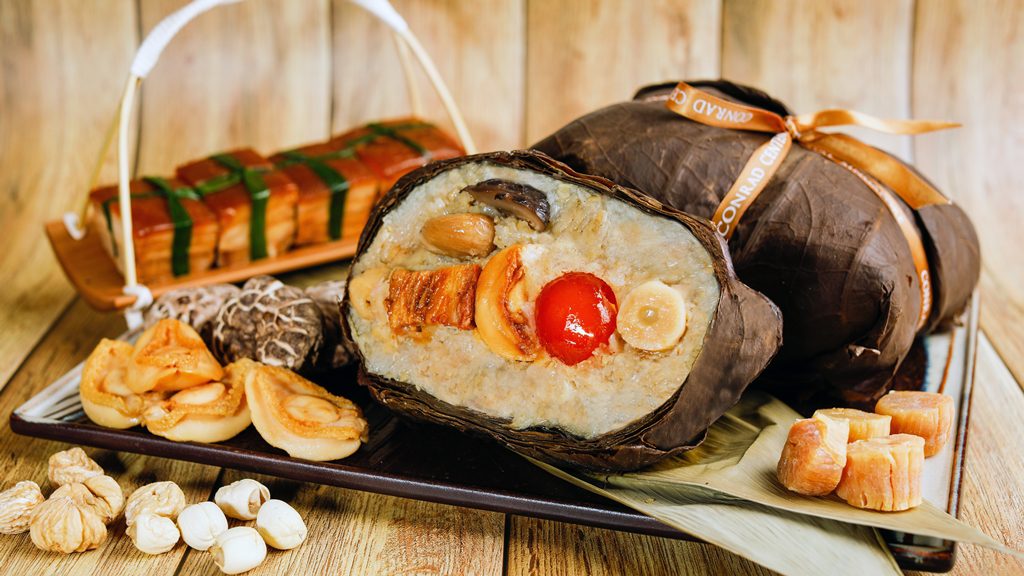 Golden Peony, Conrad Centennial Singapore
Mark this "Zong Zi" Festival with Golden Peony's specially prepared sweet and savoury rice dumplings packed with a myriad of flavours, meats and seafood.

This year, Golden Peony is offering 5 signature rice dumplings, each intricately wrapped by Chinese Executive Chef Ku and his team.

Choose either the "Hong Kong" style traditional dumpling, the Singapore Black Pepper Chili Crab, Prawn and Bedford Scallops dumpling or the Crispy Smoked Duck with Chestnut dumpling and the Dried Velvet Mushroom 5-Grain Rice. If you're looking for something to satisfy a sweet tooth, try the Egg Custard Sweeties Rice Dumpling served with a side of Gula Melaka syrup.

You may purchase your favourite Golden Peony rice dumplings individually or purchase their Luxury Package priced at S$118nett and include one of each of the five rice dumplings flavour and a complimentary bottle of their homemade XO sauce.

Golden Peony Rice Dumplings is available from 24 May till 13 June 2021.
Orders can be made via online for either delivery or takeaway. For more information please call: +65 6432 7482/88 or email sinci.goldenpeony@conradhotels.com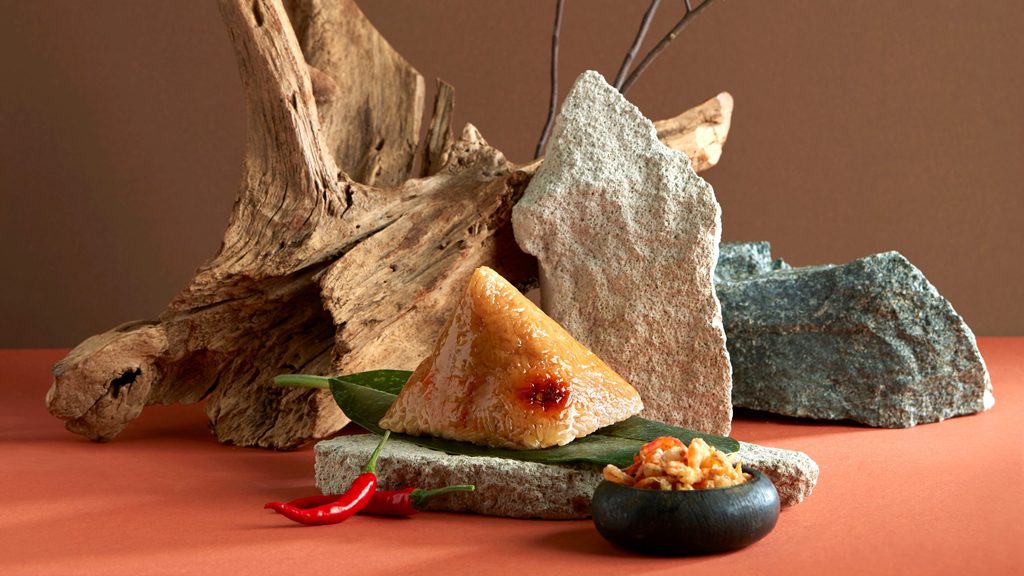 Crystal Jade Singapore
This year, Crystal Jade unveils a selection of five tempting rice dumplings

Choose from either the Spicy Dried Shrimp 'Hei Bi Hiam' Rice Dumpling 香辣虾米酱粽, Traditional Hong Kong-style Premium Jinhua Ham with Conpoy Rice Dumpling 港式金华火腿干贝裹蒸粽 or the Classic Five-Spice Marinated Pork Rice Dumpling 五香咸肉粽.

New rice dumpling flavours this year include the Grandma's Braised Pork Belly with Purple Glutinous Rice Dumpling 外婆红烧肉粽 and the dessert flavour Petite Mango Sago Fruity Crystal Jelly Dumpling 水晶杨枝甘露粽.

Crystal Jade Singapore Rice Dumplings outlet sales is available till 14 June 2021 and till 9 June 2021 for e-store purchases. Available in bundles of three and five dumplings.

To purchase visit the e-store or visit website for more information.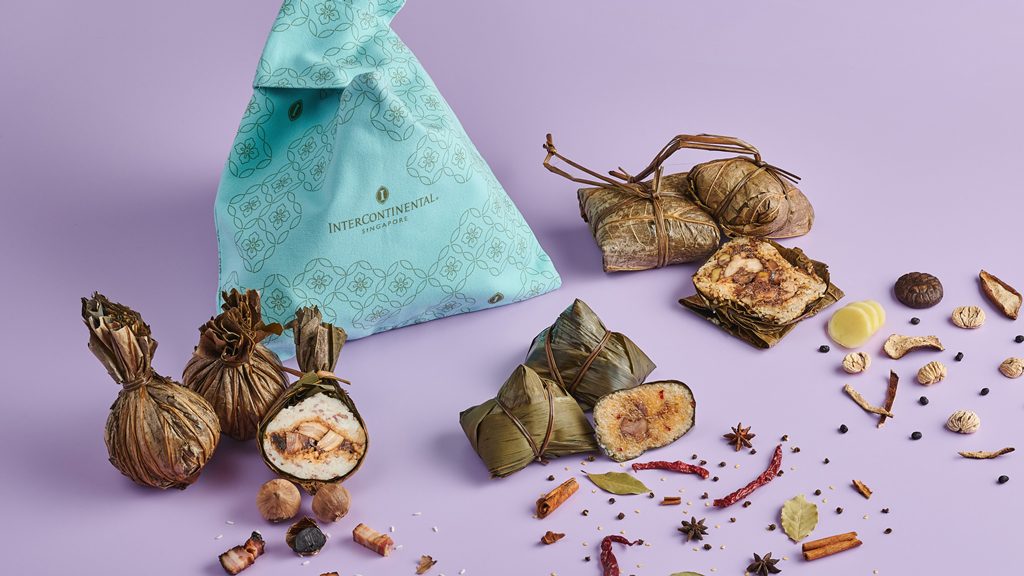 Man Fu Yuan, Intercontinental Singapore
Award-winning Chinese restaurant Man Fu Yuan presents a nostalgic experience with seven varieties of handcrafted rice dumplings; bundles for gifting presented in a charming limited edition dumpling carrier; and dumpling master classes for a unique hands on experience.

New rice dumpling flavour this year is the Mala-braised Beef Brisket Dumpling, packed with beef brisket marinated and braised to tender perfection with mushrooms, bamboo shoots, coriander and flavorsome mala spices, this dumpling teases the palate with a delicate tingle with every bite.

Other rice dumpling flavours include, Smoked Duroc Pork Char Siew Dumpling with Black Gold Garlic, X.O. Sauce Nyonya Rice Dumpling, Signature Black Bean Chicken Dumpling, Traditional Hokkien Style Dumpling, Black Sesame Rice Dumpling and Red Bean Lye Rice Dumpling.

This year, Man Fu Yuan is offering three gift sets available as thoughtful gifts for families and friends. Each gift set includes four dumplings packed in a limited edition dumpling bag and available in either the Tea Bundle (S$78.00nett), which includes two of Man Fu Yuan's signature teas in traditional tea canisters, or the Champagne bundle (S$88.00nett), which includes a 375ml bottle of Taittinger Brut Reserve Champagne NV Half Bottle, or the Premium Bundle which includes a 375ml bottle of Taittinger Brut Reserve Champagne NV Half Bottle and one canister of tea.

Every order of four dumplings includes a complimentary whimsical pyramid-shaped dumpling carrier designed to replicate the experience of unwrapping a dumpling to reveal the treasures within. This reusable carrier retails at S$16.90nett.

Man Fu Yuan Rice Dumplings is available for takeaway and delivery from 31 May till 14 June 2021. Enjoy 20% early bird discount for orders before 1 June 2021.
For orders and more information, visit website, email sinhbmanfuyuan.manfuyuan@ihg.com , or call: +65 6825 1008.
Cherry Garden, Mandarin Oriental Singapore
Indulge in Cherry Garden's Three Premier Dumpling Selection offering for this Dragon Boat Festival.

This year's rice dumpling flavours include, "Hong Kong" Traditional Glutinous Rice Dumpling with Baby Abalone (S$30.00/pc), Glutinous Rice Dumpling with Black Garlic (S$20.00/pc) and Glutinous Rice Dumpling with Sliced Black Truffle (S$20.00/pc)

Cherry Garden Rice Dumplings is available for takeaway and delivery from 2 June to 14 June 2021
For orders and more information, visit website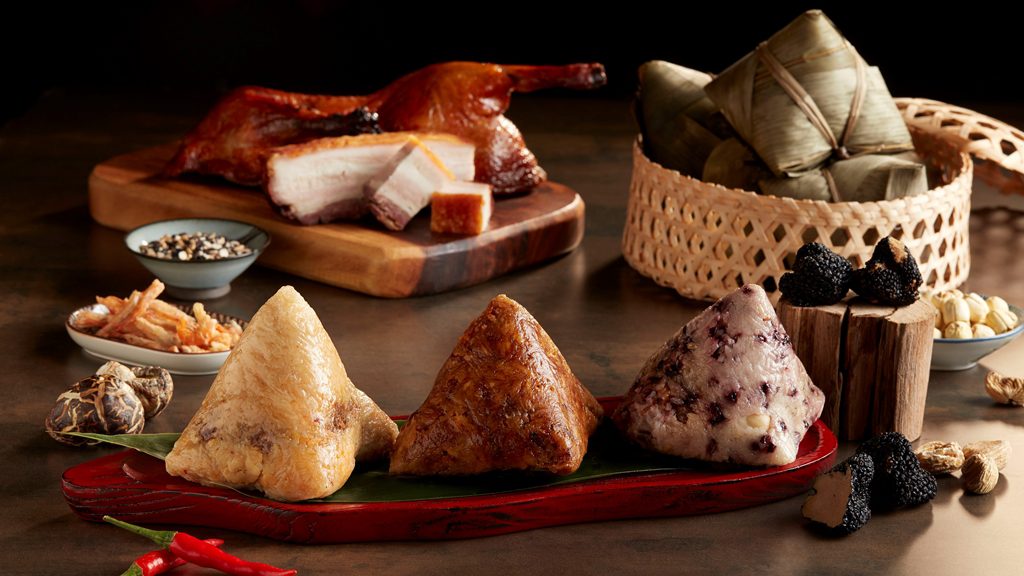 Paradise Group
Paradise Group introduces its new Spicy Smoked Duck with Dried Shrimp Dumpling, each dumpling houses smoked duck, pork belly, salted egg yolk, chestnut, dried shelled shrimp, dried shrimp, shiitake mushroom and mung bean. A house-made mala sauce, a marriage of nine spices including Sichuan peppercorns, chili bean paste and cinnamon, is infused with the glutinous rice. This sauce gives the rice a beautiful red hue and lends a tinge of spiciness that does not overpower the flavours of the other ingredients.

*The Spicy Smoked Duck with Dried Shrimp Dumpling is only available for sale as part of the Luxury Trio Dumplings Gift Set (S$42.80), Each set comes with a Spicy Roasted Duck with Dried Shrimp Dumpling, a Deluxe Pork with Conpoy and Chestnut Dumpling, and a Black Truffle Five Grain Dumpling.

They are also offering a variety of premium dumplings such as an east-meets-west Black Truffle Five Grain Dumpling (S$12.80) , Premium Abalone Dumpling (S$23.80), Deluxe Pork with Conpoy and Chestnut Dumpling (S$11.80), Salted Pork Belly Brown Rice Dumpling (S$10.80).

Red Bean lovers can try the Red Bean Dumpling (S$6.80 each), which is made with lye water and works as a dessert.

Paradise Group Rice Dumplings is available for purchase from now till 12 June 2021 for takeaway and delivery. Delivery orders are accepted via delivery.paradisegp.com, Deliveroo, foodpanda and GrabFood. Citi, Maybank and PGR cardmembers enjoy 15% off, with takeaway of 4 or more rice dumplings from the stores. The dumplings are available for takeaway and delivery at Paradise Teochew, Beauty in The Pot, Canton Paradise, Paradise Dynasty and Paradise Classic Taste Paradise, Seafood Paradise and paradise Hotpot outlets.

*All the dumplings are sold frozen, and can be kept for up to seven days. To eat, simply thaw and steam for 20 minutes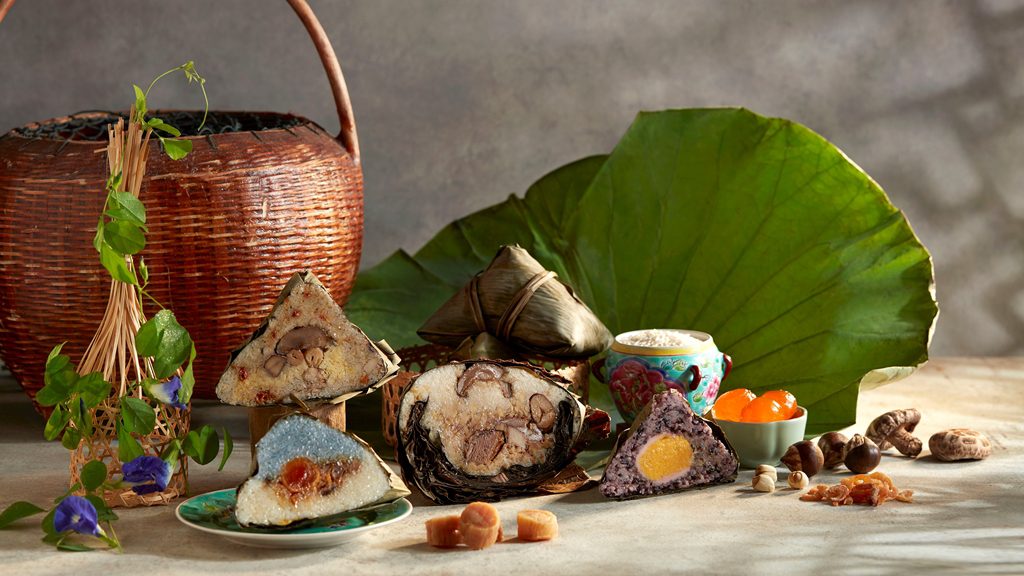 Shang Palace, Shangri-La Singapore
Relish in the collection of immaculate rice dumpling creations by Shang Palace at Shangri-La Singapore .

Elevated for the modern palate, Shang Palace is proud to showcase their first Applewood-smoked Rice Dumpling with Abalone, Matsutake Mushroom, Foie Gras and Smoked Chicken 萍果木松茸鲍鱼鹅肝烟熏鸡肉粽 (S$108.00, 750g) crafted by Chef Mok that delivers an elevated experience.

A contemporary take on the time-honoured rice dumpling, each hefty parcel is imbued with the sweet woodsy aroma of applewood along with premium four-head abalone, foie gras, dried scallop, dried matsutake mushrooms, juicy smoked chicken, salted egg yolk, organic quinoa, black mushrooms, chestnuts, green beans and more within its layers to offer a balance of indulgent and healthful elements. The artful accompaniment of a specialty Sichuan Chilli Sauce adds a power-packed, spice-numbing punch to each bite. *Limited to 100 pieces only.

This novel rice dumpling is offered as part of its Masterchef Series alongside a selection of popular signatures and thoughtful gift packages.

Other rice dumpling flavours include, Shang Palace Signature Barbecued Pork Rice Dumpling with Yunnan Ham and Conpoy 香宫金华火腿瑶柱裹蒸粽, Traditional Nyonya Rice Dumpling 风味娘惹粽, Sweetened Purple Glutinous Rice Dumpling with Custard (紫米奶皇流心粽), Sweetened Lotus Seed Paste Rice Dumpling 莲蓉枧水粽.

Vegans will be delighted to know that they also have its newest plant-based Black Truffle, Chestnut Pumpkin and Vegan Chicken Glutinous Rice Dumpling 黑松露香栗南瓜素鸡棕.

Shang Palace at Shangri-La Singapore rice dumplings are available for purchase online from now till 14 June 2020.

Enjoy 15% off for purchases made before 30 May 2021 *Not applicable for Applewood-smoked Rice Dumpling with Abalone, Matsutake Mushroom, Foie Gras and Smoked Chicken.

For more information please call: +65 6213 4473 or email: Shangpalace.sls@shangri-la.com