Tendon Kohaku Launches Its Exclusive Ocean Gems Tendon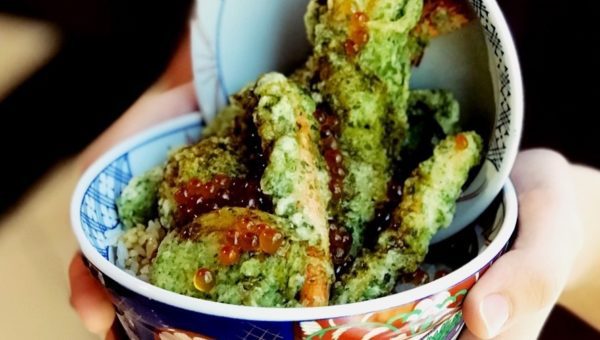 Only 50 bowls of this seafood delight are available per day at each outlet from now to February 2018
CONTENT: Yiew Kai Jie
Tendon Kohaku has launched its new Ocean Gems Tendon offering! (S$23++) The dish comprises of fresh seafood such as prawns, luxurious snow crab, king crab meat, scallop, oyster and squid and squid. The bowl is then finished with a generous portion of sparkling ikura roe.
The batter used to coat the seafood is bolstered by aonori (dried seaweed) powder, which adds a subtle savoury and herbal earthiness to the tempura. The taste of each individual seafood correlates with the batter as the correct ratio of batter is used to coat the seafood so that it does not completely overwhelm the taste of the seafood, which many other restaurants end up making that crucial of putting too much batter that flour is usually all that customers taste.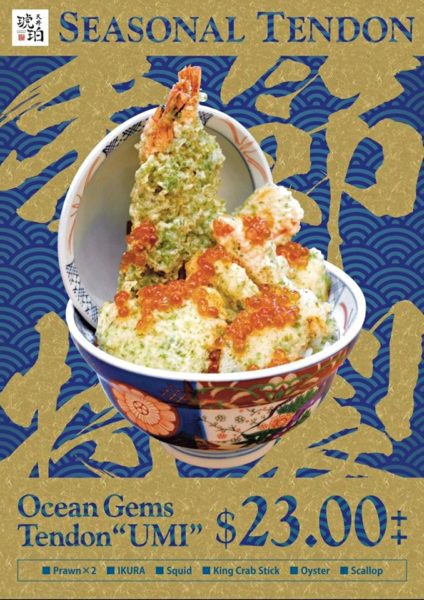 Each tempura boasts a consistent crispy exterior, as it is fried in a blend of high grade sesame and cooking oil. Kohaku uses a special cooking technology that ensures the oil is kept clean and fresh even after repeating frying. The various seafood is extremely fresh despite it being deep fried in the batter, there isn't a bad smell and the seafood does not taste frozen, and the tender crab tempura are an extra delight to the dish. Take your time with this dish and complement the various tempura with the rice and roe- wait for the little burst of flavour when the little balls pop in your mouth. Finally, opt for the spicy option of this dish, the chili isn't spicy and is rather sweet. This dish would actually be better if the chili was provided as a sauce to dip the tempura in, the extra sweet spice would really give a boost of flavor to the seafood, especially for the oyster.
This dish will be available at Kohaku's Suntec outlet from 20th December 2017 and at the Boat Quay outlet from mid-January 2018. Should you be looking for a place to satisfy your seafood craving at an affordable price or are looking to treat yourself, head down to Kohaku for a delightful yet value-for-money treat!