Up Close with Kyla Kirkpatrick, CEO and Founder of Emperor Champagne Club
CONTENT: Andrew Kho
IMAGE: Emperor Champagne Club
Singapore's first and only Champagne Club was launched last month offering it's members exclusive invitations to events with direct access to winemakers, priority access to tours in France as well as monthly delivery of premium cuvée and curated champagne appreciation tutorial.
We interviewed Kyla Kirkpatrick, the Champagne Dame behind the successful brand from Australia and she shares with us more about Emperor Champagne, her insights on the Champagne market as well as her future plans for the brand.
Luxe Society Asia: For those who doesn't know you, could you tell us a bit about yourself, who is Kyla Kirkpatrick?
My name is Kyla, but I'm better known under my moniker as The Champagne Dame.
I commenced my career in the champagne industry 14 years ago after falling in love with its history from reading an article on Napoleon Bonaparte and his connection with the region. I gave up my career in banking and finance and bought a one-way ticket to France to immerse myself in this incredible wine and hone my understanding of the art and business of champagne. I have worked in the business of champagne ever since and never tire of the exceptional wines coming from the region, both the artisan and grand marques.
Luxe Society Asia: You gave up your corporate career in 2005 to pursue your interest in Champagne, what were the factors you considered before you decided that you are willing to let go of your career and follow your passion?
I loved my corporate career – don't get me wrong. I found it incredibly fulfilling but I was captivated by the story and history of Champagne. I didn't know what the career options were. I suspected I would get a job working for a champagne house in Paris or Australia, but I had no real plan.
I had sold my house, so I had enough funds to survive for a year before I had to work again so I took my time exploring the region and learning about the wine. I spent 8 months in the champagne region before I took a role with luxury goods conglomerate LVMH who own 5 of the biggest champagne houses. I was trained in France and was eventually sent to Sydney where head office was in Australia. I followed my heart and the rest just fell into place. If you are really passionate and very determined, you will find that you will succeed in your chosen career!
Luxe Society Asia: The alcohol spirits industry is mostly dominated by men, did it ever cross your mind on what would be the people's perception on a woman taking over a man's role?
You are right, the wine business is completely dominated by men, but my perspective is do a good job and it won't matter if you are male or female! I have lots of females from around the world writing to me asking me to help them with their education businesses within the champagne and wine industry. There are more and more women working in wine but for long time I was rare, and I think I made the most of that. I have certainly built a very successful business as a presenter in the wine industry.
Luxe Society Asia: A lot of people thought Emperor Champagne Club is Singapore's newest dance club, could you please share to us what Emperor Champagne Club really is?
The Emperor Champagne Club is Singapore's first Champagne Club. Our members receive their special curated shipment of champagne monthly. We hunt high and low for fascinating champagne and our video reviews; data cards and food pairing arrive to you monthly providing a mini masterclass in your home. In Singapore we will be limited to 250 members. I'm sure there will be lots of dancing with joy once the first champagne packs are received!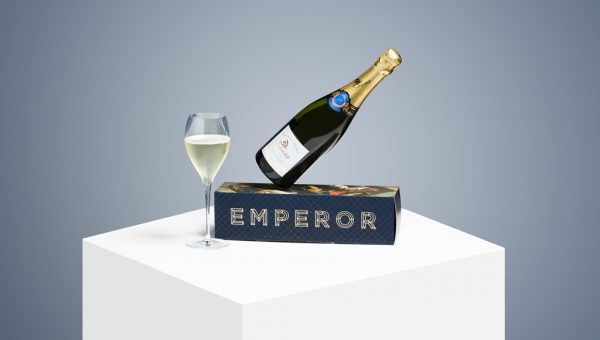 Luxe Society Asia: Emperor Champagne Club is Singapore's first Champagne Subscription Service dedicated to Champagne; how do you think will the Singaporeans respond to this?
The uptake since our launch in August has been sensational! We have had great response from partners and members and our event schedule is filling up fast. From past experience we know that once you discover the diversity of champagne, you open up of world of possibilities.
Luxe Society Asia: Could you share with us the membership tiers of the Club and the perks that the public will get to enjoy when they sign up?
There are three tiers of membership which give our members access to interesting and rare cuvees delivered to their door monthly;
Champagne Lovers ($128 per month) receive one bottle and 2 hand blown crystal flutes with their first delivery, Champagne Connoisseurs ($238 per month) receive two bottles and 4 flutes and our Champagne Collectors ($888 per month) receive three bottles including a rare and collectible cuvee and 6 flutes. The later package is limited to 12 members due to the rarity of the champagnes delivered.
All members will receive invitations to events with winemakers and masterclasses as well as access to a selection of members benefits including a BYO program in Singapore's finest restaurants.
Luxe Society Asia: What were the initial difficulties you experienced when you first started Emperor Champagne Club in Australia?
Actually, no. Apart from couriers losing or breaking parcels as Australia is a big country compared to Singapore, but we have had the some of the same members since the day we launched in 2014 which is incredible. Our champagne club members really love the club!
Luxe Society Asia: Do you think there is more demand for Champagne in Asia than Wine?
No, it's the other way around at the moment, there is definitely more demand for wine than for Champagne, but this has to do with education, access and appreciating the product. We will make a range of champagnes more accessible in Singapore and our education through events, tutorials, videos and content will really help increase peoples understanding of champagne. Champagne is an intriguing wine but often not understood, our champagne club will help unravel some of those mysteries and with increased consumer confidence will come demand.
Luxe Society Asia: According to studies in 2018, Exports have overtaken France for the first time and growth in countries such as the Australia, the US and Japan, had affected the balance of global Champagne consumption. What are your thoughts on this?
Champagne sales are also rising in Asia with the latest results showing a 15.5% increase in Singapore and Japan is now the number three export market in the world. The new world wine drinkers are definitely drinking more champagne and we are really pleased with the increase in champagne sales in Asia.
Luxe Society Asia: Just asking out of curiosity, why did you choose Singapore over other countries such as China, Korea, Hong Kong for your first International expansion? In terms of consumption, I am sure China would have a bigger market share, right?
Yes, China definitely has a larger market share, but it is also a less mature market. Singapore has definitely gained momentum as the wine hub and gateway of Southeast Asia. On top of this the growing wine culture and rising middle class means that Singaporeans are thirsty for discovering hidden gems of Champagne and open to trying the lesser known brands of the category. Of the 4,000 different grower champagnes available in France I would be surprised to see more than a couple of hundred in Singapore.
Luxe Society Asia: If you didn't pursue your passion in Champagne and Emperor Champagne Club, what do you think would you be doing now?
This is such a great question! I am an entrepreneur through and through. I was selling anything and everything I could from the age of 5! I am quite interested in the death business – funerals so perhaps I would have worked in this industry. It's not exactly champagne but I think it's fascinating and the last industry to go through a revolution!
Luxe Society Asia: What are your future expansion plans for Emperor Champagne Club?
When the Champagne Comité released official annual market statistics earlier this year we were pleased and reassured in our assumptions that Asia is now one of the most dynamic markets for champagne sales globally. There have been consistent double-digit growth movements in sales in Singapore, China and Japan, the markets that we will be focusing our attention on.
Some work has been performed by big the Champagne Houses but there are still low levels of education, low breadth of product diversity and no champagne specialists. The market has potential for a disruptor such as Emperor. Japan is a much more sophisticated market claiming the number three market spot in the world for Champagne. In Japan, our club focus will be less around education and more on exclusive events and building a strong luxury community.
Luxe Society Asia: You are known as the Champagne Dame in the industry, but who is Kyla beyond the public eye?
Gosh, I must admit I don't have much time to be me anymore! I have a global business and I work 12 hours a day. But I do have a partner, Kyri who works in the business with me. We are getting married in January but who has the time to coordinate a wedding!? We have a gorgeous, smart little girl called Arlington who is about to turn 6 and she is really our focus outside of work which is very demanding.
Luxe Society Asia: Lastly, let's say it's the end of the world, what would be your final sip of champagne and why?
Tough question. I love so many champagnes. I would suggest it would be a magnum of Charles Heidsieck from 1996. I just loved this vintage! And no, I wouldn't be sharing any…….
For more information on Emperor Champagne Club Singapore please visit: https://emperorchampagne.asia