'Xperience Restaurant & Bar' set to redefine dining in Singapore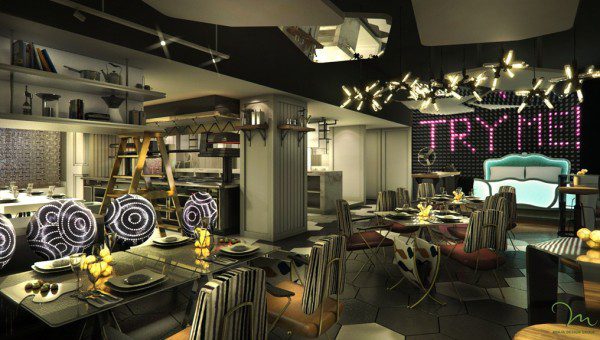 With a relaxed yet stylish gastro-bar dining concept, Xperience, the signature restaurant and bar from Sofitel So Singapore is set to shake-up the Singapore dining scene and take guests on a one-of-a-kind interactive culinary journey of the senses.
Located at the iconic 35 Robinson Road building, Xperience diners will be able to design their own customised menus, based on different culinary experiences – crunchy, juicy, creamy, silky, spicy and zesty – to name a few.
Ensuring a social environment and tapping into the increasing trend for family-style sharing, dishes will be available in three sizes: XS for tasting, XM for a personal size and XL for sharing.
Helmed by resident chef Ms. Anne-Cecile Degenne along with her team, Chef Anne, who has worked with some of the world's best chefs including Michael Bras and Jean Georges Vongerichten is Singapore's first female hotel executive chef and Sofitel So Singapore's resident culinary designer.
Must-try dishes include the foie gras & truffle siew mai, smoked salmon with vodka caviar, and Chipotle chilli crab tacos. Xperience Bar features an extensive cocktail list that mirrors the restaurant, allowing guests to choose drinks based on their mood or create something from scratch. 35 wines by the glass ensure that all occasions can be catered to on 35 Robinson Road, and a lively vibe with a range of Resident DJ's promises to entice passers-by.
Sofitel So Singapore's Wine & Dine Guru, Mr Jerome Le Gall, commented: "We believe we have developed a unique concept for Singapore with Xperience and we can't wait to welcome our guests and the Singaporean public. Xperience is about surprise and delight – our fantastic team of culinary designers, mixologists, sommeliers and music stylists will ensure a sensational experience. Plus, with exciting guest chefs from around the world joining forces with Chef Anne-Cecile Degenne, we know that diners will want to return again and again."
Xperience opens its doors on 31 May 2014 with Michelin-starred Celebrity Chef Yuichi Kamimura showcasing his culinary talent from 1 to 5 July 2014.
Sofitel So, 35 Robinson Rd, Singapore 068876, +65 6701 6800, www.sofitel.com, h8655@sofitel.com