Rejuvenate Your Body Anytime and Anywhere with Unique Time Antioxidant Infused Shot !
CONTENT: Andrew Kho

With the current pandemic situation, a lot of people are becoming more concerned about their health, staying in top shape and protected from the deadly virus, but with the numerous brands in the market, picking the right brand for your vitamins and health-related products tend to be confusing.

Everyone have different body nutrient requirements with the major factor being, our daily lifestyle habits. Each person's diet, lifestyle and age are some factors to consider. A new study suggests that women maybe in need of more antioxidants than men because they experience more oxidation, a link to higher risk of heart disease and other diseases.

Good News, you can now boost your immune system anytime, anywhere of the day with Unique Time newest Monde Selection 2020 Gold Award Winner ready to drink Rejuvenate Antioxidant Infused Shot! Packed in 32ml sachet, each sachet is a blend of nature's best ingredients of seven powerful antioxidant-rich fruits ((Aroniaberry, Muscadine Grapes, Elderberry, Sea Buckthorn Berry, Pomegranate, Blueberry and Cranberry) as well as two natural boosters (Purple Tea and Resveratrol).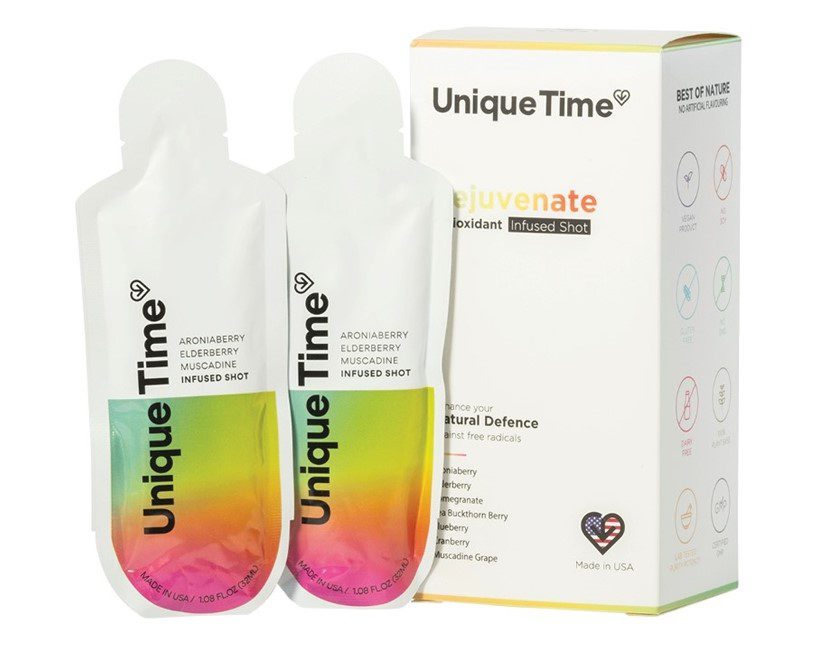 The product is formulated with scientifically supported formulations by Unique Time's international panel of doctors and healthcare experts, with comprehensive years of experiences across the pharmaceutical, healthcare and cosmetics industries.

Each sachet is packed with antioxidant equivalent to: 1kg of strawberries, 4.3kg of grapes, 26.3kg of cranberries and 0.7kg of cherries. It also yields an ORAC (Oxygen Radical Absorbance Capacity) of 5166.72 which is higher than the 3000 – 5000 ORAC recommended by FDA. A single sachet is sufficient to reduce the risk of many diseases (including heart disease and certain cancers) as antioxidants scavenge free radicals from the body cells and prevent or reduce the damage caused by oxidation while at the same time it helps in general to boost overall health as well as delaying the aging process.

Unique Time Rejuvenate Antioxidant Infused Shot is made in the United States of America and brings seven key benefits for your body, boosts immunity, supports heart health, promotes eye health, is a natural energy booster, minimises signs of aging, promotes radiant complexion, and gives full antioxidant support all packed in concentrated goodness that can be easily integrated into any busy modern lifestyles.


Unique Time Rejuvenate Antioxidant Infused Shot is priced at S$29.90 (seven sachets/box) for a week's consumption or a box of one month's supply of 28 sachets at S$118. (32ml per sachet).

Available for purchase at Unique Time Website  as well as Lazada, Qoo10, Watsons Website  and select Watsons store island wide.