Accor Ambassador Korea launches first Sofitel Hotel & Serviced Residences in Seoul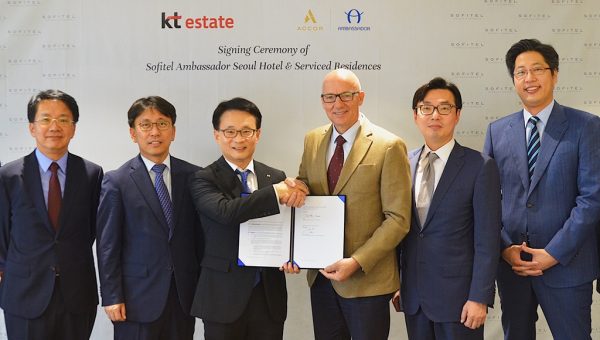 Accor Ambassador Korea has announced the launch of its first Sofitel Hotel & Serviced Residences in Songpa, Seoul. Slated to open in 2021, the announcement comes as the Accor Group aims to strengthen its presence in the luxury segment in South Korea. Set in a commercial tower, the hotel and serviced residences will be inter-connected to an office building.
As the first international luxury hotel brand to originate from France, Sofitel Hotels & Resorts is renowned as a global ambassador of French style and art de vivre with over 120 hotels in the world's most sought after destinations. 'Live The French Way' is the brand's promise that pays homage to Sofitel's roots, demonstrating the eternal allure of French style that reinforces the brand's time-honoured position as an ambassador of art de vivre around the world.
"Sofitel is an ambassador of French style and culture. The development of Sofitel Ambassador Seoul Hotel & Serviced Residences represents our commitment to growing Accor's collection of luxury and premium brands in South Korea. The Sofitel brand exudes a refined and understated sense of modern luxury with a touch of French decadence in the heart of Seoul," said Patrick Basset, Chief Operating Officer, Accor, Upper Southeast & Northeast Asia and the Maldives.
Adjacent to Jamsil Subway Station, Sofitel Ambassador Seoul Hotel & Serviced Residences boasts a unique vantage point for leisure and business travellers. Overlooking Seokchon Lake Park, the hotel is located near the 123-floor Lotte World Tower that features a major shopping mall, duty-free shops, an aquarium and theatre. The popular amusement park, Lotte World, is also located within a short walking distance while Gangnam Business District and Coex Convention and Exhibition Center are within easy access to the hotel.
The hotel and serviced residences will feature 563 rooms and suites, an all-day-dining restaurant and bar as well as meetings and events space. Leisure facilities include an indoor swimming pool, outdoor Jacuzzi, fitness, spa and kids' room.
"This is the first Sofitel Serviced Residences to be announced globally and it will form the basis of a very special collection of luxury serviced residences," said Jeff Tisdall, Senior Vice President of Development, Residential and Extended Stays at Accor. "This signing marks our continued expansion into serviced apartments and extended stay solutions."
With over 120 addresses in more than 40 countries, the Sofitel collection includes notable hotels such as Sofitel Paris Le Faubourg, Sofitel London St James, Sofitel Munich Bayerpost, Sofitel Singapore City Centre, Sofitel Washington DC Lafayette Square, Sofitel Sydney Darling Harbour and Sofitel Bali Nusa Dua Beach Resort.
"We are pleased to introduce the world-renowned Sofitel brand to South Korea. Seoul is well-known for its abundant cultural heritage and Sofitel Ambassador Seoul Hotel & Serviced Residences offers travellers the opportunity to experience this through a French-lens and brand passions that include design, gastronomy, art & culture and well-being," said Vincent Lelay, Vice President of Operations for South Korea.
Currently operating 24 hotels in 7 cities in South Korea, Accor Ambassador Korea will enhance its presence in the luxury and premium segments with an exciting pipeline of hotels including Fairmont Seoul in 2020 and MGallery Seoul Mapo in 2022.