Dream Cruises Introduces Marimekko Theme Cruise Experience Onboard The Genting Dream
In response to overwhelming market reception of the Marimekko theme cruises on World Dream, which were launched in March on the megaship's departures from Hong Kong and Guangzhou, Dream Cruises extends partnership with the Finnish design brand to launch phase II of the campaign aboard Genting Dream, the cruise liner's megaship that currently homeports in Singapore.
From September 2 to October 28 2018, enjoy a 360-degree experience that combines Dream Cruises' inspirational journey at sea with Marimekko's original prints and colours – from themed staterooms and afternoon tea to complimentary signature items and exclusive retail privileges, this will be an immersive theme cruise that every avid Marimekko fan ever dreamed of.
Marimekko Theme Stateroom
Select balcony staterooms aboard Genting Dream will be decked out in Marimekko homeware, featuring one of Marimekko's most signature designs – the iconic Unikko print. Enjoy some quality snooze time in a sea of vibrant poppy blossoms, and feast your eyes on two spectacular views by the balcony – the cascade of flowers in bloom from floor to ceiling, and the scenic beauty of the sun, setting in the horizon.
Upon reservation of the Marimekko thematic stateroom, guests will receive a complimentary gift set of best-selling Marimekko products, such as coffee mugs, hand towels or tote bag, as well as Marimekko thematic afternoon tea at sea for two, total value up to SGD$170*.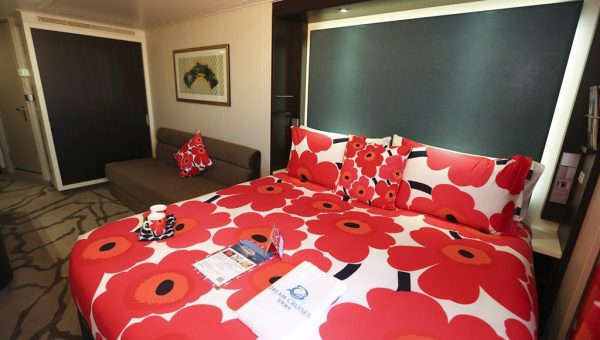 Marimekko Afternoon Tea Set
Guests of Genting Dream will now have their sweet (and savoury) tooth satisfied with the first-ever Marimekko tea set at sea! Inspired by the iconic colours and prints of Marimekko, the tea set features an exquisite array of desserts and pastries, each handcrafted with passion by the culinary team of Dream Cruises. The afternoon tea set will be served with tableware from Unikko collection.
Exclusive Marimekko Promotion
During the promotion period of September 2 to October 28, guests who cruise on Genting Dream during the promotion period will enjoy exclusive retail privileges at the Marimekko retail outlet in Singapore! Upon presentation of the cruise confirmation slip or cabin card, enjoy 10% discount storewide or receive a complimentary coffee mug upon nett consumption of SGD$500 and above in a single receipt.
From September to October, Genting Dream will cruise to multiple picturesque destinations in Southeast Asia, such as Bintan Island in Indonesia; Kuala Lumpur, Penang, Langkawi and Pulau Redang in Malaysia; Koh Samui and Bangkok in Thailand; as well as Sihanoukville in Cambodia.
Seniors and Kids Cruise Free Promotions
As a special treat, senior citizens aged 50 and above, and children aged 12 and below get to cruise for free on the following sailings:
• 2-Night Kuala Lumpur (12, 19 and 26 September, 3, 17, 24, and 31 October)
• 3-Night Penang-Langkawi (30 September and 28 October)
• 5-Night Redang-Koh Samui-Bangkok (7 October)
*Citibank Cardmembers will get a free Oceanview to Balcony stateroom upgrade for all sailings above.
Winter Promotions- 16 November 2018 to 31 March 2019
Early-birds planning for upcoming vacations can rejoice fantastic itineraries to destinations such as Indonesia, Myanmar, Thailand and Malaysia.
• 2-Night Kuala Lumpur from $199 per person
• 2-Night Weekend Bintan getaway from $409 per person
• 3-Night Penang-Langkawi/Penang-Phuket from $349 per person
• 5-Night Penang-Phuket-Langkawi-Kuala Lumpur or Myanmar (Macleod Island)*-Phuket or Surabaya-North Bali from $429 per person
*5-Night Myanmar (Macleod Island)-Phuket is a special one departure only on 17 Feb 2019.
*Complimentary gift sets will feature combinations of coffee mug + hand towel + thematic afternoon tea, or tote bag + afternoon tea for two. Gift sets will be awarded on first-come first-served basis and subject to the discretion of Dream Cruises. Terms and conditions apply.
For more information about Dream Cruises, please visit www.dreamcruiseline.com