Bask In The Weekend Sunshine with Summerlong's New Nourishing Brunch Menu
CONTENT: Yiew Kai Jie
Well known for its beachside vibes, pet-friendly policies and Mediterranean cuisine, Summerlong has launched its new healthy, yet simple take on brunch in the heart of Robertson Quay. Their new menu focuses on utilizing fresh,organic ingredients that delivers guests into a warm, welcoming and relaxed environment. Channeling his culinary creativity straight into Summerlong, Chef Kyle Michael Henderson ensures the menu is every bit as scrumptious as it is wholesome.
Summerlong has introduced The Counter (S$23++), a small buffet spread that offers up a wide range of salads, pastas and house-baked treats! Each item is prepared with fresh seasonal ingredients, inspired by the Mediterranean region that showcases vegetables in all its glory. Simply pick up a plate, go to the counter and enjoy the glory! Some highlights include the Grilled Eggplant that was gently grilled over charcoal with a simple dressing of yoghurt, chilli and herbs. The Roasted Pumpkin involves an oven roasted local pumpkin coated with a tahini lemon dressing, caramelized onions and chopped herbs.
One of the highlights of the brunch experience is the Real Turkish Breakfast (S$35++) which consists of over 15 different condiments that contain vibrant and bold flavours, yet will be familiar and comforting with most diners! The main plate consists of a spiced merguez sausage with Turkish beans, warm pita bread served with a cucumber and tomato side salad for a refreshing bite. Escorting the main plate, are a plate of Turkish Eggs in a warm yoghurt and chilli spiced browned butter, accompanied with the vast variety of delicious condiments such as spinach and feta borek, sour cherry jam, honey ricotta, cured beef, mandarin orange and feta cheese.
This hearty breakfast course is perfect for sharing with your brunch companion due to the massive amount of food being placed on the table. The variety of condiments will give you the rare opportunity to experiment and try out different flavours to discover which combination suits you best. The only problem that I had with this dish is that they just don't serve enough bread to go along with the condiments!
For those who are looking out for their waistline, try the Whole Grilled Avocado on Sourdough (S$22++). The ultimate brunch for a millennial comes with a generous helping of Meredith goat feta cheese, lemon and garlic breadcrumbs, pickled fennel and a gooey sunny side up egg. The whole avocado is grilled on charcoal for deliciously smoky char on the outside.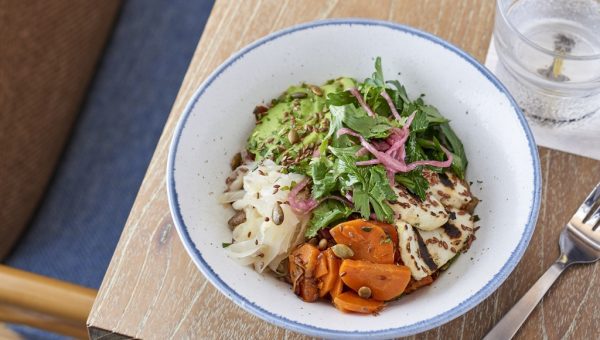 For an equally healthy option, the Halloumi & Herb Grain Bowl (S$22++) is filled to the brim with fresh ingredients and lots of love. The base of this hearty dish is filled with mixed grains topped off with grilled halloumi cheese, carrots cooked in honey and cumin seed, sliced avocado, herb salad and fennel pickled in grain vinegar for a zesty finale. This dish reminded me of a very healthy version of a plate of economy mixed rice that can be easily found in hawker centres. Not only is it healthy, but the bowl works well as a good post-workout meal if you've just finished your morning workout or run! Finally, I recommend going full out and adding a sous-vide soft egg (S$4) for the ultimate touch.
Wash down the delicious dishes with Summerlong's specialty drinks, ranging from Juice & Smoothies to Spritzers, decadent Milkshakes and homemade Kombucha. Bring temperatures down a notch with three ice-cold spritzers. These refreshing tipples include the Cucumber Gin Remedy, Aperol Spritz and Pimm's Summer Lemonade. (S$15++ per glass, S$50++ per jug)
For a vitamin-packed-helper, juice options such as Healthy Green, Orange Glow and Bright & Pink are the ultimate health-conscious statement, all priced at S$10++. For something more filling the smoothie options showcase winning flavor combinations. Discover a world of wellness with the Mixed Berries (S$13++), Mango & Peach (S$13++) and Kiwi & Avocado (S$15++).
For a wholesome, thirst-quenching drink, why not try Summerlong's homemade Kombucha (S$10++). With a perfect balance of both sour and sweet, the house blend will change its flavor every two weeks. Amongst the appearing flavor options is Apple and Cinnamon – reminiscent of green apples, citrus fruits with a refreshing and zesty kick that is delicious without any artificial flavoring and built from a guarded recipe. Perfect as a replacement for sugary soft drinks or if you don't want get tipsy and have a headache in the afternoon heat.
Summerlong's fresh, bold flavors, and exceptional beverages are a crowd-pleaser all year round. But if all else fails, sometimes the old ways are the best which in this case- calls for a traditional glass of mimosa to go along with your meal! Regardless of what your order, you'll have a wonderful brunch sesh with your friends!
Summerlong is located at 60 Robertson Quay #01-04, Singapore 238252
Summerlong is open daily on Monday to Friday from 5:00PM to Midnight and Saturday to Sunday from 10:30AM to Midnight.