Penang Culture Partners Up With Renowned Malaysian Celebrity Chef Datuk (Dr) Chef Wan To Offer Mouthwatering Penang Mainstays!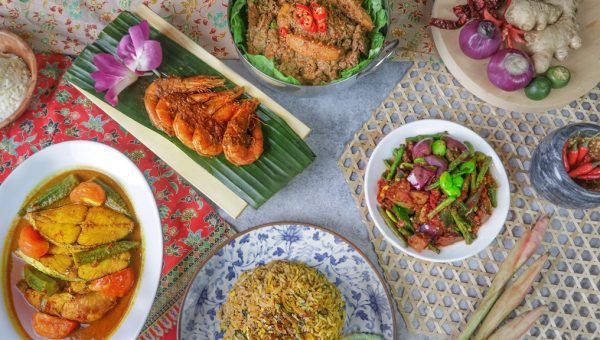 CONTENT: Yiew Kai Jie

As the COVID pandemic continues to rage on with no end in sight, travelling across the border for some Malaysian foodfare seems just out of reach. In order to satisfy their customer's hunger pangs, Penang Culture has collaborated with a big name in the Malaysian culinary scene, Datuk (Dr) Chef Wan to offer up some of his down to earth homemade dishes from now until 28th February!

The exclusive Penang Culture x Datuk (Dr) Chef Wan Signatures menu features five dishes that can feed a family of four and can be enjoyed ala carte or as a set.

The show begins with the Stir Fried 4-in-1 Vegetables with Sambal (Sambal Goreng Empat Sayur) that includes a mixture of 4 different types of vegetables – long beans, petai beans, eggplant and ladies fingers – all doused with the spice from generous red chillies and fragrance from Chef Wan's homemade dried shrimp paste, stir-fried with shallots and dried shrimps.


Indulge in an old school favourite, the Mackerel in Spicy and Sour Gravy (Gerang Asam), is a fragrant heartwarming fish curry dish that packs a spicy punch as well as a kick in tanginess with kaffir lime leaves, lemongrass and laksa leaf cutting through the fragrant dried shrimp paste base. Just be wary of the amount of bones in the fish as the protein will not be deboned before being cooked.

Moving onto the first half of the heavy meats, the King Tiger Prawn Rendang (Rendang Udang Galah) weigh an average of sixty grams per prawn and are freshly shipped in daily from Malaysia. Seafood lovers can indulge in the juicy sweetness of the prawns with a turmeric and coconut milk stock that only intensifies the sweetness that makes every single bite of the prawn a wholesome and savoury experience.


The star dish of the signatures menu is the Massaman Beef (Daging Massaman), a traditional Thai beef curry dish where all the spices and seasoning in the dish are infused into the tender beef that simply melts in the mouth with a rich and creamy finish! Regardless if you're having the signatures menu as a whole or just ordering ala carte, this is a must order dish on the menu.


As Asians, a carb-filled dish on the table at every meal is not only just tradition, but it has become a signature staple ever since our parents or grandparent's generation! Indulge in Mum's Fried Rice (Nasi Goreng Emak), a comforting plate of fried rice meant to be enjoyed piping hot out of the wok to act as an accompaniment to the other dishes mentioned above.

Additionally, diners who purchase the full set menu will stand a chance to learn some culinary secrets from Chef Wan's live cooking demonstration conducted via Zoom on a later date, while seats last.

The new Chef Wan Signatures menu is available at all five of their outlets islandwide: (NEX, Compass One, White Sands, JEM, VivoCity)