Chinese Astrology Forecast for Year of the Fire Rooster 2017
We are exactly 3 more weeks to Chinese New Year and Dato Joey Yap is proud to share his insights to the year of the Fire Rooster.
Joey Yap is the founder and CEO of the Mastery Academy of Chinese Metaphysics and Chief Consultant of the Joey Yap Consulting Group. He has been also sought after by many top organisations such as Bloomberg, Dell, Microsoft, Singtel and UOB Bank amongst others.
The image below shows the 12 Animals Forecast and how your sign will fare this year of the Fire Rooster.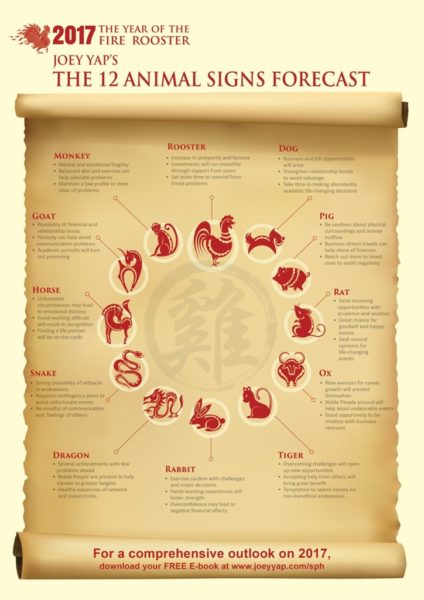 Slightly more advanced info-graphic below shows how the Qi of 2017 affects each of the eight different types of homes, based on the locations of their Main Doors and how it will affect you and your family in areas of health, wealth, relationship and career.
For more details, please visit www.joeyyap.com for updates.